July 27, 2011 -
Barry Dorey
Delhomme gets the axe
With $5.4 million in base salary scheduled for payment in 2011, it was fairly certain the Cleveland Browns were going to part ways with veteran quarterback Jake Delhomme this offseason.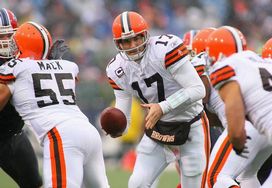 Jake Delhomme is back on the market.
You can now remove the word "fairly" from the equation.
Per a tweet from Alex Marvez of FOX Sports, the Browns plan to release the ten-year veteran.
Delhomme was a pretty effective quarterback during his time in Carolina right up until he threw five interceptions against the Arizona Cardinals in a January 2009 divisional playoff game. After that, Delhomme could never regain his confidence and went on to throw 25 interceptions in only 16 games.
Second-year quarterback Colt McCoy is expected to start for the Browns this season.
How many wins will Colt McCoy engineer this season? Discuss it now in the NFP Forums!
Hit me up on Twitter: @JoeFortenbaugh