January 10, 2012 -
Joe Fortenbaugh
Despite epic win, Broncos remain long shot to win Super Bowl at BetOnline.com
Tim Tebow and the Denver Broncos may have earned the highest television rating in wildcard history with their thrilling 29-23 overtime win over the Pittsburgh Steelers, but it doesn't appear as if too many of those viewers believe the Broncos can go the distance.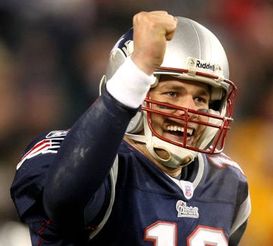 Knocking off Brady and the Patriots in New England on Saturday won't be easy.
Despite advancing to this weekend's Divisional Round, John Fox's cardiac kids are currently posted as the Super Bowl long shot at 40-1, according to Dave Mason and our friends at BetOnline.com.
It's not surprising, especially when you take into account the fact that the Broncos are currently 13.5-point underdogs for their Saturday showdown with a New England Patriots team that is just four weeks removed from handing out a 41-23 ass-kicking in Denver to this same Broncos football team.
Around the rest of the league, the high-flying Saints moved from 3.5-1 to 2.75-1 after slicing and dicing the Detroit Lions secondary while the red-hot New York Giants climbed from 17.5-1 to 12-1 following their dismantling of the Atlanta Falcons.
Here's the rundown…
Hit me up on Twitter: @JoeFortenbaugh