December 19, 2011 -
Barry Dorey
Despite loss, Packers remain heavy favorite to win Super Bowl at BetOnline.com
One of the biggest differences between the NFL and college football is that one loss in the amateur ranks carries far greater consequences than it does at the professional level.
The Green Bay Packers personify this fundamental distinction.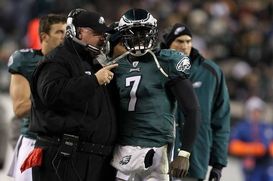 Andy Reid, Michael Vick and the rest of the Philadelphia Eagles suddenly find themselves back in contention.
After watching their hopes of a perfect regular season spiral down the toilet at Kansas City on Sunday, the Packers still find themselves as the heavy favorite at 1.45-1 to win the Super Bowl, according to BetOnline.com.
However, while one game may not have meant a whole lot to the Packers' chances of winning back-to-back championships, it sure did have a major impact on the Philadelphia Eagles. Entering Week 15 at an unlikely 80-1 long shot to hoist the Vince Lombardi trophy this season, Philadelphia's dismantling of the New York Jets on Sunday improved their odds to 24-1.
Around the rest of the league, Baltimore slid to 10-1 after getting trashed at San Diego, the Cowboys improved to an impressive 10-1 after taking out the Buccaneers on Saturday night and the Broncos fell a bit to 25-1 after losing to Tom Brady and the Patriots.
Here's the rundown with three weeks until the postseason gets underway:
Hit me up on Twitter: @JoeFortenbaugh