July 11, 2013 -
Joe Fortenbaugh
Detroit got it right with Matthew Stafford
The Detroit Lions and quarterback Matthew Stafford came to terms on a contract extension Tuesday that will pay the 25-year-old Georgia product $76.5 million over the next five years. In the immediate aftermath of the agreement's announcement, a spirited debate broke out as to whether or not the Lions made the right move by giving so much money to their franchise quarterback.
Defenders on either side of the argument have made terrific points based on everything from statistical analysis to film study to quarterback contract comparisons. It's a debate that has been waged on television, radio and the internet because, let's face it, baseball highlights are capable of occupying our attention spans for only so long.
Our position is that the Lions made the right move with Stafford. Here's our counter to the following points supporting the argument that they didn't:
THE STAT: Matthew Stafford is 1-22 for his career during the regular season against teams that have finished the year with a winning record.
This statistic serves as the foundation for many an argument deriding the new contract Stafford agreed to on Tuesday. It's an abysmal number and is being used against the Detroit quarterback much the same way Tony Romo's 1-3 career postseason mark is employed against the Dallas signal-caller. And while it's a statistic worth noting for a player who just signed an extension that is worth $76.5 million over the next five years, it's also a statistic worth examining a bit deeper.
Taking a look at each of those 23 games that Stafford has played against winning competition over the last four years, we'll notice the following:
1. In those 23 contests, the Lions have surrendered an average of 28.0 points per game. That number would rank in the bottom-2 in the National Football League in 2009 and 2010 and bottom-3 in 2011 and 2012 if it were maintained for the full 16-game slate. Just to be clear, Matthew Stafford isn't being paid to play defense or create stops. He's being paid to play quarterback.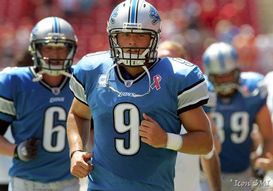 Stafford has been sacked an average of 2.26 times per game during his matchups with winning competition.
2. In those 23 games, Stafford was sacked a grand total of 52 times for an average of 2.26 sacks per game. Though not an appalling statistic, an average of 2.26 sacks surrendered per game for a full 16-game schedule in 2012 would have placed the Lions at 18th-best in the NFL.
3. In those 23 games, Stafford posted 33 touchdown passes with 27 interceptions, which calculates to 1.22 touchdowns for every pick. Over a full 16-game slate in 2012, that number would have ranked Stafford 24th in the NFL. But remember, there are five games in this equation that were played by a rookie Stafford on a team that went 0-16 the year prior. Most rookie quarterbacks on terrible football teams tend to struggle. So if we eliminate Stafford's 2009 rookie numbers, the Georgia product now has a 29:16 touchdown to interception ratio (1.81), which would have ranked 11th in the NFL in 2012.
THE CONTRACT: Matthew Stafford's contract extension averages out to $15.3 million per year. That's simply too much money.
There's no two ways to slice it: $15.3 million per year is a lot of cheddar. But how does that number stack up against the rest of the quarterback position around the National Football League?
At the current moment, seven quarterbacks (Aaron Rodgers, Joe Flacco, Drew Brees, Peyton Manning, Tony Romo, Eli Manning and Matt Schaub) carry higher average per year (APY) contract values than Stafford. Philip Rivers carries the same number and his deal was renegotiated back in 2009. And let's not forget that Rivers has been accused of mechanical deficiencies for most of his career much the way Stafford has since turning pro in 2009.
In addition, Atlanta's Matt Ryan will fly past Stafford's APY number in the very near future when his agent and the Falcons front office come to terms on the quarterback's much deserved pay raise. And then there's Tom Brady, who carries an APY of just $9 million per year because he's more interested in winning another Super Bowl with the best possible talent then getting deep into owner Robert Kraft's pockets.
Now let's factor in the starting quarterbacks who are currently playing under their rookie contracts: Robert Griffin III, Andrew Luck, Russell Wilson, Colin Kaepernick, Andy Dalton, Cam Newton, Josh Freeman, Sam Bradford, Ryan Tannehill, Christian Ponder, Brandon Weeden, Jake Locker and Blaine Gabbert. That gives us another 13 signal-callers.
So between the guys who are already making more (7) or the same (Rivers) as Stafford, the guys who will soon pass Stafford (Ryan) and clearly deserve to be making more than Stafford (Brady), and the guys who, for the most part, can't make more than Stafford at the moment because of their rookie contracts or lack of performance (13), that gives us a grand total of 23 of 32 starting quarterbacks.
The starters we didn't already name include:
Matt Flynn, Oakland Raiders: Has made exactly two starts during his five-year career.
Carson Palmer, Arizona Cardinals: Turned the ball over 36 times in just 25 games during his two-year stint in Oakland. Turns 34-years-old in December.
The Philadelphia Eagles: It's either Vick, Foles or Barkley. Or Dennis Dixon. You know the saying, "If you have two quarterbacks, you have no quarterbacks"? What does it mean when you have four quarterbacks?
The Buffalo Bills: Kevin Kolb has proven he's not worth the big money, which is why Buffalo drafted Florida State's E.J. Manuel 16th overall back in April. Manuel's contract is slotted, while Kolb's contract is, shall we say, very generous (APY of $3.05 million).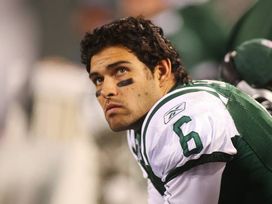 If given the choice, how many of you would opt for Mark Sanchez over Matthew Stafford?
The New York Jets: How many of you would take Buttfumble Sanchez over Stafford? Crickets. That's what I thought. As for rookie second-round pick Geno Smith, his contract is slotted.
Jay Cutler, Chicago Bears: Enters the final year of his contract with an APY number of $14.688 million, which is just south of Stafford's $15.3 million. Has only one playoff win in seven NFL seasons.
Alex Smith, Kansas City Chiefs: Lost his job in San Francisco to Kaepernick, but still carries a respectable APY of $8 million.
Ben Roethlisberger, Pittsburgh Steelers: Two Super Bowl rings, three Super Bowl appearances, APY of $14.664 million because, like Brady, Big Ben has put the team first in recent years.
Now that we've taken a look at each of the 32 quarterback situations around the NFL, does Stafford's contract still appear to be ludicrous? When you consider the supply vs. demand dynamic at the quarterback position, Stafford's age (25) and the situations around the rest of the league, Stafford lands, for the most part, right where he should.
THE RATIONALE: What was Detroit thinking giving Matthew Stafford a deal that totals $76.5 million over the next five years?
In 2008, the Detroit Lions hit absolute rock bottom, wallowing in a pit of self-loathing and despair in the wake of the most horrific season in NFL history (0-16). Front office and coaching jobs were lost and players were sent packing as the rebuilding process in Detroit left the Lions resembling nothing more than your common expansion franchise. Had the rules of the English Premier League applied, the Lions would have been candidate No. 1 for relegation.
Facing the most critical crisis their franchise has ever encountered, Detroit opted for a move made many times before and will be made many times after. With the first pick in the 2009 draft, the team went after a rookie quarterback who could serve as both the face of the franchise and the centerpiece in the organization's rebuilding effort.
Before you commence the argument that Detroit could have passed on the quarterback position, take a look at the rest of the top-10 picks from 2009 and ask yourself how each of these guys has performed to date:
St. Louis Rams (No. 2): Jason Smith, OT, Baylor
Kansas City Chiefs (No. 3): Tyson Jackson, DE, LSU
Seattle Seahawks (No. 4): Aaron Curry, LB, Wake Forest
New York Jets (No. 5): Mark Sanchez, QB, USC
Cincinnati Bengals (No. 6): Andre Smith, OT, Alabama
Oakland Raiders (No. 7): Darrius Heyward-Bey, WR, Maryland
Jacksonville Jaguars (No. 8): Eugene Monroe, OT, Virginia
Green Bay Packers (No. 9): B.J. Raji, NT, Boston College
San Francisco 49ers (No. 10): Michael Crabtree, WR, Texas Tech
Not exactly a who's who of Pro Bowl talent, is it? Now let's take a look at the other quarterbacks Detroit had to choose from in 2009:
Round 1: Mark Sanchez, USC (5th overall): We really don't need a detailed analysis when it comes to Sanchez's NFL career, do we?
Round 1: Josh Freeman, Kansas State (17th overall): Is standing on dangerously thin ice in Tampa Bay, as rumors persist that head coach Greg Schiano is looking to make a switch at the position.
Round 2: Pat White, West Virginia (44th overall): Currently fourth on the depth chart in Washington with an NFL career that includes just five pass attempts and zero completions. White's current claim to fame is that he tried to sue the NFL, but dropped the suit when another team came calling.
The rest: Stephen McGee (fourth round), Rhett Bomar (fifth round), Nate Davis (fifth round), Tom Brandstater (sixth round), Mike Teel (sixth round), Keith Null (sixth round), Curtis Painter (sixth round).
Again, not exactly a collection of star-studded and highly productive talent, is it? Few would argue against the notion that Stafford has the greatest upside of any quarterback selected in the 2009 draft.
The point here is that the Lions got the best player at the position the team most desperately needed to address back in 2009. And even though the quarterback spent his first two NFL campaigns battling injuries, Stafford came back to post a QB rating of 97.2 in 2011 (fifth in NFL) while leading the Lions back to the postseason for the first time since 1999.
Over the last two seasons in which Stafford has started all 32 regular season games, the quarterback has posted a QB rating of 88.1 (14th in NFL), despite playing with a defense that ranked 23rd in scoring in 2011 (24.2 pts/gm) and 27th in 2012 (27.3 pts/gm) and a rushing attack that ranked 12th in yards per attempt average in 2011 (4.3) and 18th in 2012 (4.1). In addition, the Lions have struggled to find a complement to Pro Bowl stud Calvin Johnson at the wide receiver position. So it's not exactly as if Stafford has been surrounded by top-notch talent like Joe Flacco (Anquan Bolden, Torrey Smith, Ray Rice) or been backed-up by the league's best defense like Ben Roethlisberger. The guy has had to make do with what he's been given and what he's been given isn't all that great.
Entering his fifth NFL season with a pricey new contract under his belt, Matthew Stafford can expect expectations to be at an all-time high. That's what comes with a $76.5 million payday.
But it's important to note that the Lions aren't rewarding Stafford the way the Washington Redskins rewarded defensive tackle Albert Haynesworth back in 2009. The Lions are paying the 25-year-old Stafford an average of $15.3 million per year based on the expectations that he will produce at a high level, which are expectations well grounded in the results posted by Stafford during his 2011 breakout season.
Hit me up on Twitter: @JoeFortenbaugh