July 28, 2011 -
Barry Dorey
Did the Jets just win the Asomugha sweepstakes?
It looks like the Houston Texans, who were at one time rumored to be the favorites to land free agent cornerback Nnamdi Asomugha, have pulled out of the race.
It probably has something to do with the fact that they just went and signed another cornerback.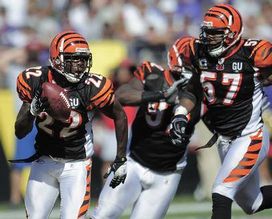 Houston fans may be upset, but the Texans just landed a damn good cornerback.
Adam Schefter of ESPN reports that the Texans have reached an agreement with free agent cornerback Johnathan Joseph on a five-year deal. The particulars of the contract have yet to be disclosed.
A very talented cornerback in his own right, Joseph recorded 14 interceptions over his final 51 games with the Cincinnati Bengals. During his five years in Cincy, the 27-year-old racked up 269 tackles.
Though not the high-profile talent that Asomugha has been made out to be this week, Joseph is an excellent addition to a Houston defense that has quietly gotten better over the last few months.
Speaking of Asomugha, it looks like the path is clear for him to sign a ridiculously loaded contract with the Jets.
Good. Because to tell you the truth, I'm getting tired of looking up how to spell his name.
Hit me up on Twitter: @JoeFortenbaugh