January 13, 2012 -
Joe Fortenbaugh
Divisional Round predictions
Last week's predictions yielded an unimpressive result as I went 2-2 straight up (Texans, Saints), 2-2 against the spread (Texans, Broncos) and 1-3 against the total (NO-DET over).
This week I'll look to get above .500 heading into Championship weekend with one big upset prediction that is sure to fill my email inbox with, let's just say, less than flattering remarks.
CLICK HERE to check out all of the Divisional Round lines.
NEW ORLEANS SAINTS (14-3, 5-3 road) at SAN FRANCISCO 49ERS (13-3, 7-1 home)
Time: Saturday, 4:30pm ET
Opening line: New Orleans -3/47.5
Current line: New Orleans -3.5/47
X-factor: 49ers quarterback Alex Smith, who threw for less than 180 yards in each of San Francisco's three losses this season. Smith must put together his best game as a professional if the Niners have any hope of advancing.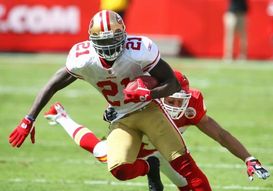 ICONA big day from Frank Gore will be needed to make quarterback Alex Smith's life easier.
The rundown: Despite a 13-3 record and a spot in the Divisional Round, the 49ers averaged just 23.8 points per game in 2011 (11th in NFL). Not bad, but when you take into account the fact that the Saints scored 24 or more points in 12 of 16 regular season contests, you can see why it's important for the Niners to work the clock and keep Drew Brees off the field.
With 73% of the action coming in on the Saints, this line has already moved as high as NO -4 at the MGM and Wynn and could continue to climb north once the recreational bettors step to the window on Saturday.
Matchup to watch: Frank Gore vs. New Orleans' run defense. The 49ers have to win the time of possession battle and the best way to do that is to find success running the football. The Saints surrendered an average of 5.0 yards per carry this season (2nd-most in NFL), so Gore could be in line for a big Saturday afternoon.
The pick: The 49ers ranked just 16th against the pass (230.9 yds/gm) in 2011 and despite a solid season from Alex Smith, I don't think he has what it takes to hang with Drew Brees. The Saints advance, 28-20.
DENVER BRONCOS (9-8, 5-3 road) at NEW ENGLAND PATRIOTS (13-3, 7-1 home)
Time: Saturday, 8:00pm ET
Opening line: New England -13.5/51
Current line: New England -13.5/50
X-factor: Turnovers. The Broncos went 0-5 this past season when committing three or more turnovers. The Patriots rank third in the NFL in takeaways (34).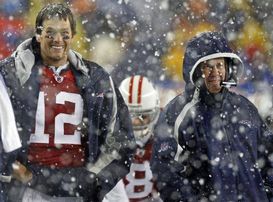 Tom Brady and Bill Belichick haven't won a playoff game since January of 2008.
The rundown: An upset win over the Pittsburgh Steelers last Sunday night has given Broncos quarterback Tim Tebow a chance to atone for his lackluster December 18 performance against this very same Patriots team. If Denver has any chance of flipping the script in their rematch with New England, they'll have to protect the rock and find a way to exploit the Patriots' 31st-ranked pass defense (293.9 yds/gm).
This game will come down to whether or not the Patriots can stop the Broncos on third down. New England's defense ranked just 28th this past season in third-down stops (43.1% allowed) while Denver converted a below-average 30.8% of their third-down opportunities (30th). Only the New Orleans Saints (1117) ran more plays in 2011 than the Patriots (1082), so if Denver wants to keep this thing close heading into the fourth quarter, they'll need to have success on third down in order to keep Tom Brady on the sidelines.
Matchup to watch: Denver's safeties and linebackers vs. Rob Gronkowski and Aaron Hernandez. The good news is that the Broncos held Patriots Pro Bowl tight end Rob Gronkowski to just 53 yards on four receptions in the first meeting between these two teams. The bad news is that Brady simply started throwing to Hernandez, who caught a season-high nine passes for 129 yards and a score. Denver cannot allow a repeat performance.
The pick: The Broncos played last Sunday night and have to travel east on short rest to take on a hungry Patriots team that hasn't won a playoff game since January of 2008. Brady and the Pats prevail, 31-21.
HOUSTON TEXANS (11-6, 5-3 road) at BALTIMORE RAVENS (12-4, 8-0 home)
Time: Sunday, 1:00pm ET
Opening line: Baltimore -7/38
Current line: Baltimore -7.5/36
X-factor: Ravens running back Ray Rice. When the dual-threat playmaker carried the ball 13 or fewer times in a game this past season, Baltimore went 0-4.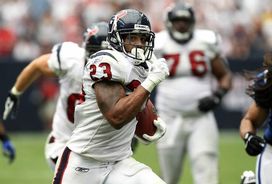 Will Arian Foster find success against the always-tough Baltimore run defense?
The rundown: The Texans put together a well-rounded effort in their 31-10 dismantling of the Cincinnati Bengals last Saturday and will need more of the same this Sunday afternoon if they want any chance of escaping Baltimore with a win. In eight home games this season, the Ravens went 8-0, won by an average of 12.5 points per game, had an average time of possession of 32:19 and were +7 in turnover differential.
As mentioned above in the X-factor section, the Ravens have to make running back Ray Rice the centerpiece of the offense on Sunday in an effort to relieve some of the pressure on quarterback Joe Flacco's shoulders. In the first meeting between these two teams back on October 16, Rice racked up 161 total yards on 28 touches.
Take note that this game is currently seeing balanced two-way action in Las Vegas, as 50% of the early bets are coming in on Baltimore.
Matchup to watch: Arian Foster vs. Baltimore's run defense. The Ravens finished the 2011 regular season ranked second in the league in run defense (92.6 yds/gm), but went 0-3 when opposing teams amassed 31 or more rushing attempts. The Texans went 3-0 when Foster carried the rock 30 or more times in a game.
The pick: I think we're more likely to see the Texans team from Weeks 15, 16 and 17 than we are the team who beat up the Bengals during the wildcard round. Baltimore advances to set up a date with New England, 24-10.
NEW YORK GIANTS (10-7, 5-3 road) at GREEN BAY PACKERS (15-1, 8-0 home)
Time: Sunday, 4:30pm ET
Opening line: Green Bay -9/51
Current line: Green Bay -7.5/53
X-factor: The New York secondary. The Giants ranked 29th in the NFL in pass defense during the regular season (255.1 yds/gm), but are surrendering an average of 248.6 yards per game with three touchdowns and three interceptions over their current three-game winning streak.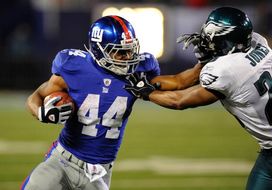 ICON Ahmad Bradshaw could be the difference maker in Sunday's showdown at Lambeau.
The rundown: The Packers enter the postseason with heavy hearts following the tragic death of offensive coordinator Joe Philbin's son, while the G-Men travel to Lambeau Field having won four of their last five games. In a December 4 showdown between these two teams at MetLife Stadium, the Giants gave Green Bay everything they could handle in a 38-35 thriller that saw the Packers come out victorious on a late field goal.
As mentioned on Thursday in our keys to Divisional Round success column, New York will have to play Giant football. That means generating some serious pressure from their defensive front with a heavy dose of the ground and pound rushing attack spearheaded by Ahmad Bradshaw and Brandon Jacobs. The Giants averaged 28.8 rushing attempts over their nine wins, but that number fell to just 21.5 attempts in their seven regular season losses.
72% of the action has already come in on the Giants, which has pushed the line from GB -9 to GB -7.5.
Matchup to watch: The Giants' defensive front vs. the Packers' offensive line. Green Bay quarterback Aaron Rodgers has been unstoppable this season, so the only way for Big Blue to cover up some of their deficiencies in the secondary is to make Rodgers unload the football in a hurry.
The pick: The Giants are 10-6 in their last 16 road games and are playing with a swagger we haven't seen since their 2007-2008 championship run. I'm putting the Packers on upset alert, as the Giants shock the world in a 31-28 thriller.
Hit me up on Twitter: @JoeFortenbaugh