July 28, 2011 -
Barry Dorey
Does Brad Smith-to-Buffalo mean Asomugha signs with the Jets?
In what could be considered a set-up move to the big Nnamdi Asomugha signing, former Jets wide receiver Brad Smith has inked a four-year, $15 million contract with the Buffalo Bills, per a tweet from Adam Schefter of ESPN.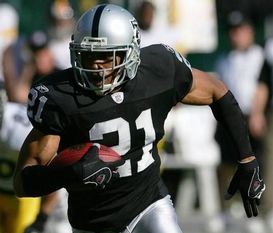 Is the race for Asomugha almost over?
However, here's where things get interesting:
Shortly after Smith's signing was announced, Rich Cimini of ESPN New York tweeted that according to a source, the Jets were holding back on re-signing Smith while they waited for Asomugha to make up his mind.
So now Smith is in New York and Asomugha…
Stay tuned.
Hit me up on Twitter: @JoeFortenbaugh