October 11, 2012 -
Joe Fortenbaugh
Does the revenge factor really matter in the NFL?
They say that revenge is a dish best served cold, but for several NFL teams, it's a dish never served at all.
You hear about the "revenge factor" quite a bit living in Las Vegas. Teams that took a beating from an opponent the year before are out for payback the next time both organizations get together. It makes sense. And one would think that the head coaches of the losing teams would use revenge as a motivating factor in preparing their men for the rematch.
But does it actually work? Is revenge something that motivates highly paid professional athletes to perform at a higher level? Or do we just want to believe that these guys are as upset as we are over that last loss?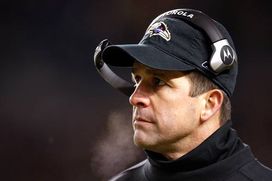 John Harbaugh and the Ravens got their revenge against the Patriots, but failed to cover the 2.5-point spread.
Today's study focuses on the revenge factor as it relates to a playoff loss. More specifically, if a team gets knocked out of the playoffs by an opponent one year, do they bounce back with a win (and/or cover) the following year if that same opponent appears on the schedule?
As an example, we'll look to the Patriots-Ravens matchup that took place on Sunday night in Week 3. New England beat Baltimore 23-20 in last January's AFC Championship game, which prompted many to label their September 23rd rematch as a "revenge game" for the Ravens.
Final score: Baltimore 31, New England 30.
Unfortunately, the Ravens failed to cover the 2.5-point spread, which is a big part of our focus.
Here's how this study breaks down: We went back and looked at every playoff loss since 2001 and then checked to see if those two teams met again the following season. If they did, we tracked the results (which you can see below) and then went deeper down the rabbit hole to look for any prevailing trends that could aid us at some point this season.
Here are the results of the 67 revenge games that have taken place since 2002:
1. Teams out for revenge are 37-30 straight-up (.552) and 30-32-5 against the spread (.484).
2. Home teams out for revenge are 20-13 SU (.606) and 17-14-2 ATS (.548).
3. Road teams out for revenge are 16-18 SU (.471) and 13-18-3 ATS (.419). That second number carries some weight. If you had laid $110 to win $100 AGAINST all road teams out for revenge, you would have turned a profit of $370 (and would have been picking at 59.1%).
4. Home dogs out for revenge went 6-7 SU (.462) and 7-6 ATS (.538).
5. Home favorites out for revenge went 14-5 SU (.737) and 10-7-2 ATS (.588). Keep this one in mind, as there are a few examples of this trend that will play out in 2012 (see below).
6. Road dogs out for revenge went 9-14 SU (.391) and 11-11-1 ATS (.500).
7. Road favorites out for revenge went 7-3 SU (.700), but just 2-6-2 ATS (.250). Laying $110 to win $100 in this spot would have made you a profit of $380.
So what does all of this information tell us? For starters, revenge doesn't appear to be that big of a factor when it comes to getting a shot at redemption following a playoff loss. In fact, there have already been three instances this season in which a team got a rematch against an opponent who defeated them in last season's playoffs. The results?
Pittsburgh was out for revenge against the Broncos in Week 1, but fell 31-19 at Denver.
As mentioned earlier, Baltimore was out for revenge against the Patriots in Week 3 and won 31-30. But keep in mind that the Ravens, just like the Steelers, failed to cover the number.
Denver was out for revenge against the Patriots in Week 5, but lost 31-21 at New England, also failing to cover the spread.
Three teams, three revenge games, three losses against the spread.
We've got 12 weeks of regular season action left and during that time span, five more revenge games will be played (team playing for revenge in caps):
Week 6: SAN FRANCISCO 49ERS vs. New York Giants
Week 7: HOUSTON TEXANS vs. Baltimore Ravens
Week 12: NEW ORLEANS SAINTS vs. San Francisco 49ers
Week 12: GREEN BAY PACKERS at New York Giants
Week 15: ATLANTA FALCONS vs. New York Giants
I'll be keeping a close eye on that Packers-Giants line and if Green Bay heads to New York as a road favorite (2-6-2 ATS in this study), you'll probably see me in line at one of the counters here in town.
Hit me up on Twitter: @JoeFortenbaugh