March 12, 2013 -
Joe Fortenbaugh
Dolphins strike again, land Dannell Ellerbe
With Joe Flacco under contract, Anquan Boldin in San Francisco and a host of other transactions made in recent weeks to get their spending under control, it was widely presumed that the Baltimore Ravens would be successful in their attempt to re-sign free agent linebacker Dannell Ellerbe.
Too bad the defending Super Bowl champions couldn't match what the Miami Dolphins were offering.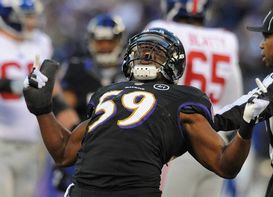 Ellerbe leaves the defending champs for the warm weather of Miami.
Hot on the heels of signing Mike Wallace to a contract that many feel was far too lucrative, the Dolphins turned their attention to the defensive side of the football and reached an agreement in principle with Ellerbe, per Aaron Wilson of the Baltimore Sun.
Terms of the deal weren't immediately made available.
One of the more underrated free agents available this offseason, Ellerbe filled in admirably when Ray Lewis went down with a triceps injury early in the season, recording 89 tackles and 4.5 sacks in 13 regular season appearances. The four-year veteran upped his game during Baltimore's Super Bowl run, amassing 32 tackles and an interception in four playoff games.
A plethora of salary cap space and a general manager on the hot seat have the Dolphins spending fast and furiously this offseason. Let's see if it continues.
Update: Per Jason La Canfora, Ellerbe's deal is for five years and worth $35 million.
Hit me up on Twitter: @JoeFortenbaugh