March 29, 2013 -
Joe Fortenbaugh
Donovan McNabb has something to say about Tony Romo's big extension
Cowboys quarterback Tony Romo struck oil Friday, agreeing to a six-year contract extension worth $108 million. And while Romo is no doubt spending his afternoon celebrating the financial windfall, one of his former NFC East rivals didn't waste much time blasting the move.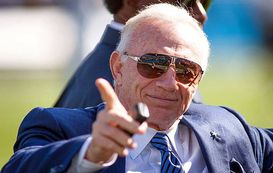 Jerry Jones clearly sees something in Tony Romo that Donovan McNabb is missing.
Former Philadelphia Eagles quarterback Donovan McNabb took to twitter on Friday to express his shock at the amount of money Cowboys owner Jerry Jones threw at his star quarterback.
"Tony Romo 6 yr 55 million dollar extension. Wow, really, with one playoff win. You got to be kidding me"
Grammatical and factual mistakes aside, McNabb makes a good point. In seven seasons as the starting quarterback in Big D, Romo boasts a 1-3 postseason record with a playoff QB rating of just 80.8. Romo's counter to McNabb—should he opt to employ one—could be that his one playoff win came against McNabb's Eagles during the 2010 wildcard round.
McNabb's comments aside, the bottom line is that the Cowboys have their franchise quarterback locked up for the foreseeable future. Whether or not that's a good thing—at that price tag—will be determined soon enough.
Hit me up on Twitter: @JoeFortenbaugh