April 08, 2011 -
Joe Fortenbaugh
Don't call him small
"I'm not small, I'm just a little bit shorter."
It was an amusing response, until you looked into the 22-year-old's eyes and quickly realized he wasn't kidding around.
The time period is late January and Senior Bowl practice had just concluded, which meant the field at Ladd-Peebles Stadium in Mobile, Alabama was crawling with players, scouts, reporters…you name it. It was during this informal 20-minute period in which Wes Bunting and myself watched a reporter refer to Kendall Hunter as "small" during an interview with the Oklahoma State running back.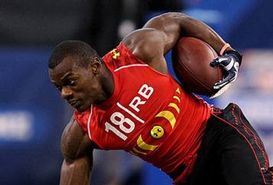 Hunter turned in a 4.46 40-yard dash at this year's Combine.
Not surprisingly, Hunter respectfully disagreed. At 200 pounds of rocked-up muscle, the former Okie State speedster is far from small.
Especially when it comes to production on the football field.
The senior ball carrier out of Tyler, Texas is coming off a 2010 college football campaign that earned him first team All-Big 12 honors for the second time during his four-year career at Oklahoma State. Hunter's 1,548 rushing yards last season put him in elite company, as he is now one of only four players in Cowboys history to eclipse the 4,000-yard mark, a group led by Hall of Fame running back and former Buffalo Bill Thurman Thomas (4.595 career rushing yards).
Had Hunter not suffered a foot injury in 2009 that limited him to just eight games, there's no doubt that he would currently stand as Oklahoma State's all-time leading rusher.
So what gives? In a year in which the running back position is garnering very little hype, why are Hunter and his four years of impressive play flying under the radar?
For starters, NFL teams are beginning to realize that they can find good value at the running back position outside of the first round. Four of 2010's top five rushers were drafted in the second round or later. Only Tennessee's Chris Johnson (fourth, 1,364 yards) was a first round selection.
In addition, seven of the top ten rushers from last season measured-in at 5'10" or taller. Jacksonville's Maurice Jones-Drew (5'7"), New York's Ahmad Bradshaw (5'9") and Baltimore's Ray Rice (5'8") were the exceptions.
"It motivates me," Hunter said during a recent podcast in regards to people questioning his size. "I'm the type of person to go out there and work hard and prove people wrong. It's motivation."
That kind of sounds like another 5'8" running back who came out of Oklahoma State.
I believe that guy's name was Barry Sanders.
Follow us on Twitter: @JoeFortenbaugh @WesBunting