March 30, 2011 -
Joe Fortenbaugh
Don't call it a comeback
"I definitely thought it was almost the end for me."
That's the sentiment that was going through linebacker Martez Wilson's mind upon learning that his junior season at Illinois had officially ended just one game after it began. A two-year starter who was beginning to garner some serious national attention, Wilson was headed for the operating table to repair a herniated disk in his neck that was suffered during the 2009 season-opener against Missouri.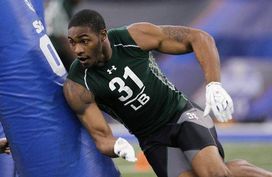 Wilson's stock has been on the rise after a solid showing at February's Combine.
"2009 was very depressing," Wilson told the NFP's Joe Fortenbaugh and Wes Bunting during a recent podcast. "I couldn't practice, I couldn't lift weights, I couldn't run because they didn't want anything to happen to my neck."
Any elite athlete confronted with this type of career-threatening injury knows there are only two ways to proceed: pack up shop and call it a career or push through and get better.
Wilson chose the latter option and decided to put all of his newfound spare time to good use.
"It allowed me to start focusing more on the mental part of the game, learning how to see things better and watch film better."
At 6-4, 250 pounds, the new-and-improved Wilson took the Big Ten conference by storm upon returning to the field. The 21-year-old started all 13 games for the Fighting Illini in 2010, racking up career highs in tackles (111), sacks (4), and forced fumbles (2) en route to earning second-team All-Big Ten honors.
But after making a successful comeback on the gridiron to close out his collegiate career at Illinois, Wilson now finds himself faced with another tough assignment: proving to NFL scouts and coaches that his neck is healed and he's ready for the next level.
"My neck is 100% ready to go. I did have a very good doctor and everything like that, so I'm doing very good."
With impressive pass rush skills off the edge and the ability to play all three linebacker positions, it will be interesting to see how NFL teams evaluate Wilson.
Will they spend more time looking at his medical records or at the fact that this guy returned to the gridiron better than ever after being confronted with the type of adversity that could have forced other strong-minded athletes to walk away from the game?
Because it's that type of resilience and work ethic that says everything you need to know about a man's character.
CLICK HERE to check out Martez's blog.
CLICK HERE to check out Wes Bunting's scouting report on Martez.
Follow us on Twitter: @JoeFortenbaugh @WesBunting