April 01, 2013 -
Joe Fortenbaugh
Don't hate on Tony Romo
Try as you might, you'd be hard pressed to find an individual who had a better weekend than Dallas Cowboys quarterback Tony Romo. Shortly before Friday's cocktail hour signified the end of the five-day workweek grind, reports surfaced that Romo and the 'Boys had reached an agreement on a six-year contract extension worth a martini-glass-shattering $108 million.
According to ESPN's Adam Schefter, the $55 million in guaranteed money contained in Romo's contract is tied with Super Bowl winner Drew Brees for second most all-time, just behind three-time Super Bowl winner Tom Brady's record-setting $57 million guaranteed. Perhaps the most interesting twist to the story is that the 32-year-old Romo's guaranteed piece of the pie amounts to $4 million more than the share 28-year-old Super Bowl winner Joe Flacco received in his new deal signed at the beginning of March (6 years, $120.6 million with $51 million guaranteed).
As you could probably imagine, the details of the contract caused quite a stir on the internet Friday by pitting Romo supporters against the quarterback's detractors. How could Tony Romo, a nine-year veteran with a career mark of 1-3 in the postseason, land more guaranteed money than Joe Flacco, a Super Bowl MVP who boasts a 9-4 postseason record in five professional campaigns?
Personally, I couldn't believe it. I just couldn't fathom how Romo, who is more than four years older than Flacco, signed for more guaranteed money. My head continued to spin when I compared the two quarterbacks' career postseason statistics.

Add the fact that Romo threw more interceptions (3) in the Cowboys' Week 17 play-in game loss against the Washington Redskins last season than Flacco threw (0) in four postseason games en route to the Vince Lombardi Trophy and I was convinced that this was one of the worst contract extensions of all time. I even had some fun with it on twitter Friday afternoon.
But a funny thing happened this past weekend when I had some time to reflect upon Romo's financial windfall. I realized that I was both completely out of my mind and very much in the wrong to criticize the Dallas quarterback. If anything, I should have been congratulating him.
Tony Romo, a quarterback with one career postseason victory and a detailed history of coming up short in the big spot, had managed to land $4 million more in guaranteed money than a younger signal-caller who just came off one of the most legendary postseason runs in NFL history.
All this time I had been touting Flacco's impressive roll of the dice when I really should have been lauding Romo's tremendous position of leverage. Flacco turned down a contract extension offer from the Ravens last summer, opting instead to play out the final year of his deal in an attempt to boost his stock. The guy had to go out and win the damn Super Bowl to land his monster payday.
All Romo had to do was sit and wait.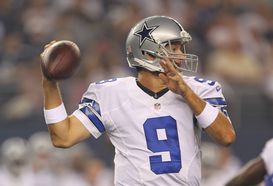 US PRESSWIREIt's not Tony Romo's fault Dallas was willing to break the bank.
Romo entered the 2013 offseason with four years left on a 2011 contract renegotiation that would see the final three years (2014, 2015 and 2016) of the deal void if the Dallas quarterback was still on the Cowboys' roster on the first day of the 2014 league year. But here's the kicker: Dallas wouldn't have been able to use the franchise tag on Romo next offseason since the period for doing so would have lapsed by the first day of the league year, when the remaining portion of the contract was scheduled to void.
Thus, Romo would have been headed for the open market in 2014 absent a new deal with the Cowboys.
And I was dumb enough to think that Flacco held all the leverage in his negotiations with the Ravens after winning the Super Bowl. If Baltimore really wanted to, the organization could have hit their star quarterback with either the exclusive or non-exclusive franchise tags rather than commit approximately $120 million in cash to Flacco over the next six years. While general manager Ozzie Newsome and the Ravens made the right decision, that doesn't mean they were without at least some small piece of leverage.
The Cowboys, on the other hand, had absolutely no leverage whatsoever in their negotiations with Romo. If Dallas wanted to keep their franchise quarterback in town past the 2013 season, they were going to have to pony up. All Romo had to do was sit back and wait until he heard the right number. Jerry Jones is offering $45 million guaranteed and Romo wants more? Sorry, Mr. Jones, but Romo is less than one year away from free agency, where he'd no doubt have multiple suitors interested in signing him to a fat new contract. Pay up now or start looking for a new quarterback later.
This is what makes Tony Romo's weekend worth celebrating. He didn't need to win a Super Bowl, qualify for the Pro Bowl or lead his team into the postseason to land one of the biggest contract extensions in NFL history. Hell, Romo didn't even have to post a winning record last year in order to get paid.
All Tony Romo needed was some leverage and an owner who didn't want to watch his franchise quarterback play for anybody but the Dallas Cowboys in 2014 and beyond.
Don't hate on Tony Romo for getting more guaranteed money than Joe Flacco. All Romo was doing was playing the monster hand he was dealt.
Hit me up on Twitter: @JoeFortenbaugh