April 16, 2012 -
Joe Fortenbaugh
Draft props: We set the lines
An emergency practice was called for 12:00pm pacific on Sunday.
After dropping the season-opener in our Las Vegas kickball league last Wednesday night in unimpressive fashion, the Blue Ballers needed some work. The defense had been porous, the offense was lacking in firepower and team chemistry was nonexistent. Had an ESPN camera crew been present, yours truly would have qualified for SportsCenter's "Not Top 10" with an embarrassing display of baserunning in which I ate dirt on my way to first after an uninspiring performance at the dish.
But 12:00pm pacific was going to be tricky. Game 3 of the Flyers-Penguins "Brutality on Ice" spectacle was scheduled to start at the same time, so I had to persuade one team captain to bump the practice back to 3:00pm while convincing the other to meet me for beers at Nikki Lee's beforehand so we could watch hockey and talk shop.
Both efforts proved more successful than my first at-bat of the season.
Captain No. 2—the one who met me for beers—is none other than our good friend Todd Fuhrman, who by day works as a Senior Race & Sports Analyst at Caesars Entertainment. Our mission was simple: Since most offshore sportsbooks have yet to post a solid offering of NFL draft propositions, we were going to put our heads together and come up with some of the first lines in the business.
You can't bet any of the following nine props anywhere in the world at the moment (in fact, Las Vegas doesn't even book draft props), but we have a feeling some of our friends around the internet may use a few of these as a basis for their opening numbers.
Your mission is to hit the comments section and let us know which way you would play these props.
My mission is to figure out how to make it to first base without falling on my face for the second week in a row.
Note 1: You can check out more of Todd's work over at his website ToddsTake.com, which unfortunately doesn't include any odds or analysis on "which airline will land next at McCarran International," a popular bet that saw action at the conclusion of Sunday's kickball practice.
Note 2: "Over" indicates the higher number while "under" indicates the lower. For example, if the Over/Under on Robert Griffin's draft position is 1.5, the "over" would hit if Griffin goes No. 2 or later, while the "under" hits if RG3 goes first overall.
PROP 1: Over/Under on Texas A&M quarterback Ryan Tannehill's draft position
Line: 4.5
Over: +105
Under: -135
Analysis: With Andrew Luck and Robert Griffin III slated to go to the Colts and Redskins, respectively, Tannehill has emerged over the last few weeks as one of the most talked about players in this year's draft. Many argue that the Texas A&M product isn't worthy of a top-ten selection, while others make the case for the supply vs. demand nature of the quarterback position in today's NFL. Cleveland could be a player at No. 4, but another team could trade up with the Browns in an effort to land Tannehill's services. In fact, the Philadelphia Eagles have reportedly been talking with Cleveland about the possibility of such a trade.
Fuhrman says: Ryan Tannehill has to be considered the biggest surprise right now as it pertains to top 5 picks. His meteoric rise rivals that of JaMarcus Russell, since no one considered him elite when football season ended in January. By all intensive purposes, the Browns seem like a logical landing spot and there's talk other teams may trade up to get him, so setting his O/U at 4.5 makes perfect sense.
PROP 2: Which player will be drafted first: Trent Richardson or Morris Claiborne?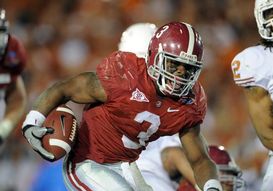 ICOnWill Trent Richardson fly off the board before Morris Claiborne?
Trent Richardson: -120
Morris Claiborne: -110
Analysis: The Alabama running back has been linked to the Browns at No. 4, the Buccaneers at No. 5 and the Rams at No. 6, while Claiborne makes sense for Tampa Bay and St. Louis as well. But the real key to this prop will focus on what happens at No. 4. Cleveland could trade the pick or wind up selecting Oklahoma State wide receiver Justin Blackmon, which might end up shifting the odds in Claiborne's favor.
PROP 3: How many wide receivers will be selected during the first round?
Line: 4.5
Over: +140
Under: -170
Analysis: Blackmon and Notre Dame's Michael Floyd are locks, while Baylor's Kendall Wright, Georgia Tech's Stephen Hill, Rutgers' Mohamed Sanu and LSU's Rueben Randle have all appeared in a variety of first round mock drafts. Be advised that the under has been heavily juiced, which means if you decide to go that route, you'll likely be sweating the final ten picks during next Thursday's opening round.
PROP 4: Over/Under on Boston College linebacker Luke Kuechly's draft position
Line: 14.5
Over: -115
Under: -115
Analysis: Kuechly's unlikely to hear his name called during the first ten picks, but the under still hits if either Kansas City (No. 11) or Seattle (No. 12) pulls the trigger on the middle linebacker from Boston College. But if both teams wind up passing, the over is likely to cash as Arizona (No. 13) and Dallas (No. 14) have more pressing issues than drafting a middle linebacker.
PROP 5: How many players from the SEC will be drafted during the first round?
Line: 10.5
Over: -115
Under: -115
Note: Prop applies to prospects who played in the SEC last season. That means Texas A&M quarterback Ryan Tannehill would not count towards the total.
Analysis: College football's premiere conference is poised to once again dominate the first round of the draft with an abundance of talent at a variety of positions. Trent Richardson, Morris Claiborne, South Carolina's Melvin Ingram and Stephon Gilmore, Alabama's Mark Barron, Dre Kirkpatrick, Courtney Upshaw and Dont'a Hightower, along with Georgia's Cordy Glenn, Mississippi State's Fletcher Cox and LSU's Michael Brockers and Rueben Randle are all candidates to hear their names called during next Thursday's first round. By my count, that makes 12 contenders. Think they all hit?
Fuhrman says: When you look at the strength of the SEC and how the league has dominated college football, it only makes sense that the conference blows away all others when it comes to first round draft choices. While 11 seems like a steep number, there are virtually seven locks that will go in the first round and a slew of other players who warrant strong consideration.
PROP 6: Which player will be drafted first: Doug Martin or David Wilson?
Wilson was installed as a slight favorite over Boise State's Doug Martin.
David Wilson (RB, Virginia Tech): -120
Doug Martin (RB, Boise State): -110
Analysis: Early speculation indicates that Alabama's Trent Richardson will be the only running back selected during the first round, but Day 2 should be filled with talented ball carriers finding professional homes. Wilson and Martin are two versatile prospects who should come off the board in a hurry during the second round, but the question is, which one will hear his name called first?
PROP 7: Over/Under on North Alabama cornerback Janoris Jenkins' draft position
Line: 36.5
Over: -105
Under: -125
Analysis: Jenkins has first round talent, but possesses a multitude of red flags that will likely have the cornerback waiting until Day 2 before he knows where he'll be playing football next season. Our guess is that he falls out of the first round, but winds up on everyone's "best players still available" list heading into the second round. This could trigger an early trade next Friday that paves the way for under tickets to cash.
PROP 8: Which position will have more players drafted during the first round: Wide Receiver or Defensive Back?
Line: Wide Receiver -1
Wide Receivers: -1 (-120)
Defensive Backs: +1 (-110)
Analysis: We set the over/under on first round wide receivers at 4.5 (see above), but the possibility exists that a total of six could come off the board, which is why Fuhrman and I installed them as the favorite to win this bet. As for the defensive backs, Claiborne, Mark Barron and Dre Kirkpatrick look to be locks, with Stephon Gilmore and Janoris Jenkins having the potential to land in the first round as well. This one should be close.
PROP 9: Will the Cleveland Browns draft Ryan Tannehill with the fourth overall pick?
Yes: -115
No: -115
Analysis: Your guess is as good as ours.
Hit me up on Twitter: @JoeFortenbaugh