July 21, 2011 -
Barry Dorey
Draft Strategy
I run on the road, long before I dance under the lights. –Muhammad Ali
As my old man once taught me, "When it comes to business, it's wise to adhere to the six Ps: Prior Planning Prevents Piss Poor Performance."
The same can be said about fantasy football. If the first research you perform takes place the day of your draft, you might as well submit your entry fee and go home, because you've got no shot against the big guns who have spent weeks getting ready.
With that in mind, lets take a look at some draft strategies you should study heading into August…
1. Mock it up early and often: I can't stress this enough: There's NO better way to prepare for a fantasy draft than by participating in as many mocks as possible. Countless hours of mocking will make it feel as if you can see each pick coming in advance. You'll know when to pull the trigger on your sleepers, when the tight end run is coming and best of all, you won't panic if another owner grabs your guy one spot before you. If NFL general managers and front office personnel are good enough to mock draft prior to the actual NFL draft, you are too. CLICK HERE to jump into an NFP mock draft.
2. See Rule No. 1. It's THAT important.
3. Look for lots of carries and lots of targets: As we always say, you can't score fantasy points if you're not getting the football. When it comes to running backs, increase the value of players who get a lot of carries (i.e. Rashard Mendenhall, Michael Turner). As for receivers, look for the guys who see a ton of targets. The more opportunities your players get, the more fantasy points they will score.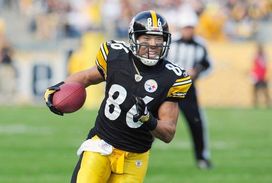 ICONHines Ward has had a terrific career, but he's no longer worth the price.
4. When in doubt, defer to upside: Which wide receiver would you rather have on your team: Hines Ward or Mike Thomas? Ward brings name recognition and experience to the table and has a current ADP of 94.52, but is 35-years-old and is coming off his worst statistical season since 2000. Meanwhile, Thomas is the new No. 1 WR in Jacksonville, is coming off a career year and has an ADP of 167.98. The moral of the story? Always draft the guy with the higher ceiling. Big name players like Chad Ochocinco and Willis McGahee are often overvalued and not worth the price tag.
5. Prepare in advance of each pick: After making a selection, don't sit around and shoot the bull with your buddies about meaningless crap that can be discussed at any time. Instead, start preparing for your next pick immediately. Track which players come off the board and create a short "wish list" of 3-5 guys you'd like to land with your next selection. This will keep your head in the game and prevent panic from setting in if your best option flies off the board one pick before you're up.
6. Draft two D/STs: We're in the minority on this theory, but did you know that in standard scoring fantasy leagues in 2010, the 10th ranked D/ST scored more points than the 7th ranked wide receiver AND every tight end in the league? D/STs score big points, whether owners want to admit it or not. However, what happens when your D/ST runs up against the Packers, Saints, Colts or Patriots? Owning a backup that is playing the Carolina Panthers that week would be an awfully nice option to have.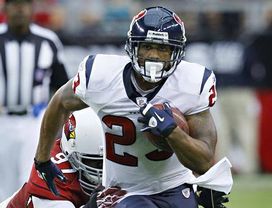 Why draft a kicker in the 14th round when you could take a shot on a guy who could become the next Arian Foster?
7. Do NOT draft a kicker until the final round: We say this every year, yet every August we watch countless morons draft kickers as high as the 14th round. Why? Did you know that from 2005-2010, the six top-ranked kickers at season's end have outscored the six 12th ranked kickers by a grand total of 214 points? That averages out to a difference of just 2.229 fantasy points per game (214 total points divided by 96 games). Is it worth drafting a kicker in the 14th or 15th round for an extra 2.225 points per week? We'd rather take a flier on a wide receiver or running back instead.
8. Hit the waiver wire hard after the draft: If you're near a computer following the conclusion of your draft, be sure to check out which players didn't make the cut. You might be surprised at what you find. In addition, this is also a good way to make amends for any draft mistakes you may have made earlier in the evening. Don't make a transaction just for the sake of making a transaction. However, you should always be thorough and let no stone go unturned.
9. Don't bother buying any fantasy magazines this season: They went to print sometime in April or May, well before the resolution of the NFL lockout and the conclusion of free agency. How can you trust that information? It's old, outdated and quite frankly, useless.
10. Be very cautious of the teams that will start rookie quarterbacks: Carolina, Tennessee, Cincinnati and Minnesota are all likely to start rookie QBs early in the season. As we all know, rookie signal-callers tend to struggle quite a bit during their first professional seasons and as a result, their offenses have trouble moving the football. Throw in the fact that the NFL lockout prevented these guys from working with their coaches this offseason and going through OTAs and you have a recipe for disaster. Chris Johnson is an amazing running back, but anybody who has to face eight and nine-man defensive fronts is going to look human.