August 03, 2011 -
Barry Dorey
Eagles made an offer to Randy Moss
Between DeSean Jackson's holdout and Jeremy Maclin's mystery illness, it makes sense that the Philadelphia Eagles would be in the market to add another wide receiver to the roster.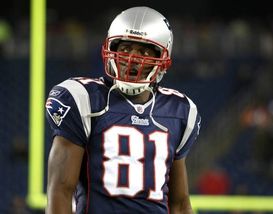 ICONIs there still a chance Randy Moss could land in Philly?
And with the series of high-profile transactions the team has pulled off in the last week, it should come as no surprise that at one point, there was reportedly an interest in free agent Randy Moss.
Karen Guregian of the Boston Herald is reporting that the Eagles reached out to Moss and offered him a one-year contract after the Pro Bowl wide receiver had filed his retirement papers.
Sometimes timing is everything.
Whether or not Moss would have accepted the offer had he not already filed his retirement papers remains to be seen, but we're still of the belief that we haven't seen the last of one of the greatest receivers to ever play the game.
Moss retired because he wasn't offered the type of deal that would make it worth his while to come back.
But all that could change if the injury bug hits the wide receiver position this August and some team decides to make Moss an offer he can't refuse.
Hit me up on Twitter: @JoeFortenbaugh