January 16, 2013 -
Joe Fortenbaugh
Eagles Super Bowl odds on the move in wake of Kelly hiring
Former Oregon head coach Chip Kelly pulled the trigger and decided to make the jump to the NFL. As a result, sports books here in Las Vegas are expecting bettors to pull the trigger on the Philadelphia Eagles to win the 2014 Super Bowl.
Less than sixty minutes after the story broke that Kelly was headed to Philadelphia, the Wynn sports book adjusted the Eagles' 2014 Super Bowl odds from 30-1 to 22-1, Wynn Director of Race & Sports Johnny Avello told the National Football Post on Wednesday.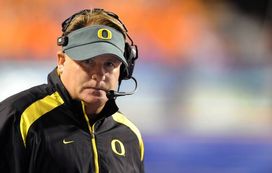 Chip Kelly's hiring is already making an impact in Las Vegas.
Shortly thereafter, the LVH SuperBook adjusted Philadelphia from 50-1 to 30-1, per LVH Director of Race & Sports Jay Kornegay.
It's important to take into account what this really means. The initial reaction of some is that between Philadelphia's quarterback and offensive line issues, the Eagles have no chance to win the Super Bowl in 2014, even with Kelly running the show. But the Wynn and LVH aren't adjusting their numbers because they truly believe that the Birds are going to hoist the Vince Lombardi Trophy in 2014. The public's perception of the Eagles at the moment—especially among the team's fan base—is that this organization just got a whole lot better and as a result, they want to throw some money down on their favorite squad.
The sports books are merely getting in front of this action in an effort to limit their exposure, should Philadelphia somehow find their way into the winner's circle next season.
Kelly's decision has also made waves in the college football world, as the Wynn has adjusted Oregon's 2014 BCS title odds from 6-1 to 9-1 while LVH has moved the Ducks from 5-1 to 8-1.
Hit me up on Twitter: @JoeFortenbaugh