August 02, 2011 -
Joe Fortenbaugh
Eagles-Cowboys rivalry just had more fuel thrown on the fire
As if these two teams and their fans didn't hate each other enough already.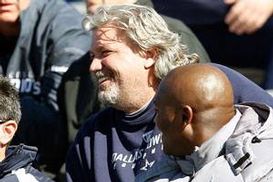 Like his brother Rex, Rob Ryan knows how to stir up the pot.
Asked about the Cowboys' recent signings of defensive ends Marcus Spears, Kenyon Coleman and Jason Hatcher on Monday, Dallas defensive coordinator Rob Ryan made some colorful comments that will no doubt be brought up again in the days leading up to their Week 8 showdown with the Philadelphia Eagles.
"I've got three bullies over there waiting for Thursday," Ryan told reporters on Monday via Clarence E. Hill Jr. of the Fort Worth Star-Telegram. "These are proven players, and that's what we need. I don't know if we win the all-hype team, I think that might have gone to somebody else, but we're going to beat their ass when we play them."
While Ryan never specifically mentioned the Philadelphia Eagles by name, he and his brother Rex have a way of stirring up the pot with their respective teams' division rivals.
For the rest of us, it's a good thing their October 30th showdown with the "all-hype team" in Philadelphia will be televised nationally at 8:20pm eastern.
The good news for Ryan is that the 'Boys have won three of the last four regular-season meeting between these two teams.
Hit me up on Twitter: @JoeFortenbaugh