August 11, 2011 -
Barry Dorey
Eddie George backs Chris Johnson
Add Eddie George to the growing list of people who think the Titans should step up and pay Chris Johnson the big money he deserves.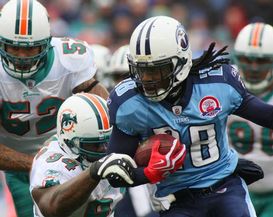 ICONWill Johnson suit up for the Titans in Week 1?
"I find it hard to believe they didn't think about his contract during the lockout. I can't believe they weren't ready for this,'' George told Jim Wyatt of The Tennessean. "Granted, they weren't allowed to talk to Chris' agent during the lockout, but let's be realistic here. Once free agency hit, a lot of those deals were done fast. This should have been done first thing."
Johnson has already lost a year towards unrestricted free agency due to his failure to report to training camp this past Tuesday.
"It is pretty uncalled for, if you ask me, for them to even be in the situation with Chris," George continued. "Everyone knew this was coming. This deal should have been done weeks ago.''
Over the past two years, Johnson has accounted for 39.4% of the Titans' total offense.
If the organization has any desire of fielding a competitive team in 2011, giving Johnson the long-term deal he covets would be a good first step.
Hit me up on Twitter: @JoeFortenbaugh