July 27, 2011 -
Barry Dorey
Edwards: "I would love to be a Jet but the feeling doesn't seem to be mutual"
We've spent a good portion of this fine Wednesday talking about players who are or could be playing for the New York Jets this season.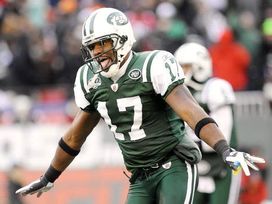 Looks like Edwards could be playing for his third team in three years this season.
Now it's time to talk about one who most likely won't.
Free agent wide receiver Braylon Edwards unleashed a series of tweets this afternoon that indicate he won't return to the organization that traded for his services back in 2009.
Tweet 1: "I would love to be a Jet but the feeling doesn't seem to be mutual with the management. #nyj"
Tweet 2: "Will always love jets nation no matter what happens. #nyj"
Tweet 3: "On another note whatever team wants B easy step to the fore front so we can get this thing moving forward. "will work for touchdowns" lol"
I could be missing something, but it appears as if Edwards deleted the first tweet. That link takes you to Jets beat writer Manish Mehta's page, who re-tweeted Edwards' messages.
If Edwards winds up signing with another team this summer, it will be interesting to see if he gets a bigger deal that fellow free agent wideout Sidney Rice.
Where will Edwards end up this season? Let us know in the NFP Forums!
Hit me up on Twitter: @JoeFortenbaugh