October 11, 2010 -
Joe Fortenbaugh
Enter the red zone
Let's begin with your motivational movie clip of the day…
You are now entering the red zone…
From the 20: Lloyd & Floyd
Brandon Lloyd and Malcom Floyd are doing one hell of a job making the fans of the Denver Broncos and San Diego Chargers forget all about the absence of their former No. 1 receivers.
Many in Denver thought the loss of Pro Bowl wideout Brandon Marshall would be too much for the offense to overcome this season. In reality, it's been just the opposite. Quarterback Kyle Orton is on pace for a career year and Lloyd has been a big reason why after posting his fourth 100+ yard receiving effort of the season in Sunday's 31-17 loss at Baltimore.
Lloyd currently leads the NFL in receiving yards (589), ranks second in scoring among fantasy wide receivers, is averaging a ridiculous 19.6 yards per reception and has racked up 42 targets over his last three games. Through five games, Lloyd is now averaging 14.8 fantasy points per week and has reached the double-digit mark in four of his five outings this season. He's become a WR1 that you should start every week.
In San Diego, many wondered who would be the guy to step up during Vincent Jackson's suspension. Mid-round draft pick Malcom Floyd has assumed the role of "Vincent Jackson junior" and has been providing a solid return on the investment since Week 1.
After Sunday's 8-catch, 213-yard, 1 TD performance in a 35-27 loss at Oakland, Floyd now ranks fourth in scoring among fantasy wide receivers. In addition, the 29-year old out of Wyoming ranks third in the NFL in receiving yards (498) and first in yards per reception average (22.6 YPR, minimum 10 receptions). Floyd has found the end zone in three of five contests this year and is averaging a rock-solid 7.8 targets per game.
These two receivers have emerged as the newest and arguably most dangerous deep-ball threats in the game today. Lloyd leads the league in receptions of 20+ yards (11), while Floyd ranks second, with 10.
Expect the production to continue.
From the 19: Shaun Hill puts the Lions on the board
After suffering three defeats by five or less points over the first four games of the year, the Detroit Lions are back in the win column thanks to some solid relief work by veteran quarterback Shaun Hill.
Hill completed 65.6% of his passes (21/32) for 227 yards and three touchdowns with no interceptions (first 0 INT game this year) to lead the Lions to a 44-6 blowout win over the St. Louis Rams for their first victory of the season.
While franchise quarterback Matthew Stafford will soon reclaim the starting gig in Detroit once his shoulder is properly healed, lets not overlook the job Hill has done in relief. The 30-year old from Maryland is averaging 282.5 passing yards and 2.0 touchdowns per game during his four starts this season. And despite playing only a little more than a half of football against the Chicago Bears in Week 1, Hill ranks sixth in scoring among fantasy quarterbacks.
This guy has been a top-flight replacement for those of your with early-season QB issues.
From the 18: Did you know…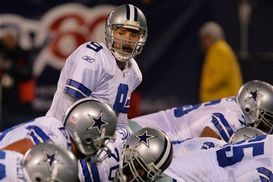 ICONSorry, Tony Romo. Throwing the ball that much just isn't getting it done.
That the ten quarterbacks who lead the league in passing attempts per game are a combined 20-29 (.408) on the season?
Only Peyton Manning (3-2), Drew Brees (3-2) and Matt Ryan (4-1) rank in the top-ten in passing attempts per game and play for a team with a winning record.
The others (Romo, Orton, Bradford, Palmer, Hill, Smith, Rivers) are a combined 10-24.
I thought this was supposed to be a passing league? But when you take a look at the numbers…
From the 17: Rushing leads to wins
The ten teams that lead the NFL in rushing attempts per game are currently a combined 30-17 (.638) on the season. Not only that, but the top five teams (Atlanta, Jacksonville, Kansas City, New York Jets, Baltimore) are a combined 17-6 (.739).
We all know how important the passing game is to finding success in the NFL, but lets not go overboard and dismiss the running game as archaic.
And since we're already talking about the ground game, what better time than now to discuss…
From the 16: Week 5 Workhorse Running Back Report
Lets take a look at the 15 running backs that are getting the most carries:
1. Chris Johnson, RB, Tennessee Titans: 113
2. Cedric Benson, RB, Cincinnati Bengals: 103
3. Maurice Jones-Drew, RB, Jacksonville Jaguars: 102
4. Steven Jackson, RB, St. Louis Rams: 98
5. Arian Foster, RB, Houston Texans: 96
6. Michael Turner, RB, Atlanta Falcons: 93
7. Ahmad Bradshaw, RB, New York Giants: 91
8. Frank Gore, RB, San Francisco 49ers: 91
9. Rashard Mendenhall, RB, Pittsburgh Steelers: 89
10. Ray Rice, RB, Baltimore Ravens: 87
11. Darren McFadden, RB, Oakland Raiders: 85
12. Joseph Addai, RB, Indianapolis Colts: 76
13. Peyton Hillis, RB, Cleveland Browns: 76
14. Matt Forte, RB, Chicago Bears: 72
15. Adrian Peterson, RB, Minnesota Vikings: 70
This isn't rocket science. As we preached this past summer during fantasy draft season, you want to target running backs that get a ton of carries and receivers that get a ton of targets.
Does it come as a surprise to you that of the 15 running backs with the most rushing attempts through five weeks, eight of them rank in the top ten and 12 of them rank in the top 15 in fantasy scoring?
It shouldn't.
From the 15: LOCK OF THE YEAR UPDATE
Enter the red zone LOCK OF THE YEAR: Buffalo Bills UNDER 5.5 wins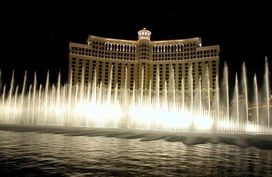 The Bellagio in Las Vegas is one place where you could have cashed in on the Lock of the Year.
When I was scouting for a "lock of the year" pick in the NFL team totals section (overs and unders in wins and losses for each NFL team) back in August, my logic was relatively simple.
Rather than target a good NFL team that should overachieve, why not find a really bad NFL team that won't produce?
After studying the lines and double and triple checking the NFL schedules, I settled on the Buffalo Bills not winning more than 5.5 games.
I was conservative during my schedule analysis, awarding Buffalo wins against the Browns, Chiefs, Lions and Jaguars, while budgeting for an "upset win" as well. That analysis would have led to the Bills winning no more than five games, making the "lock of the year" a winner.
After Sunday's 36-26 home loss to the Jacksonville Jaguars, the "lock of the year" is pretty much a wrap.
Buffalo's upcoming schedule:
Week 6: BYE
Week 7: at Baltimore
Week 8: at Kansas City
Week 9: vs. Chicago (in Toronto)
Week 10: vs. Detroit
From the 14: Speaking of the Bills and Jaguars…
It was nice to see Jacksonville wide receiver Mike Sims-Walker finally step up and do something this year. While he was still out-produced by tight end Marcedes Lewis (4-54-2), MSW hauled in four receptions for 46 yards and one touchdown in the win.
In regards to Lewis, the veteran ranks just 19th in the NFL in targets among tight ends (23), but currently ranks second among TEs in touchdowns (5) and fourth in fantasy scoring.
This guy is definitely worth a pickup on the waiver wire if you need some help at the tight end position. Lewis leads the Jaguars in receiving touchdowns (5) and ranks second in both receptions (16) and receiving yards (192). Quarterback David Garrard likes to get this guy the rock.
On the other side of the ball, with Marshawn Lynch now off the roster the Bills dished out 12 carries to veteran Fred Jackson (12-73-0) and just five carries to rookie C.J. Spiller (5-31-0).
Kinda makes you wonder why the Bills drafted Spiller with the ninth overall pick last April, doesn't it?
From the 14: Down goes Clayton
Bad news for fantasy owners who had an itchy waiver wire trigger finger surfaced Sunday as St. Louis Rams wide receiver Mark Clayton was lost for the season with a patellar tendon injury (knee).
Clayton came out of nowhere to record 22 receptions for 300 yards and two touchdowns on 41 targets through the first four weeks of the season, making him an every-week fantasy starter. Outside of running back Steven Jackson, no member of the Rams had been more productive to start the year.
However, while Clayton's injury certainly delivered a blow to the rising stock of rookie quarterback Sam Bradford, it now opens the door for a new No. 1 wideout to emerge in St. Louis.
Former practice squad standout Danny Amendola is currently the front-runner for the job, as he leads the Rams in receptions (33) and is likely to see a big boost in targets due to Clayton's injury.
Owners are also advised to keep an eye on Laurent Robinson and Brandon Gibson.
From the 13: It's time for my top draft pick to deliver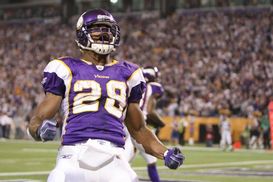 ICONCome on, All Day. Don't fail me now!
This is a situation that was made for Vikings running back Adrian Peterson.
Entering Monday night's showdown between the Jets and Vikings, I currently trail Greg Kellogg of Fantasy Sharks.com by 5.4 fantasy points. Kellogg's lineup has nobody left.
The NFP squad has Adrian Peterson.
Will Peterson be able crack the vaunted Jets defense?
Will the NFP move to 4-1 on the season?
Click HERE to follow all of the action.
From the 12: The injury bug continues to hit the Green Bay Packers
What the hell is in the water up in Wisconsin?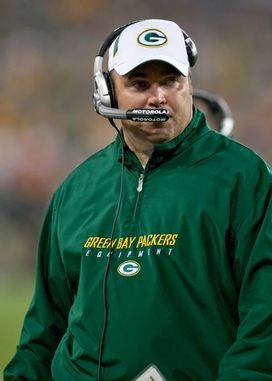 ICONMike McCarthy's Packers are banged up big time.
Running back Ryan Grant (ankle, leg) goes down for the count in Week 1, linebacker Nick Barnett (wrist) and rookie safety Morgan Burnett (knee) are lost in Week 4, and now this?
Sunday's 16-13 overtime loss to the Washington Redskins saw quarterback Aaron Rodgers (concussion), tight end Jermichael Finley (hamstring), backup tight end Donald Lee (shoulder), defensive lineman Ryan Pickett (ankle) and linebacker Clay Matthews (hamstring) all go down with injuries.
Finley's injury is considered to be the most serious of the group as the star tight end could wind up on the shelf for multiple weeks. He's scheduled to undergo an MRI on Monday.
In unrelated news, high-priced wide receiver Greg Jennings caught just two passes for 22 yards on five targets on Sunday. He currently ranks 31st in scoring among fantasy wideouts.
From the 11: Week 5 Target Report
Lets take a look at the 15 most targeted pass-catchers through five weeks:
1. Terrell Owens, WR, Cincinnati Bengals: 60
2. Roddy White, WR, Atlanta Falcons: 58
3. Reggie Wayne, WR, Indianapolis Colts: 56
4. Larry Fitzgerald, WR, Arizona Cardinals: 54
5. Brandon Lloyd, WR, Denver Broncos: 54
6. Danny Amendola, WR, St. Louis Rams: 50
7. Hakeem Nicks, WR, New York Giants: 50
8. Calvin Johnson, WR, Detroit Lions: 48
9. Austin Collie, WR, Indianapolis Colts: 45
10. Jabar Gaffney, WR, Denver Broncos: 45
11. Frank Gore, RB, San Francisco 49ers: 45
12. Brandon Marshall, WR, Miami Dolphins: 45
13. Chad Ochocinco, WR, Cincinnati Bengals: 45
14. Steve Smith, WR, New York Giants: 45
15. Dallas Clark, TE, Indianapolis Colts: 44
Of those 15 aforementioned wide receivers, seven of them (Nicks, Lloyd, Collie, White, Wayne, Owens, C. Johnson) currently rank in the top-ten in scoring among fantasy wideouts.
Keep a close eye on No. 6 (Danny Amendola), who we mentioned earlier as one of this week's top waiver wire pickups.
From the 10: Highlight of the Week
It's not that hard to tell when someone around you has money on a game. Their comments throughout the course of four quarters will let you know exactly who they bet and whether or not they laid an excessive amount of money on the game.
Comments like, "that missed field goal really fu@$*% me," are easier to pick out than most.
I can tell you without a doubt that there was a ton of money on the Atlanta Falcons (-3) against the Cleveland Browns on Sunday.
How do I know? Because after the following play, I saw the twitter universe light up with people commenting on how awesome Kroy Biermann is and how it "bailed them out."
Because if it weren't for gambling, I find it hard to believe that that many people were focused on the Cleveland-Atlanta game "just for fun."
From the 9: Jamaal Charles finally gets more carries than Thomas Jones
Through the first three games of the season, Charles owners were on the verge of pulling their hair out at the sight of veteran running back Thomas Jones handling the bulk of the Kansas City backfield workload.
ICONIs Charles about to see an increase in carries?
Entering Sunday, Jones (52) led Charles (34) in carries and had been fed the rock more in every game this season (with the exception of Week 1, where both running backs totaled 11 carries).
However, the Chiefs decided to let Charles get dirty against the Colts as the former Texas Longhorn carried 18 times for 87 yards. Jones recorded just eight carries for 19 yards.
On the season, Charles now ranks 21st in scoring among fantasy running backs and is averaging a healthy 6.5 yards per carry. Jones currently ranks 35th in scoring and is averaging just 3.9 yards per carry.
Hopefully the trend continues in favor of Charles, but more likely than not, this offense will continue to feature two running backs splitting the workload.
From the 8: Kevin Kolb gets it done
Few people in Philadelphia probably noticed this on Sunday night as most fans were busy watching Cole Hamels and the Philadelphia Phillies sweep the Cincinnati Reds right out of the playoffs, but backup quarterback Kevin Kolb stepped up and delivered a big road win for the Birds.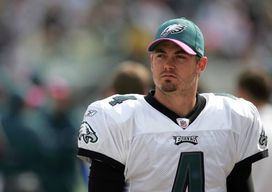 ICONKolb looked solid on Sunday night. Too bad everyone in Philadelphia was watching the Phillies.
Kolb completed 21 of 31 passes for 253 yards and one touchdown with no interceptions for a QB Rating of 103.3 in a 27-24 primetime win over the San Francisco 49ers.
More importantly, Kolb averaged 8.2 yards per attempt as he repeatedly took shots down the field to tight end Brent Celek (3-47-1) and wide receiver Jeremy Maclin (6-95-0). This was something the former Houston quarterback failed to do in relief duty during the Eagles' Week 4 loss to the Washington Redskins.
Head coach Andy Reid has already stated that Michael Vick will be the starting quarterback when he's healthy enough to return, but Kolb's performance was a sign that despite the adversity and public scorn he's gone through during the first five weeks of the season, the guy is still cool enough to shake it off and make plays. Should he start next Sunday vs. Atlanta, Kolb could serve as a serviceable bye-week substitute.
Side note: Hated former Phillies third baseman Scott Rolen went an impressive 1 for 11 with eight strikeouts during the NLDS against Philadelphia.
Nice series, Scott.
From the 7: IDP Update
Tackles
1. LaRon Landry, S, Washington Redskins: 52
2. Bernard Pollard, S, Houston Texans: 51
3. Stephen Tulloch, LB, Tennessee Titans: 51
4. James Anderson, LB, Carolina Panthers: 50
5. DeMeco Ryans, LB, Houston Texans: 47
6. London Fletcher, LB, Washington Redskins: 46
7. DeAngelo Hall, CB, Washington Redskins: 46
8. Rocky McIntosh, LB, Washington Redskins: 46
9. Lawrence Timmons, LB, Pittsburgh Steelers: 46
10. Donte Whitner, S, Buffalo Bills: 46
Sacks
1. Clay Matthews, LB, Green Bay Packers: 8.5
2. Shaun Phillips, LB, San Diego Chargers: 6
3. Osi Umenyiora, DE, New York Giants: 6
4. DeMarcus Ware, LB, Dallas Cowboys: 6
5. Jason Babin, DE, Tennessee Titans: 5.5
6. Mario Williams, DE, Houston Texans: 5
7. Dave Ball, DE, Tennessee Titans: 4.5
8. Tamba Hali, DE, Kansas City Chiefs: 4.5
9. John Abraham, DE, Atlanta Falcons: 4
10. Kevin Burnett, LB, San Diego Chargers: 4*
*nine others tied at 4.
Houston Texans linebacker Brian Cushing returned from a four-game suspension on Sunday and amassed nine tackles (four solo), 1 pass deflection and two quarterback hits in Houston's 34-10 loss to the New York Giants.
Remember, Cushing won the Defensive Rookie of the Year award in 2009 when he racked up 133 total tackles (sixth in NFL).
From the 6: The Bump & Run Podcast Reboot
We've been toying around with the schedule for the Bump & Run Podcast and it may have caused a little confusion over the past couple of weeks.
So to clear things up, here is when you can catch Matt Bowen breaking down football games and me making an ass out of myself:
Saturday afternoon: Preview and Prediction Spectacular
Sunday afternoon: Sunday night preview
Tuesday evening: Week rewind and recap
Bowen is kicking my tail in the Pick 'Em contest, so it looks like I may owe him another dinner at Carmine's in Chicago by the end of the season.
From the 5: Stat of the week
The five NFL teams that have capitalized by scoring the most points on ten-play drives (Indianapolis, Baltimore, New England, Atlanta, Cincinnati) are a combined 16-8 (.666) on the season.
However, the five NFL teams that lead the league in time of possession (Dallas, San Diego, Atlanta, New York Giants, Cincinnati) are a combined 12-12 (.500).
So it's not so much about controlling the clock, as it is being efficient with the football.
Just keep in mind that the five NFL teams that rank at the bottom of the league in time of possession (Buffalo, Seattle, Carolina, Arizona, Tennessee) are a combined 8-16 (.333) this season.
From the 4: Michael Bush steps in, Raiders don't miss a beat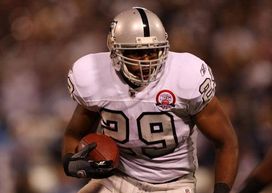 Michael Bush is back in black.
Despite the loss of former top-ten draft pick Darren McFadden to a hamstring injury, the Raiders rushing attack kept firing on all cylinders this past Sunday as Michael Bush racked up 135 total yards and a touchdown on 29 touches in a 35-27 win over the San Diego Chargers.
Oakland currently ranks eighth in the NFL in rushing offense (134.2 yds/gm) and 11th in scoring (22.2 pts/gm), which means that fantasy owners should feel confident playing whichever of these two running backs starts for the Black Hole.
However, be advised that once McFadden gets healthy, this situation is likely going to turn into a running back-by-committee approach, meaning the stock values of both McFadden and Bush are likely going to take a hit.
From the 3: The New York Giants defense is on the rise
It was one thing to rack up ten sacks in a 17-3 home beat down of the Chicago Bears in Week 4.
It's quite another to walk into Reliant Stadium and limit the high-scoring Houston offense to just 195 total yards and ten points in a 34-10 ass-kicking.
Big Blue also forced two turnovers, recorded three sacks and limited All-World running back Arian Foster to just 25 yards and no touchdowns on 11 carries (2.3 YPC), handing him his worst fantasy stat line of the season.
The Giants have been looking good under new defensive coordinator Perry Fewell. This unit now ranks fourth in scoring among fantasy D/STs.
From the 2: Keep an eye on…
Michael Jenkins, WR, Atlanta Falcons
Why? Because Jenkins has missed the first five weeks of the season battling a shoulder injury and nobody remembers he even plays for the Falcons.
We're not saying he's set to explode, but Jenkins is very clos e to returning to the starting lineup. He could make for a nice WR3 option for owners in deeper fantasy leagues.
From the 1: Who ya got tonight?
As I mentioned on Friday, the good people at Procter & Gamble are going to be sending me a ton of stuff to give away to you guys in the coming weeks. So the Monday Night Pick 'Em contest is officially back!
You have to pick the winner of Monday's game (against the spread). In addition, the tiebreaker will be determined by whoever gets the closest to the total amount of points scored in the game. Just leave a comment below with your guess and I'll email the winner in addition to announcing it in Wednesday's fantasy column.
Here's an example of how your comment should look:
MINNESOTA VIKINGS and 48
Simple, right?
The Enter the red zone Monday night picks are currently 2-3 (pathetic).
Tonight, the 3-1 New York Jets play host to the 1-2 Minnesota Vikings.
Opening Line: New York Jets -5/37
Current Line: New York Jets -4.5/38.5
With all of the distractions the Vikings faced this past week (Randy Moss, Brett Favre scandal), Enter the red zone is going with the Jets.
Who ya got?
Hit me up on Twitter: @JoeFortenbaugh
Win cash today playing fantasy football with the NFP and FanDuel.