September 27, 2010 -
Joe Fortenbaugh
Enter the red zone
Kansas City is 3-0?
San Francisco is 0-3?
As Bill Murray said in Ghostbusters, "dogs and cats living together…MASS HYSTERIA!"
Maybe it's not so bad. But it's still our job to make sense of it all and try to come out on top in the fantasy football world.
You are now entering the red zone…
From the 20: Righting the fantasy ship in Baltimore
Sometimes all it takes is a game against the Cleveland Browns to fire-up the engines.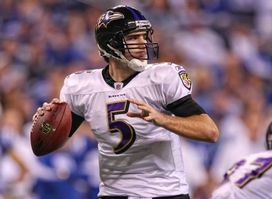 ICONFlacco delivered in a big way on Sunday. Did you start him?
Third-year quarterback Joe Flacco—who we recommended you try to acquire in last week's trade bait column—finally delivered a big-time performance for fantasy owners on Sunday. Flacco connected on 22 of 31 passes for 262 yards with three touchdowns and no interceptions for a QB rating of 128.7. More importantly, Flacco averaged 8.5 yards per attempt as he spent the better portion of the afternoon looking downfield for the big play. In his first two games, the former Delaware Blue Hen averaged just 6.5 and 3.9 yards per attempt, respectively.
Who was the big beneficiary of Flacco's breakout performance? You guessed it: Anquan Boldin. The former Arizona Cardinal turned in a fantasy gem of an afternoon with eight catches for 142 yards and three touchdowns on 11 targets. These two are certainly beginning to find a rhythm with one another and, despite an unappealing matchup with the Pittsburgh Steelers next weekend, have a favorable schedule on the horizon with games against the Denver Broncos (Week 5), New England Patriots (Week 6) and Buffalo Bills (Week 7) in the coming weeks.
Unfortunately it wasn't all good news out of the Crab Cake Capital on Sunday. Second-year running back Ray Rice failed to find the end zone for the third straight week (19 touches, 96 yards) and had to exit the game early due to what is currently being called a "knee sprain."
Rice is scheduled to have an MRI on Monday.
Speaking of injuries…
From the 19: Not the encore we hoped for
After a Week 2 fantasy explosion that consisted of 232 total yards and three touchdowns, Detroit Lions running back Jahvid Best fell back to Earth on Sunday as the always-impressive front-four of the Minnesota Vikings limited the rookie first-round draft pick to just 39 yards and no touchdowns on nine touches.
This shouldn't have come as a shock to fantasy owners. The Vikings feature one of the league's best defenses and are a nightmare to play in the dome. The crowd noise gives the front-four a split-second advantage when firing off the ball and makes for one of the best home-field advantages in the NFL.
However, the real problem here is the fact that Best exited the game early due to a toe injury. There has been no talk of severity or how long he could be out, but veteran rusher Maurice Morris (11 touches, 41 yards) came in and handled the workload after Best went down.
Best owners should be targeting Morris on the waiver wire this week as an insurance policy.
From the 18: Kansas City barbeques San Francisco
In action you may have missed because the NFL Red Zone channel decided to devote just under eight seconds of coverage to it, the Kansas City Chiefs moved to 3-0 with a 31-10 midwestern beat-down of the now 0-3 San Francisco 49ers.
Running back Jamaal Charles—who was another buy-low candidate we recommended last week—delivered 154 total yards on 15 touches as he once again watched veteran workhorse Thomas Jones (19 carries, 95 yards, 1 score) handle the bulk of the backfield responsibilities. However, for as upsetting as this trend was to watch to open the season, Charles currently ranks 14th among running backs in fantasy scoring (standard). That's right around where the NFP pegged him entering the 2010 season.
From the 17: In other news from the K.C. win…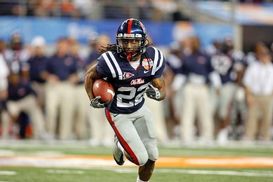 ICONMcCluster is going to take his Ole Miss skill set to a new level.
Rookie second-round pick Dexter McCluster (Ole Miss)—a favorite of the NFP since we got to know and watch him at last January's Senior Bowl in Mobile, Alabama—scored his first NFL touchdown on a 31-yard catch and scamper in the first quarter. McCluster finished the day with three receptions on three targets for 69 yards and one score. This guy was on our sleeper list for a reason. Just give him some time.
Need help at the tight end position? Take a look at Chiefs rookie Tony Moeaki, who caught four passes for 44 yards and one touchdown on Sunday (5 targets). Moeaki now ranks 6th in scoring among fantasy tight ends and is averaging 7.6 fantasy points per week for the season (standard scoring).
There's no nice way to put this, so I'm just going to come right out and say it: 49ers wide receiver Michael Crabtree stinks. The second-year showboat caught just three passes for 37 yards on eight targets in Sunday's loss, giving him a weak-ass stat line of 6-81-0 on the season.
Somebody forgot to tell Crabtree that in order to be a diva receiver, you first have to be a receiver.
From the 16: Highlight of the week
We mentioned above that Chiefs rookie tight end Tony Moeaki scored a touchdown on Sunday, but did any of you actually see it? If not, you missed one of the best plays of the young season.
From the 15: Week 3 Target Report
Let's take a look at the 15 most targeted pass-catchers through three weeks:
1. Roddy White, WR, Atlanta Falcons: 41
2. Brandon Marshall, WR, Miami Dolphins: 37
3. Larry Fitzgerald, WR, Arizona Cardinals: 34
4. Chad Ochocinco, WR, Cincinnati Bengals: 34
5. Terrell Owens, WR, Cincinnati Bengals: 33
6. Austin Collie, WR, Indianapolis Colts: 32
7. Santana Moss, WR, Washington Redskins: 30
8. Miles Austin, WR, Dallas Cowboys: 29
9. Anquan Boldin, WR, Baltimore Ravens: 29
10. Frank Gore, RB, San Francisco 49ers: 29
11. Andre Johnson, WR, Houston Texans: 29
12. Steve Smith, WR, New York Giants: 29
13. Calvin Johnson, WR, Detroit Lions: 28
14. Dallas Clark, TE, Indianapolis Colts: 27
15. Mark Clayton, WR, St. Louis Rams: 27
Take note that Rams wide receiver Mark Clayton has been targeted just 11 times over his last two games. Clayton burst onto the fantasy scene after a Week 1 performance that featured 10 receptions for 119 yards and one touchdown.
From the 14: The NFP fantasy train keeps steamrolling
The NFP fantasy squad pulled out another big win in the Expert's League this past weekend to move to 3-0 on the year. Ten industry experts continue to slug it out like heavyweights in a back-alley street brawl for bragging rights and a plasma television.
From the 13: Welcome back, Lance Moore
Saints wide receiver Lance Moore burst onto the fantasy scene in 2008 when he hauled in 79 receptions for 928 yards and ten scores. However, the veteran receiver's career hit a few speed bumps in 2009 as Moore battled a knee injury that limited him to just 14 receptions in seven games.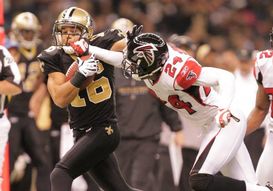 ICONThe million dollar question: Will Moore continue to produce?
Moore looked damn close to 100% on Sunday against the Falcons as he posted a monster stat line that featured six grabs for 149 yards and two scores in a 27-24 overtime loss to Atlanta.
However, before you go buck-wild in an attempt to snag Moore off waivers this week, keep in mind that this is typical New Orleans football. Quarterback Drew Brees loves to spread the rock around to all of his weapons, which unfortunately for fantasy owners means inconsistent results.
Marques Colston (5-62-0) and Devery Henderson (2-38-1) were the guys in Week 1 and Colston (5-67-0) and running back Pierre Thomas (8-57-0) were the heroes in Week 2.
While Moore was the top-dog in Week 3, keep in mind that he only had four total targets entering Sunday's showdown with Atlanta.
We'd rather see you go after a guy like Indianapolis' Austin Collie (12-171-2) if he's still available.
From the 12: LOCK OF THE YEAR UPDATE
Buffalo Bills UNDER 5.5 wins on the season
Enter the red zone's LOCK OF THE YEAR took another step towards payday on Sunday as the New England Patriots defeated the Buffalo Bills 38-30 in a game that was a little too close for comfort.
With the loss, Buffalo now moves to 0-3 on the year and must win six of their final 13 games in order to crack the bet.
Buffalo's upcoming schedule:
Week 4: vs. New York Jets
Week 5: vs. Jacksonville Jaguars
Week 6: BYE
Week 7: at Baltimore Ravens
From the 11: Pick him up!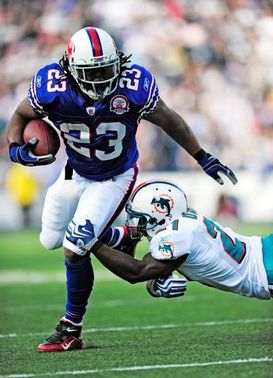 iconNo matter how you slice it, Lynch has some fantasy value.
Speaking of the Buffalo Bills, running back Marshawn Lynch had another respectable showing on Sunday as he picked up 86 total yards on 14 touches.
There are some conspiracy theories floating around that the Bills are giving Lynch the bulk of the backfield workload in an effort to increase his trade value. Good. If true, that means Lynch will help your team:
1. By having an increased workload in Buffalo, OR…
2. He will get traded and become a prominent part of another team's backfield.
Either way, it works out well for fantasy owners.
Buffalo Bills Workload Report Through 3 Weeks
Marshawn Lynch: 33 carries, 3 targets: 36
C.J. Spiller: 12 carries, 13 targets: 25
Fred Jackson: 17 carries, 5 targets: 22
Kinda makes you wonder why the Bills used a top-ten draft pick on Spiller when they had more pressing needs on both sides of the ball.
From the 10: Week 3 Workhorse Running Back Report
Let's take a look at the 15 running backs that are getting the most carries:
1. Chris Johnson, RB, Tennessee Titans: 75
2. Darren McFadden, RB, Oakland Raiders: 73
3. Adrian Peterson, RB, Minnesota Vikings: 70
4. Arian Foster, RB, Houston Texans: 69
5. Cedric Benson, RB, Cincinnati Bengals: 65
6. Rashard Mendenhall, RB, Pittsburgh Steelers: 64
7. Michael Turner, RB, Atlanta Falcons: 58
8. Maurice Jones-Drew, RB, Jacksonville Jaguars: 57
9. Cadillac Williams, RB, Tampa Bay Buccaneers: 55
10. Ahmad Bradshaw, RB, New York Giants: 52
11. Frank Gore, RB, San Francisco 49ers: 52
12. Thomas Jones, RB, Kansas City Chiefs: 52
13. Ray Rice, RB, Baltimore Ravens: 52
14. Steven Jackson, RB, St. Louis Rams: 51
15. Pierre Thomas, RB, New Orleans Saints: 46
From the 9: Alumni showdown (we need your help!)
As some of you already know, Matt Bowen (Iowa) and myself (Penn State) make a bet every year when our alumni square off in Big Ten Conference play.
I'm not going to lie: Bowen owns me in this one. He's won in each of the past two years and I see no way that Penn State can pull off an upset at Kinnick Stadium Saturday night.
However, tradition is tradition so I need to get in line and take my ass-kicking once again this year. But we need your help!
We're looking for creative ideas for our annual bet. Kegs of beer and dinner have been the norm up until now.
Shoot us your ideas in the comments section and if we pick yours, I'll send you an NFP tee shirt and beanie.
Keep in mind that I'll be in Bowen's home of Chicago at the end of November for the Eagles-Bears game, so the bet can be settled at that time.
Opening line: Iowa -6.5
Current line: Iowa -7.5
From the 8: Two wide receivers to target
I'm not sure anybody out there saw this coming, but despite losing their Pro Bowl quarterback to a season-opening four-game suspension, the Pittsburgh Steelers are 3-0.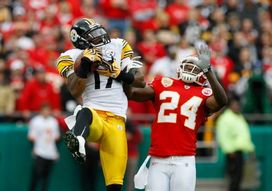 ICONWallace's value will continue to climb when Big Ben returns.
We mentioned last week that wide receiver Hines Ward (3-34-1) was a good buy-low option as Ben Roethlisberger will be returning to action in Week 6 (the Steelers are on the bye in Week 5), but owners should also be targeting second-year wide receiver Mike Wallace as well.
Wallace was on the NFP sleeper list this summer due to his deep speed and big-play ability. But after Sunday's performance at Tampa Bay (3-100-2), owners should also be looking to land the former Ole Miss standout.
He's only got seven receptions on the year, so there's a chance he could be sitting on your waiver wire right now. Trust us. It may take a few games to shake off the cobwebs, but once Big Ben gets in the groove, Wallace and Ward are going to be solid fantasy options.
Now is the time to strike.
From the 7: The Sanchize is now a legitimate fantasy option
After a dreadful Week 1 performance against the Baltimore Ravens (10/21, 74 yards, 0 TDs, 0 INTs), very few people (including myself) gave New York Jets quarterback Mark Sanchez any fantasy respect.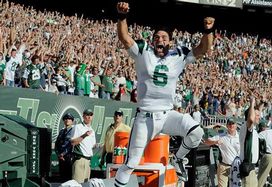 Sanchez just found out that he was finally added to somebody's fantasy team.
However, after back-to-back weeks of posting stat lines goo d enough to crack the top-8 among fantasy quarterbacks, Sanchez is now a legitimate option.
The second-year quarterback was at it again on Sunday night, as Sanchez completed 15 of 28 passes for 256 yards with three touchdowns and no interceptions in a 31-23 win over the Miami Dolphins. Over the last two weeks, Sanchez has thrown six touchdowns, no interceptions and posted consecutive QB ratings of over 120.5.
Yes, he's still good for some clunkers here and there that will leave you scratching your head and wondering what went wrong. But the bottom line is that this guy is currently a very serviceable QB2 option and should be targeted by any owner in quarterback trouble.
From the 6: Stat of the Week: Lots of passing does not equal a win
Of the seven quarterbacks who threw the most passes in Week 3 (Kyle Orton, Philip Rivers, Eli Manning, Chad Henne, Shaun Hill, Peyton Manning and Alex Smith), only one guy (Peyton Manning) came away with a victory (1-6).
In addition, quarterbacks who throw for more than 50 passes in a game this season are currently 1-6 (Matt Schaub won in Week 2).
From the 5: However…
The five NFL teams with the most rushing attempts this season (Atlanta, Kansas City, Tennessee, Oakland, Pittsburgh) are currently a combined 11-4.
Does that mean running the ball translates to wins?
You tell me, because the five NFL teams that have the most balanced run-to-pass ratio (Atlanta, New York Jets, Green Bay, Jacksonville, Tampa Bay) are a combined 9-5.
From the 4: The value of Vick
Week 2 at Detroit: 21/34, 284 yards, 2 TDs, 0 INTs, 8 carries, 37 yards
Fantasy rank among QBs: 8th
Week 3 at Jacksonville: 17/31, 291 yards, 3 TDs, 0 INTs, 4 carries, 30 yards, 1 TD
Fantasy rank among QBs: 1st (Cutler and Rodgers have not played)
It doesn't take a genius to figure out that if there was ever a time to trade Vick, now is it. If you've got another quarterback on your roster that is capable of producing consistent stats on a weekly basis, think about what you could get in return for Vick.
Just target the guy with QB issues. Every league has one of those guys.
From the 3: More statistics!!
The ten NFL teams that have allowed the least amount of sacks (Dallas, Kansas City, New England, Baltimore, Cincinnati, Cleveland, Green Bay, Indianapolis, Atlanta, Chicago) are a combined 18-10 this season.
How does that relate to fantasy football? Good question.
Of those ten teams, four of them currently have quarterbacks that rank in the top-ten in scoring among fantasy QBs.
If Jay Cutler and Aaron Rodgers have conservative statistical outings on Monday night, that number will jump to six. This is exactly why we produce the "Blitz Report" every Friday in the Total Access Pass.
Protect your quarterback!
From the 2: A free trip to Vegas
I mentioned in my Friday column how you could win a trip to Las Vegas and a chance to play for $50,000 in prize money by playing the weekly salary cap fantasy football game offered by FanDuel.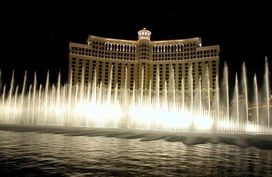 Will Finley and Jennings blow up enough tonight to land me a trip to Vegas?
In addition, I solicited your advice for how to win the "fantasy experts" portion of the contest, so yours truly could hit the craps tables for a few days later this year.
Unless Jermichael Finley and Greg Jennings put up monster numbers tonight, I won't be able to break the Week 2 record. However, the NFP squad still put on one hell of a show.
We are given a $60,000 salary cap to fill the following roster spots:
The Week 3 squad:
QB: Michael Vick: 32.64
RB: Adrian Peterson: 31
RB: Clinton Portis: 5.8
WR: Miles Austin: 2
WR: Brandon Marshall: 22.9
WR: Greg Jennings: Hasn't played
TE: Jermichael Finley: Hasn't played
K: Neil Rackers: 7
D/ST: Pittsburgh: 18
Total Score: 119.34
Highest Score: 178.34
Current Rank: 180 out of 547
From the 1: Who ya got tonight?
The Enter the red zone Monday night picks are currently 1-2 (lost New Orleans last week) entering the third week of Monday night football.
Tonight, the 2-0 Green Bay Packers travel to Chicago to take on the 2-0 Bears.
Opening Line: -3.5/45
Current Line: -3/46.5
I love it when you get a home underdog in a primetime divisional rivalry game.
I'm taking the Bears and the points.
Who ya got?
Hit me up on Twitter: @JoeFortenbaugh
Click HERE to win cash today playing Fantasy Football with the NFP and FanDuel.