August 25, 2010 -
Joe Fortenbaugh
Enter the red zone
15 days.
That's right. Just 15 days until it's time to set your Week 1 fantasy lineups, call your bookies and stock your fridge with ice-cold beer. The start of the NFL regular season is right around the corner.
However, Week 3 of the preseason kicks off Thursday night and this is the "meaningless" game that is considered to be the most important of all the August games that "don't matter." Why? Because this is the week in which several key positional battles will be determined.
With all that in mind, let's not waste anymore time.
You are now entering the red zone…
From the 20: Problems aplenty for the Purple
As if the migraine situation surrounding wideout Percy Harvin wasn't enough, the Vikings got another piece of troubling news recently when they found out No. 1 target Sidney Rice will miss the first half of the season (and possibly more) after the 23-year old underwent hip surgery earlier this week.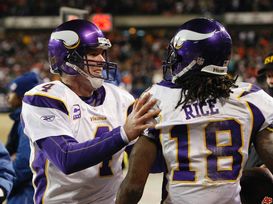 With Rice out, Favre will have to find a new favorite target.
This is bad news for fantasy owners on multiple fronts. For starters, aging quarterback Brett Favre is now without the guy who caught 83 passes for 1,312 yards and 8 touchdowns last year (think Mr. Wranglers is regretting his decision to come back?). Here's how fantasy owners should assess the situation:
1. Don't look for Rice until the 10th round or later. In fact, don't be afraid to pass him up altogether because unless you have an IR spot you can take advantage of, you might not want to waste the roster space. Even when he comes back, it will take some time for Rice to get up to game speed.
2. Put a higher premium on vertical threat Bernard Berrian, but DON"T overpay (middle rounds). NFP Analyst Matt Bowen did a solid job breaking down this topic earlier today and I highly recommend that all of you check it out. Essentially, Berrian has a limited skill set and really only makes plays outside the numbers running the 7 (corner), 8 (post) and 9 (fly) patterns.
3. Drop Favre a few spots down your big board (QB2 in leagues with more than 10 teams). He could be in for a high interception total this season.
4. Keep an eye on Percy Harvin, but don't overpay. The migraine issues could come back to bite you in the ass.
5. Begin to worry (a slight bit) about Adrian Peterson. If the Vikings can't connect down the field, opposing defenses are going to stack the box in an effort to shut down All Day.
6. Don't go crazy over the Javon Walker signing just yet. However, we're going to closely monitor his conditioning and progress over the next few weeks. Remember, 20 of his 31 career touchdown receptions were thrown by Favre.
From the 19: Will J-Cut take a pounding this season?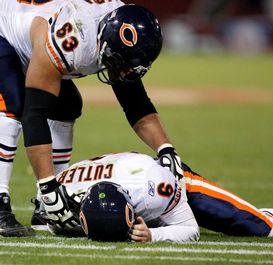 ICONThis is not a sight that ultimate Bears fan Bubba Brewster wants to see this season.
The Chicago quarterback only connected on 7 of 15 passes for 99 yards Saturday night against the Raiders, but the big problem in the Windy City was the fact that the offensive line failed to provide adequate protection for the franchise signal-caller.
Cutler was sacked five times in limited action as left tackle Chris Williams was repeatedly beaten off the edge by outside linebacker Kamerion Wimbley, who finished the night with an impressive four sacks.
Cheer up, Chicago. It's still too early to press the panic button. However, make a note of this and be sure to watch Williams on Saturday against the Cardinals. Offensive coordinator Mike Martz may need to make some adjustments, or Cutler could end up getting killed.
From the 18: Speaking of the Raiders…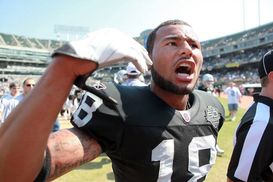 ICONSomeone has to step up in Oakland. Why not Murphy?
It's time to drop wide receiver Chaz Schilens from your draft boards. The oft-injured wideout underwent arthroscopic knee surgery on Tuesday and could be on the sidelines to open the season. Unfortunately for the Raiders (and fantasy owners), Schilens is just one of those guys who can't stay healthy.
Instead, circle the name "Louis Murphy" and look for the second-year wide receiver in the later rounds. In two preseason games this summer, Murphy has racked up 10 targets, four receptions and 67 yards.
Hey, somebody has to catch the ball in Oakland this season.
From the 17: A potential IDP sleeper emerges
Former Michigan standout and first-round draft pick Brandon Graham (DE) was just moved into the starting rotation in Philadelphia this week where he'll have the luxury of playing opposite Pro Bowler Trent Cole.
While Graham will still lose some snaps to veteran Juqua Parker, don't be surprised if this guy makes an impact in the fantasy world this season. Graham put together a nice outing against the Bengals last week in which he recorded three tackles, one sack and two TFLs (tackles for loss) in limited action.
In addition, playing on the other side of a Pro Bowl pass rusher has greatly benefitted defensive ends Ray Edwards (Minnesota, Jared Allen) and Robert Mathis (Indianapolis, Dwight Freeney). Edwards racked up a career-high 8.5 sacks last season while Mathis has taken down the quarterback 21 times in his last 29 games.
With all the attention being paid to Trent Cole, Graham could join Edwards and Mathis amongst the great No. 2 defensive ends in the NFL.
From the 16: Here we go again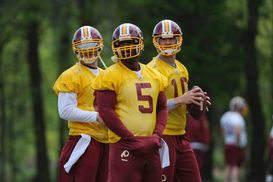 ICONMcNabb is hitting the injury report earlier than usual this season.
Don't expect to see Washington Redskins quarterback Donovan McNabb under center this Friday against the New York Jets because the 33-year old is currently nursing a sprained ankle.
While McNabb will most certainly be ready to go in Week 1 of the regular season, owners that are planning to wait to select a quarterback on draft day have to remember that Donny Mac is a risky option. Over the past six years, McNabb has played only one full 16-game season (2008).
Matt Ryan, Joe Flacco and Kevin Kolb are all better options in the middle to later rounds.
From the 15: Over/Under
Since we got some good feedback on last week's over/under prediction (Buffalo Bills UNDER 5.5 wins), why not try it again?
Pick No. 2: San Francisco 49ers OVER 8.5 wins
Week 1: at Seattle (win)
Week 2: New Orleans (loss)
Week 3: at Kansas City (win)
Week 4: at Atlanta (potential win, but we'll say loss)
Week 5: Philadelphia (we'll say loss to be safe, but Philly stinks on the west coast)
Week 6: Oakland (win, but tougher than some will expect)
Week 7: at Carolina (win)
Week 8: Denver (win)
Week 9: BYE (currently 5-3)
Week 10: St. Louis (win)
Week 11: Tampa Bay (win)
Week 12: at Arizona (loss, we'll give one to the Cardinals)
Week 13: at Green Bay (loss)
Week 14: Seattle (win)
Week 15: at San Diego (loss)
Week 16: at St. Louis (win)
Week 17: Arizona (win)
2010 Final Record: 10-6 and OVER (with a game to spare).
From the 14: Who wants to do a live chat on Thursday?
I'm thinking about rolling out a free, one-hour live fantasy chat Thursday afternoon around 2:30pm eastern. If you are interested (or have a suggestion for a different time) hit me up in the comments section below and let me know your thoughts.
Or, you can reach me on Twitter: @JoeFortenbaugh
From the 13: Highlight of the week
Enter the red zone is getting a video facelift this season as we are going to incorporate a "highlight of the week" to spice things up around here.
Until the regular season kicks off, we'll be rolling out some of the best plays from the 2009 season. If you have any suggestions, you know where to find me.
That one play made Stokley's fantasy week, as the veteran wideout ended the day with just one reception for 87 yards and one touchdown (14 fantasy points in standard scoring formats).
From the 12: Mile High wide receivers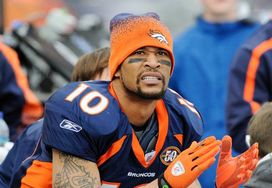 ICONGaffney's strong preseason should have owners considering him in the later rounds.
With Pro Bowl wide receiver Brandon Marshall being traded to the Miami Dolphins this past offseason, Denver (just like Cleveland, Oakland, Tampa Bay, etc) is looking for somebody to step up and make some plays.
While that player was thought to be Eddie Royal entering training camp, veteran wideout Jabar Gaffney has been the one to emerge and set the tone. In two preseason games, Gaffney has been targeted 11 times with eight receptions for 135 yards. Consider Gaffney a late-round draft pick with more upside for owners in PPR leagues.
In addition, don't sleep on rookie wide receiver Eric Decker (Minnesota), who was targeted six times this past Saturday with five receptions for 66 yards. The rookie from the Big Ten is a big target (6-2, 215) that hauled in 84 passes for 1,074 yards and 7 touchdowns in 2008 at Minnesota. He was killing it last season as well, until an October foot injury ended his college career.
Decker isn't worth a draft pick just yet, but keep a close eye on him early in the year. He got off to a head start over first round pick Demaryius Thomas (Georgia Tech), who is expected to return to practice this week after sitting out due to a foot injury.
From the 11: A quarterback on the rise
How good did Titans quarterback Vince Young look on Monday night against the Arizona Cardinals? The former Heisman Trophy candidate completed 9 of 13 passes for 128 yards while adding another ten yards on one carry/scramble.
More importantly, Young looked calm, composed and patient in the pocket. His decision-making was solid (no interceptions) and his accuracy on all levels looked to be better than every before. Add in the fact that this guy will top 400 rushing yards this season and you've got yourself a quality QB2 in the making.
Let's just hope he keeps his head on straight.
From the 10: A quarterback on the decline
How bad did Cardinals quarterback Matt Leinart look on Monday against the Tennessee Titans? The former Heisman Trophy winner completed only 4 of 6 passes for just 28 yards.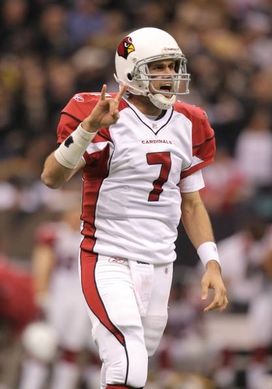 ICONWill Leinart be able to hold the starting job in Arizona all season?
Yes, Leinart was without Pro Bowl wide receiver Larry Fitzgerald, but the guy had little zip on his ball, badly under-threw a deep pass on third and one and got no respect from the Tennessee defense. The Titans kept stacking eight and nine men in the box because they knew Leinart couldn't beat them with his arm.
That's now two preseason games in a row in which Leinart has failed to impress. In addition, did you guys notice that backup quarterback Derek Anderson got some reps with the first team offense on Monday night?
We could have a quarterback controversy brewing in the desert. Unfortunately for Arizona fans, both options look pretty bad at the current moment. Leave these guys off your draft boards.
From the 9: Haven't purchased the 2010 NFP Fantasy Draft Guide or Total Access Pass yet?
Not to worry, because now's the time to get in on the action. Over the next week, owners who purchase the Draft Guide and Total Access Pass will have a chance to win autographed NFL jerseys courtesy of the National Football Post (hint: Philip Rivers is one of them).
So stay tuned and be sure to check back this week to see how you can become a winner (not that you aren't already a winner, we're just saying you now have a chance to be an even bigger winner in life).
From the 8: Terrell Owens vs. Chad Ochocinco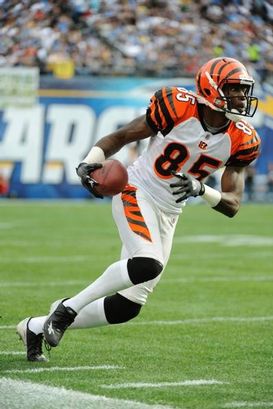 IconAny chance Ochocinco takes a back seat in Cincinnati this season?
Has anyone else noticed that Bengals quarterback Carson Palmer seems to be favoring new addition Terrell Owens over longtime teammate Chad Ochocinco?
Take a look at the statistics from Cincinnati's first three preseason games:
Terrell Owens: 14 targets, 9 receptions, 110 yards, 0 touchdowns
Chad Ochocinco: 9 targets, 3 receptions, 33 yards, 0 touchdowns
That's a pretty noteworthy development. We all knew Owens would show up in shape and ready to play, but he's dominated Esteban in production in each of the Bengals' first three preseason games.
Owens is definitely on the rise. We aren't saying he's set for a monster year, but the veteran wideout is certainly working his way into WR3 range.
From the 7: What's going on in the Tampa Bay backfield?
Veteran rusher Cadillac Williams appears to have the starting job under wraps, but the No. 2 spot is where the action is in Tampa at the moment.
Former New York Giant Derrick Ward has been a complete bust since signing with the Buccaneers during the 2009 offseason and there are rumors swirling around that he could be on the chopping block. The main reason: second-year back Kareem Huggins.
The former Hofstra standout has looked impressive this preseason, carrying the ball a total of 16 times for 99 yards (6.2 YPC), with two receptions for 16 yards. On the flip side, Ward has been awful and is averaging just 1.8 yards per carry (17 carries for 31 yards).
According to Mock Draft Central, here are the current ADP values for each player:
Cadillac Williams: 95.49
Derrick Ward: 277.5
Kareem Huggins: 297.54
Keep an eye on Huggins. If he wins the No. 2 job, he'll see plenty of action this season.
From the 6: More Sleepers!!
For those of you who missed it on Monday, here's the link to check out a whole new batch of sleepers for the 2010 fantasy season.
From the 5: Kings of Leon Washington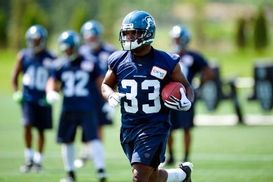 A solid showing this week could be huge for Washington owners.
Tampa Bay isn't the only team with a crowed and cloudy backfield situation. Seattle is just as messy.
Veterans Julius Jones (bust) and Justin Forsett have failed to impress during Seattle's first two preseason games. While a good portion of their running woes can be attributed to a less than stellar offensive line, both Jones and Forsett may have blown their chance to win the starting job.
That's because 2010 offseason acquisition Leon Washington is now back in the mix and looking good. The former New York Jet carried the rock four times for 19 yards and one touchdown on Saturday night against the Green Bay Packers. In addition, head coach Pete Carroll has been giving each running back a chance to take the starting reps during the preseason.
On Friday night at Minnesota, it will be Washington's turn to work with the starters and a solid performance against one of the NFL's best defensive fronts could pave the way to a spot atop the Seattle depth chart.
Leon Washington
Current ADP: 179.63
From the 4: NFP Sleeper quarterbacks continue to impress
Both Chad Henne (Miami Dolphins) and Alex Smith (San Francisco 49ers) found themselves on the 2010 NFP Sleepers list entering the preseason. And after last week's performances, both guys will continue to have a home there.
Let's take a look at the numbers:
Chad Henne (vs. Jacksonville): 11/14, 151 yards, 2 touchdowns, 0 interceptions
Alex Smith (vs. Minnesota): 9/13, 88 yards, 0 touchdowns, 0 interceptions
Smith's numbers won't jump off the page at you, but keep in mind that he played and led a first quarter scoring drive without running back Frank Gore, tight end Vernon Davis or wide receiver Michael Crabtree.
Smith looked poised in the pocket, moved his feet well and took what the defense gave him.
Both of these guys make for excellent QB2 options this season.
Chad Henne
ADP: 142.45
Earliest: 105
Alex Smith
ADP: 228.22
Earliest: 109
From the 3: Who is going to catch the ball in Cleveland this season?
Seriously, I'm asking you. Who is going to catch the rock?
Obviously, the Browns are going to have to throw the football this season. Since none of their wideouts are currently getting any love, whoever ends up as the No. 1 will be available at a good value.
2 names to keep in mind in the later rounds:
Mohamed Massaquoi
2009: 34 receptions, 624 yards, 3 touchdowns (11 starts)
ADP: 190.08
Earliest: 106
Brian Robiskie
2009: 7 receptions, 106 yards, 0 touchdowns (1 start)
ADP: No data available (I guess he hasn't been drafted yet)
Earliest: ??
From the 2: Don't buy any of the Bradford hype (as it relates to fantasy)
Let me be clear: I'm not insinuating that Bradford will be a bad quarterback or end up as a bust like JaMarcus Russell. Far from it. What I am saying is that he plays on a very bad football team with virtually no weapons.
Whether or not he wins the starting job is irrelevant. Bradford is going to have a tough time moving this offense up and down the field this season, meaning he's not fantasy viable.
Keep in mind that over the last three years, no rookie signal-caller has finished higher than 15th in scoring among fantasy quarterbacks (Matt Ryan, 2008).
From the 1: Follow me on Twitter!
I'm trying to make a serious push this week to get over 1,500 followers. Help your boy out and follow me today! @JoeFortenbaugh