November 01, 2010 -
Joe Fortenbaugh
Enter the red zone
Before we get to work, here's your Monday motivational moment of the day:
You are now entering the red zone…
From the 20: The return of Matthew Stafford
After missing the last five games due to a shoulder injury he suffered in Week 1 at Chicago, Lions quarterback Matthew Stafford returned to action in a big way on Sunday.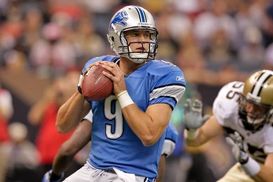 ICONStafford returned from injury and wasted little time getting back to work.
The second year signal-caller completed 26 of 45 passes for 212 yards and four touchdowns with one interception in the Lions' 37-25 win over the Washington Redskins (QB rating: 90.2). More importantly, Stafford didn't try to do anything too fancy. He targeted Pro Bowl wide receiver Calvin Johnson (9-101-3) 15 times, three of which went for scores.
Looking ahead, Stafford and Johnson are in position to go on a big-time run. After a Week 9 date against the New York Jets, the Lions will play three straight games (Buffalo, Dallas, New England) against defenses that rank in the top-8 in fantasy points allowed to opposing quarterbacks.
If you're in trouble at the quarterback position and Stafford is somehow still available, it goes without saying that you should make a move. The Lions just notched their second win of the season, which by Detroit standards means they are red hot.
From the 19: Blount force trauma
It was a little more than a year ago when a talented Oregon running back named LeGarrette Blount punched-out Boise State defensive end Byron Hout after the Broncos beat the Ducks 19-8 to open the 2009 season. The incident landed Blount an eight-game suspension and put a red flag next to his name that caused the running back to go undrafted last April.
Fast-forward to Halloween 2010, where it now appears the joke could be on the Tennessee Titans (who cut Blount) and 30 other NFL teams who opted to pass on the six foot, 247-pound bruiser.
Blount secured himself the starting job in Tampa by racking up 120 yards and two touchdowns on 22 carries (5.5 YPC) to help lead the Buccaneers to a 38-35 road victory over the Arizona Cardinals.
Veteran running back Cadillac Williams recorded just four carries (4-10-0) and appears to have become more of a pass-catching option for quarterback Josh Freeman. Over the past two weeks, the former Auburn standout has hauled in 11 receptions for 60 yards and one touchdown, but has carried the football only eight times.
For those of you who still have your doubts, the next five weeks will provide a tough test for Blount to prove his worth as the rookie takes on three teams (four games) that rank in the bottom-11 in fantasy points allowed to opposing running backs.
Tampa Bay upcoming schedule:
Week 9: at Atlanta (22nd in points allowed)
Week 10: vs. Carolina (14th in points allowed)
Week 11: San Francisco (24th in points allowed)
Week 12: at Baltimore (27th in points allowed)
Week 13: vs. Atlanta (22nd in points allowed)
From the 18: Pick him up!
Mike Sims-Walker, WR, Jacksonville Jaguars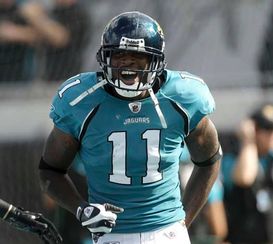 MSW is once again making plays.
After a ridiculously sluggish start to the 2010 season, MSW has begun to turn it on as the veteran wideout has scored a touchdown in three of his last four games. In addition, Sims-Walker was targeted ten times in Dallas on Sunday and responded by catching eight passes for a season-high 153 yards with one touchdown in Jacksonville's 35-17 win.
Through the first five games of the season, Sims-Walker was averaging a mediocre 5.6 targets per game. However, that number has jumped to 8.0 over the past three weeks.
MSW is currently available in 36% of all Yahoo! fantasy leagues, but that won't last much longer, especially when owners realize that his next two games (Houston, Cleveland) come against defenses that rank in the top-six in points allowed to opposing wide receivers.
From the 17: LOCK OF THE YEAR UPDATE
Enter the red zone's lock of the year: Buffalo Bills UNDER 5.5 wins
I'm starting to feel bad for the remaining fans of the Buffalo Bills. Week 8 provided yet another opportunity to notch the first victory of the season, but in the end it just wasn't meant to be as the Kansas City Chiefs squeaked by 13-10 in overtime.
The upside here is that wide receiver Stevie Johnson (5-37-1) kept his streak alive and found the end zone for the fifth-consecutive game. In addition, quarterback Ryan Fitzpatrick threw for 220+ yards for the fourth time in five starts this season.
Don't look now, but Johnson currently ranks 11th in scoring among fantasy wide receivers.
The Bills are now 0-7 and must go 6-3 down the stretch in order for the "Lock of the Year" to lose.
Buffalo's upcoming schedule:
Week 9: vs. Chicago Bears (in Toronto)
Week 10: vs. Detroit Lions
Week 11: at Cincinnati Bengals
Week 12: vs. Pittsburgh Steelers
Week 13: at Minnesota Vikings
From the 16: The Seattle Seahawks are two different teams
If Seattle figures out how to let somebody else take the NFC West it will be a result of their inability to win games on the road.
Look at the numbers:
Seahawks at home in 2010
Record: 3-0
Points for: 26.7
Points against: 12.0
Turnovers: 1.3 per game
Time of possession: 29:29
Seahawks on road in 2010
Record: 1-3
Points for: 10.8
Points against: 26.0
Turnovers: 1.8 per game
Time of possession: 27:00
This applies to the world of fantasy football as well. On Sunday in Oakland the Seahawks generated just three points and only 162 yards of offense as the Raiders kicked their ass 33-3.
There wasn't a single player on the team worth starting.
From the 15: Speaking of the Raiders…
They aren't getting a whole lot of publicity right now, but this team has ripped off three wins in their last four games and is currently in second place in the AFC West.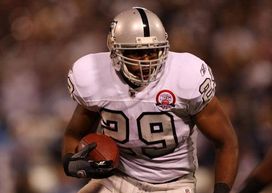 Bush may be the backup in Oakland, but he's getting enough burn to warrant a starting roster spot.
In those three aforementioned wins, Oakland is averaging 42.3 points and 444.0 yards per game and hasn't committed a single turnover.
Running backs Darren McFadden and Michael Bush are both worthy of starting roster spots at the current moment. On Sunday against the Seahawks, McFadden t opped 100 rushing yards for the fourth time in six games this season, while Bush found the end zone for the fourth time in his last five games.
Meanwhile, the Oakland defense has forced seven turnovers in their last four games and is surrendering just 11.3 points per game over their last three contests. Believe it or not, this unit currently ranks second in scoring among fantasy D/STs.
Hopefully some hype starts to build this week as the Raiders get set to host the Kansas City Chiefs in Week 9.
From the 14: Highlight of the week
Remember that Blount guy we talked about earlier?
<strong>From the 13: Highlight of the week part two
This is what happens when you bench Donovan McNabb for Rex Grossman:
McNabb (17/30, 210 yards, 1 TD, 1 INT) was pretty bad on the road once again on Sunday. But do you really think Rex Grossman gave the Redskins a better chance to win that game?
Speaking of McNabb's road woes, owners are advised to leave him on the bench when the Redskins are playing away from FedEx Field. In four road games this season, McNabb is completing just 54.0% of his passes with four touchdown passes and five interceptions.
All of that adds up to a QB rating of just 68.9.
From the 12: Speaking of the Redskins, you should consider picking up…
Keiland Williams, RB, Washington Redskins
There isn't a ton of upside here, but the rookie from LSU picked up 53 total yards and scored a touchdown on nine touches Sunday in Washington's 37-25 loss at Detroit.
The main reason you want to keep an eye on Williams is because staring running back Ryan Torain exited Sunday's game at halftime with a hamstring injury and did not return. With Clinton Portis and Chad Simpson already nursing injuries, Williams could be in line to see a big increase in touches.
From the 11: Week 8 Workhorse Running Back Report
Lets take a look at the 15 running backs that are recording the most carries per game:
1. Adrian Peterson, RB, Minnesota Vikings: 23.6
2. Chris Johnson, RB, Tennessee Titans: 22.2
3. Steven Jackson, RB, St. Louis Rams: 21.5
4. Rashard Mendenhall, RB, Pittsburgh Steelers: 20.9
5. Frank Gore, RB, San Francisco 49ers: 20.5
6. Cedric Benson, RB, Cincinnati Bengals: 20.4
7. Darren McFadden, RB, Oakland Raiders: 20.3
8. Maurice Jones-Drew, RB, Jacksonville Jaguars: 20.2
9. Arian Foster, RB, Houston Texans: 19.2
10. Ahmad Bradshaw, RB, New York Giants: 19.1
11. Ray Rice, RB, Baltimore Ravens: 18.7
12. Michael Turner, RB, Atlanta Falcons: 18.7
13. Thomas Jones, RB, Kansas City Chiefs: 16.9
14. Marshawn Lynch, RB, Seattle Seahawks: 16.7
15. Joseph Addai, RB, Indianapolis Colts: 15.5
Of those 15 ball carriers, nine rank in the top-15 in fantasy scoring among running backs (Peterson, Johnson, Gore, McFadden, Foster, Mendenhall, S. Jackson, Jones-Drew, Bradshaw).
From the 10: What to do about Ryan Mathews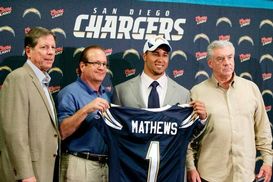 ICONThe Chargers spent a lot of money on this guy and have gotten little in return...so far.
Eight weeks into the season and all of us are well aware that Chargers running back Ryan Mathews is not living up to expectations. His shortcomings in pass protection have limited his snaps, which in turn, have limited his opportunities to produce.
After Sunday's above average performance (15-43-1), Mathews currently ranks 31st in scoring among fantasy running backs (one spot behind Danny Woodhead, who was cut by the Jets prior to the start of the season) and is still watching backup ball carrier Mike Tolbert (11-63-1) outperform him on a weekly basis.
The problem here is that Mathews owners can't trade the guy because there is no market for a running back who rarely produces. However, we can't advise you to drop him, especially when you take a look at the Chargers' upcoming schedule.
Mathews' next four games (Houston, Denver, Indianapolis, Oakland) come against defenses that rank in the top-eight in fantasy points allowed to opposing running backs. The hope here is that with some very favorable upcoming matchups, Mathews will finally take his training wheels off and start producing.
It's a long shot for the rookie to make it rain, but there isn't another running back in the NFL with a better upcoming schedule.
Except for Mike Tolbert.
From the 9: Week 8 Target Report
Lets take a look at the 15 pass catchers that are recording the most targets per game:
1. Terrell Owens, WR, Cincinnati Bengals: 12.1
2. Roddy White, WR, Atlanta Falcons: 11.7
3. Brandon Marshall, WR, Miami Dolphins: 11.1
4. Larry Fitzgerald, WR, Arizona Cardinals: 10.9
5. Reggie Wayne, WR, Indianapolis Colts: 10.8
6. Hakeem Nicks, WR, New York Giants: 10.1
7. Calvin Johnson, WR, Detroit Lions: 10.0
8. Brandon Lloyd, WR, Denver Broncos: 9.9
9. Chad Ochocinco, WR, Cincinnati Bengals: 9.9
10. Miles Austin, WR, Dallas Cowboys: 9.4
11. Steve Smith, WR, New York Giants: 9.3
12. Santana Moss, WR, Washington Redskins: 9.1
13. Jason Witten, TE, Dallas Cowboys: 9.0
14. Anquan Boldin, WR, Baltimore Ravens: 8.7
15. Marques Colston, WR, New Orleans Saints: 8.6
Of those 15 pass catchers, eight rank in the top-15 in scoring among fantasy wideouts (Owens, White, Nicks, Lloyd, C. Johnson, Austin, Wayne, Boldin).
Note: Jason Witten (No. 13) currently ranks sixth in scoring among fantasy tight ends.
From the 8: Troy Smith takes London by storm
It only took one start, but quarterback Troy Smith now has just as many 2010 wins as Alex Smith.
Smith completed 12 of 19 passes for 196 yards and one touchdown (zero interceptions) in Sunday's 24-16 win over the reeling Denver Broncos (QB rating: 115.2).
The big news here is that, according to Matt Maiocco of CSNBayArea.com, 49ers head coach Mike Singletary "intimated" after that game that San Francisco will likely stick with Smith (Troy, not Alex) as their starting quarterback. The 49ers are on the bye in Week 9 and then return to action in Week 10 to host the St. Louis Rams.
Alex Smith is still nursing a shoulder injury, but if Troy Smith can find a way to pull out a victory against the Rams in two weeks, don't be surprised if A. Smith spends the rest of the season on the sidelines watching T. Smith.
From the 7: Bad news for Britt owners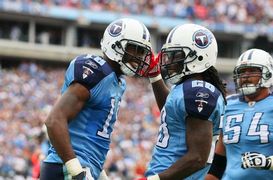 ICONKenny Britt (left) is on his way to the shelf.
Tennessee Titans wide receiver Kenny Britt suffered a hamstring injury on the fourth play of the game against the San Diego Chargers on Sunday and is expected to miss "an extended period of time," according to head coach Jeff Fisher via Jim Wyatt and David Climer of the Tennessean.
Prior to Week 8, Britt had scored seven touchdowns in his last five games and was ranked in the top-five in scoring among fantasy wide receivers. The news comes as a blow to a Titans team that was in first place in the AFC South entering the weekend.
Owners are advised to keep an eye on wide receivers Nate Washington (21-351-4) and Damian Williams (11-146-0) on the waiver wire this week. Keep in mind that three of the Titans' next four games (Washington, Houston, Jacksonville) come against defenses that rank in the bottom-three in fantasy points allowed to opposing wide receivers.
From the 6: The NFP fantasy team needs some more Monday night magic
Last Monday I needed a big game from Giants running back Ahmad Bradshaw to take down the NFL Gridiron Gab in the 2010 NFP Fantasy Expert's League.
Bradshaw delivered and the NFP squad moved to 6-1.
This week, I'm going to need 34.4 points from Colts quarterback Peyton Manning and Texans kicker Neil Rackers if I want to take down Jay Clemons from Sports Illustrated.
Will the NFP team come from behind and shock the world once again? Click HERE to follow the action!
From the 5: The weekly Bump & Run Podcast reminder
Click HERE to check out who had a better week in the Bump & Run Podcast Pick 'Em Challenge between Matt Bowen and myself (SPOILER ALERT: For the eighth consecutive week, it wasn't me).
And stop by Tuesday afternoon to check out the "Week 8 Backpedal" as Bowen and I run through the Week 8 results and break down the big stories from around the NFL.
From the 4: IDP Update
Tackles
1. Jerod Mayo, LB, New England Patriots: 86
2. Stephen Tulloch, LB, Tennessee Titans: 79
3. LaRon Landry, S, Washington Redskins: 76
4. Chad Greenway, LB, Minnesota Vikings: 74
5. London Fletcher, LB, Washington Redskins: 72
6. Lawrence Timmons, LB, Pittsburgh Steelers: 72
7. D.J. Williams, LB, Denver Broncos: 72
8. Patrick Willis, LB, San Francisco 49ers: 72
9. James Anderson, LB, Carolina Panthers: 65
10. A.J. Hawk, LB, Green Bay Packers: 64*
*Buffalo safety Donte Whitner also has 64 tackles.
Sacks
1. Clay Matthews, LB, Green Bay Packers: 9.5
2. Osi Umenyiora, DE, New York Giants: 8.0
3. DeMarcus Ware, LB, Dallas Cowboys: 8.0
4. Jason Babin, DE, Tennessee Titans: 7.0
5. Tamba Hali, LB, Kansas City Chiefs: 7.0
6. Brian Orakpo, LB, Washington Redskins: 7.0
7. Shaun Phillips, LB, San Diego Chargers: 7.0
8. James Hall, DE, St. Louis Rams: 6.5
9. Ndamukong Suh, DT, Detroit Lions: 6.5
10. Cameron Wake, LB, Miami Dolphins: 6.5
From the 3: Stat of the week: Bye weeks
Entering Week 8, 16 NFL teams had already had their bye week.
Houston and Indianapolis play Monday night, but the other 14 have combined to go 7-7 in the week following their bye.
Bye week winners: Tampa Bay, Miami, New England, Pittsburgh, Seattle, Carolina, Detroit
Bye week losers: Dallas, Kansas City, Minnesota, Arizona, Buffalo, Cincinnati, NY Jets
Be sure to take note that Philadelphia Eagles head coach Andy Reid is a ridiculous 11-0 in his career coming off the bye week.
The Eagles play host to Peyton Manning and the Indianapolis Colts next Sunday.
From the 2: Stock Watch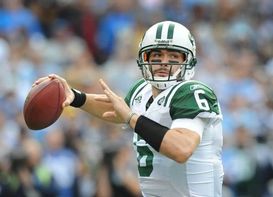 ICONSanchez and the rest of the Jets offense looked awful on Sunday.
Stock Up: David Garrard, QB, Jacksonville Jaguars: Garrard returned to action on Sunday after suffering a concussion in Week 6 and being held out in Week 7. He promptly lit up the Dallas Cowboys defense for 260 yards and four touchdowns with no interceptions. Garrard and the Jaguars are on the bye in Week 9 and then come back with favorable matchups against the Texans and Browns.
Stock Down: Mark Sanchez, QB, New York Jets: Sanchez returned from the Jets' bye week to complete just 16 of 38 passes for 256 yards with no touchdowns and two interceptions for a QB rating of 43.3. What's even worse is that the second-year quarterback led the New York offense to exactly zero points on Sunday against the Green Bay Packers. However, the next three weeks look very promising as Sanchez will play the Lions, Browns and Texans, who all rank in the top-11 in fantasy points allowed to opposing quarterbacks.
From the 1: Who ya got tonight?
Leave a comment below with your pick for who will win tonight's game as well as the total amount of points that you think will be scored (this serves as the tiebreaker). I'll email the winner on Tuesday and will send out some stuff courtesy of the good folks at Procter & Gamble.
You are picking against the spread and your comment should look as follows:
TEXANS, 55
The Enter the red zone Monday night picks are currently 5-4 (last week we had the Giants and the OVER).
Tonight, the 4-2 Houston Texans travel to Indianapolis to take on the 4-2 Colts.
Opening Line: Colts -5.5/49
Current Line: Colts -5.5/51
Peyton Manning is 8-0 lifetime at home against the Houston Texans with an average margin of victory of 11.3 points. In those eight games, the Colts have never won by fewer than seven points.
Enter the red zone is taking the COLTS and laying the points.
Who ya got?
Hit me up on Twitter: @JoeFortenbaugh
Win cash today playing fantasy football with the NFP and FanDuel.