October 04, 2010 -
Joe Fortenbaugh
Enter the red zone
It's a rainy, miserable day here in eastern Pennsylvania. So before we get to Monday's fantasy rundown, let's have ourselves a laugh to get this week started on the right foot.
You are now entering the red zone…
From the 20: Orton does it again
Has there been a bigger surprise this season than Broncos quarterback Kyle Orton? The six-year veteran completed an impressive 70% of his passes on Sunday (35/50) for 341 yards and two touchdowns in a 26-20 win at Tennessee.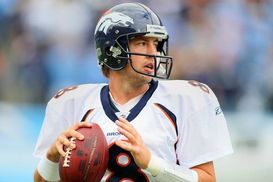 ICONOrton currently leads the NFL in passing.
Orton has topped 295 passing yards in every game this season, has thrown for more than 300 yards in each of his last three outings, is rocking a QB rating of 96.3 and currently ranks third in scoring among fantasy quarterbacks (he's beating Aaron Rodgers!). Not only that, but keep in mind Orton just got done posting 25.0 fantasy points on a Tennessee pass defense that had ranked in the top ten in fantasy points allowed to opposing QBs entering Week 4.
Orton is an excellent fit for head coach Josh McDaniels' offense in Denver and it's obvious in the way he's already turned wide receivers Brandon Lloyd (11-115-0) and Eddie Royal (8-113-1) into top-12 fantasy wideouts. Hell, Lloyd currently ranks second in the NFL in receiving yards, with 454.
However, owners shouldn't get too excited about Orton's upside just yet. He's got a showdown with the Ravens in Baltimore next Sunday and then returns home in Week 6 to face the New York Jets. Those will be two excellent tests to see how far this guy has come.
Oh yeah, did we almost forget to mention that Orton currently leads the NFL in passing yards, with 1,419?
From the 19: McNabb out, Kolb in, Kolb out, Vick in, Vick out, Kolb in…
The NFL's most interesting quarterback carousel took yet another twist on Sunday as former Eagle Donovan McNabb (8/19, 125, 1 TD, 1 INT, 39 rush yards) returned to Philly and beat the Birds 17-12 in an NFC East showdown. (Here's a video of a Philly fan burning a McNabb jersey that I caught in the parking lot prior to the game).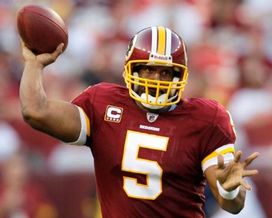 Donny Mac returned to Philly and left a winner.
Donny Mac currently ranks 17th in fantasy scoring among quarterbacks and can't be viewed as anything but a QB2 at this point in the season. While he's been somewhat efficient (only two interceptions through four games), McNabb has failed to top 200 passing yards twice this year and has only tossed four touchdown passes. He also ranks just 16th in the NFL in passing attempts (121).
However, the big fantasy news to emerge from South Philly on Sunday was the bone-crunching hit that Eagles quarterback Michael Vick endured on his way to the end zone in the first half (the play was called back due to a holding penalty). Vick exited the game with what is being called a sore chest and ribs and will undergo an MRI on Monday. His status for next Sunday's game at San Francisco is currently in doubt.
What's even scarier is the way former starter Kevin Kolb looked in relief duty. Kolb completed 22 of 35 passes for 201 yards and one touchdown (with one interception), but averaged just 5.7 yards per attempt as he appeared tentative to take shots down the field. As a result, wideouts Desean Jackson (3-19-0) and Jeremy Maclin (1-15-0) posted their worst fantasy outings of the year.
We won't put Kolb under the bus just yet, but he was presented with a golden opportunity to save some face and he failed to deliver.
From the 17: LOCK of the year update (Tomlinson goes off)
Enter the red zone LOCK OF THE YEAR: Buffalo Bills UNDER 5.5 wins
The Buffalo Bills took another ass-kicking on Sunday, this time at the hands of the New York Jets, 38-14.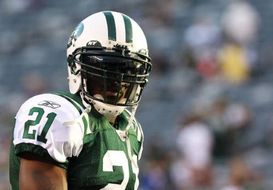 L.T. shredded a sloppy Buffalo run defense.
Jets quarterback Mark Sanchez (14-24, 161 yards, 2 TDs, 0 INTs) looked solid for the third consecutive week (his value is on the rise), second-year running back Shonn Greene topped the century mark for the first time this season (22-117-0) and tight end Dustin Keller continued his climb to the top of the fantasy standings (4-28-2).
But the big story here was running back LaDainian Tomlinson, who posted his most productive fantasy outing since 2008. L.T. rushed for 133 yards on 19 carries (7.0 YPC) and scored two touchdowns against a defense that oddly resembles a thin slice of swiss cheese. The former Pro Bowler also caught three passes for 22 yards on four targets.
It's like we always say: If you want to find a running back that's going to produce, just check the schedule to see who Buffalo is playing. The Bills currently rank 32nd in the NFL in run defense (174.0 yds/gm) and are giving up an average of 27.1 fantasy points per week to opposing running backs (fourth worst in NFL).
As for the Bills in a non-fantasy related update, they now move to 0-4 on the year and need to finish the season 6-6 to ruin the LOCK OF THE YEAR.
Buffalo's upcoming schedule:
Week 5: vs. Jacksonville
Week 6: BYE
Week 7: at Baltimore
Week 8: at Kansas City
From the 16: Speaking of the Sanchize</p>
Since his dreadful Week 1 performance against the Baltimore Ravens (10/21, 74 yards, 0 TDs, 0 INTs), the second-year quarterback has been on a roll.
Over his last three games, Sanchez has completed 50 of 82 passes for 637 yards with eight touchdowns and zero interceptions. That's good enough to currently rank him in the top-ten in scoring among fantasy quarterbacks (Tom Brady and Chad Henne have yet to play).
If you're in need of some help at the quarterback position, we highly recommend a good, long look at Sanchez. The guy has been very effective as of late.
Did we mention that he hasn't thrown a single interception this season?
From the 15: Highlight of the week
Wide receivers are supposed to do this sort of thing, not safeties.
Too bad it wasn't enough to help get the Niners in the win column, as San Francisco dropped a 16-14 heartbreaker to the Atlanta Falcons to move to 0-4.
From the 14: The NFP Fantasy Squad is on the ropes
A battle of two unbeatens is currently being waged in the 2010 NFP Fantasy Expert's League as my NFP squad and Brandon Funston's Yahoo! team are battling down to the wire. Click HERE to check out the action.
I'm going to need big nights from Brandon Marshall and Aaron Hernandez if I want to pull this thing out.
From the 13: Week 4 Target Report
Lets take a look at the 15 most targeted pass-catchers through four weeks:
1. Roddy White, WR, Atlanta Falcons: 50
2. Terrell Owens, WR, Cincinnati Bengals: 48
3. Larry Fitzgerald, WR, Arizona Cardinals: 45
4. Reggie Wayne, WR, Indianapolis Colts: 45
5. Mark Clayton, WR, St. Louis Rams: 41
6. Brandon Lloyd, WR, Denver Broncos: 40
7. Anquan Boldin, WR, Baltimore Ravens: 39
8. Austin Collie, WR, Indianapolis Colts: 39
9. Calvin Johnson, WR, Detroit Lions: 39
10. Chad Ochocinco, WR, Cincinnati Bengals: 39
11. Dallas Clark, TE, Indianapolis Colts: 38
12. Frank Gore, RB, San Francisco 49ers: 37
13. Brandon Marshall, WR, Miami Dolphins: 37
14. Steve Smith, WR, New York Giants: 37
15. Jabar Gaffney, WR, Denver Broncos: 36
Despite ranking third in targets, Cardinals wide receiver Larry Fitzgerald currently ranks dead-last in that group in receptions (19).
Somebody get Kurt Warner on the phone and offer him $20 million and a Wranglers commercial.
From the 12: It's time to jump ship on the Green Bay running game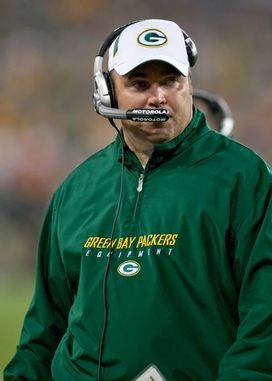 ICONPackers head coach Mike McCarthy is still searching for a running game.
Through four weeks, no defense in the NFL is giving up more fantasy points to opposing running backs than the Detroit Lions (27.8 pts/gm). Detroit also ranks 25th in the NFL against the run (134.5 yds/gm) and has already surrendered five rushing touchdowns (third most in league).
Armed with this secret knowledge, Packers head coach Mike McCarthy dished out just 18 total carries to his running backs on Sunday, splitting the load evenly between John Kuhn (9-39-0) and Brandon Jackson (9-33-0).
Through four weeks, the Packers currently rank 22nd in the NFL in rushing (94.5 yds/gm). Jackson is averaging just 5.5 fantasy points per week while Kuhn is clocking-in at 4.5.
Bottom line: Neither guy is seeing enough burn to warrant a starting roster spot in any format.
From the 11: Week 4 Workhorse Running Back Report
Lets take a look at the 15 running backs that are getting the most carries:
1. Chris Johnson, RB, Tennessee Titans: 94
2. Rashard Mendenhall, RB, Pittsburgh Steelers: 89
3. Arian Foster, RB, Houston Texans: 85
4. Darren McFadden, RB, Oakland Raiders: 85
5. Maurice Jones-Drew, RB, Jacksonville Jaguars: 83
6. Cedric Benson, RB, Cincinnati Bengals: 80
7. Ahmad Bradshaw, RB, New York Giants: 75
8. Michael Turner, RB, Atlanta Falcons: 74
9. Frank Gore, RB, San Francisco 49ers: 73
10. Steven Jackson, RB, St. Louis Rams: 73
11. Adrian Peterson, RB, Minnesota: 70
12. Peyton Hillis, RB, Cleveland Browns: 66
13. Ray Rice, RB, Baltimore Ravens: 60
14. Joseph Addai, RB, Indianapolis Colts: 59
15. LaDainian Tomlinson, RB, New York Jets: 56
Of those 15 players, ten of them currently rank in the top-15 in scoring among fantasy running backs (Foster, McFadden, Peterson, Mendenhall, Gore, Hillis, Johnson, Tomlinson, Bradshaw, Jones-Drew).
From the 10: Darren McFadden pulls up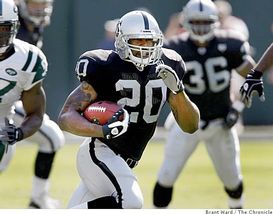 McFadden's injury could open the door for Michael Bush.
It's been quite a ride for third-year running back Darren McFadden this season. The former Arkansas Razorback currently ranks third in the NFL in rushing yards (392) and sixth in fantasy points among RBs (63.0, standard scoring).
However, Run DMC's dream season could be in big trouble. McFadden pulled up with a hamstring injury during the fourth quarter of Sunday's 31-24 loss to the Houston Texans. While it doesn't appear to be too serious, Raiders beat writer Jerry McDonald writes that "McFadden will likely hand the baton this week to Michael Bush."
For those of you who have been stashing Bush since draft day, next Sunday against the San Diego Chargers could be your chance to get him in the lineup.
From the 9: Speaking of the Chargers…
How predictable is this team? They flop in Week 1 at Kansas City, come home and blow out Jacksonville in Week 2, head to Seattle and lay an egg in Week 3 and come home and blast the Cardinals in Week 4.
It's the same old inconsistent play from a team that always underachieves and never truly lives up to the hype.
However, fantasy owners should take note that after Sunday's 41-10 beat down of the Arizona Cardinals, the San Diego D/ST currently ranks No. 1 in standard scoring formats.
Racking up nine sacks, three turnovers and scoring a touchdown will tend to give a team a slight bump in the rankings. Hats off to linebacker Shaun Phillips, who recorded six tackles (5 solo), four sacks, two pass deflections, one interception and one touchdown.
As my colleague Matt Bowen told me on the phone Monday morning in regards to Phillips' performance, "That's more than I did in my entire career."
Look for the trend to continue…
San Diego's upcoming schedule:
Week 5: at Oakland
Week 6: at St. Louis
Week 7: vs. New England
Week 8: vs. Tennessee
From the 8: Stat of the week
The five NFL teams (Detroit, Buffalo, Chicago, Carolina, Philadelphia) that have recorded the most 3 & out drives currently have a combined record of 5-15.
But wait, there's more!
Of those five teams, four of them currently rank in the top-six in sacks allowed (Chicago, Philadelphia, Carolina, Buffalo).
The Lions have given up eight sacks in 2010, which ranks tied for 15th in the NFL.
You have to protect your quarterback if you want to win in this league. The five NFL teams that have given up the fewest sacks this season (Dallas, Kansas City, New England, Baltimore, Indianapolis) are a combined 11-6 on the year.
From the 7: IDP Update
Tackles
1. Lawrence Timmons, LB, Pittsburgh Steelers: 46
2. James Anderson, LB, Carolina Panthers: 42
3. Bernard Pollard, S, Houston Texans: 41
4. London Fletcher, LB, Washington Redskins: 39
5. LaRon Landry, S, Washington Redskins: 39
6. Rocky McIntosh, LB, Washington Redskins: 39
7. Paris Lenon, LB, Arizona Cardinals: 38
8. Stephen Tulloch, LB, Tennessee Titans: 38
9. Zac Diles, LB, Houston Texans: 37
10. DeMeco Ryans, LB, Houston Texans: 36
Sacks
1. Clay Matthews, LB, Green Bay Packers: 7
2. Shaun Phillips, LB, San Diego Chargers: 6
3. Mario Williams, DE, Houston Texans: 5
4. Dave Ball, DE, Tennessee Titans: 4.5
5. Chris Clemons, DE, Seattle Seahawks: 4
6. James Hall, DE, St. Louis Rams: 4
7. Cullen Jenkins, DE, Green Bay Packers: 4
8. Mathias Kiwanuka, DE, New York Giants: 4
9. Robert Mathis, DE, Indianapolis Colts: 4
10. Juqua Parker, DE, Philadel phia Eagles: 4
Five of the top-ten tacklers (Timmons, Fletcher, Landry, McIntosh, Lenon) play in a 3-4 defensive scheme, while the other five play in a 4-3.
Seven of the top-ten sack specialists (Williams, Ball, Clemons, Hall, Kiwanuka, Mathis, Parker) play in a 4-3 defensive scheme, while the other three play in a 3-4.
From the 6: Arian Foster gets benched, owners panic, Foster still delivers
So I'm sitting up in the press box for the Redskins-Eagles snooze fest and my phone, twitter account and email start blowing up in regards to Arian Foster.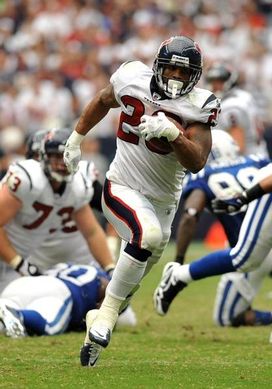 ICONNo matter what the obstacle, Foster continues to pump out the points.
"What the f*$% happened to Foster?"
"Why isn't Foster playing? This is going to kill my team!"
You get the idea.
Texans head coach Gary Kubiak benched Foster for the first quarter of Sunday's showdown at Oakland for missing a team meeting. Foster stood patiently on the sideline, entered the game in the second quarter and finished his afternoon with 16 carries for 131 yards and a touchdown. He also chipped in 56 receiving yards and another touchdown on just three receptions. For those of you scoring at home, that's 30 fantasy points in standard scoring formats, which was tops for Week 4.
This guy really is a stud. However, let's hope his newfound success doesn't go to his head. It's only one missed meeting, but there's a reason this guy went undrafted out of Tennessee.
From the 5: Chris Johnson vs. Adrian Peterson
Since this was the big debate entering fantasy drafts this past summer, we're going to start keeping track of the CJ2K vs. All Day showdown.
Through four weeks, Peterson is currently ranked fifth in scoring among fantasy running backs, while Johnson checks in at ninth.
Unfortunately for C.J., he's trailing All Day despite playing one more game.