October 18, 2010 -
Joe Fortenbaugh
Enter the red zone
Here is your Monday morning motivational speech to get you through the day:
You are now entering the red zone…
From the 20: Bowe
We mentioned on Friday how important Week 6 was for Dwayne Bowe owners. Through four games, the veteran wideout had caught just nine passes for 152 yards and one score, forcing many to consider cutting their losses and dropping Bowe for some waiver wire hotness.
Sunday's showdown with the Houston Texans was the first of an upcoming six-game stretch that features some very favorable defensive matchups. With his back against the wall, the former LSU Tiger delivered in a big way at Reliant Stadium by hauling in six receptions for 108 yards and two touchdowns in a 35-31 loss. Bowe's 22 fantasy points (standard scoring) were a season-high and good for second in Week 6 scoring behind only Philadelphia's Jeremy Maclin (27).
In addition, Bowe recorded a season-high nine targets on Sunday as he and quarterback Matt Cassel finally got on the same page and made sweet music together. Moving forward, Bowe and the Chiefs have upcoming dates with the Jaguars, Bills, Raiders, Broncos and Cardinals.
Needless to say, his stock is on the rise. You can resume starting Bowe with confidence.
From the 19: Speaking of underachieving wide receivers…
What's up, Greg Jennings? Glad to see you're still alive.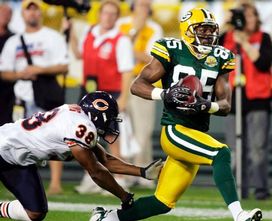 ICONFinally, Greg Jennings delivered for fantasy owners.
The 27-year old Green Bay wide receiver entered Week 6 with three touchdowns under his belt, but was averaging only 2.8 receptions, 36.6 receiving yards and 6.8 fantasy points per game. For a late-round draft pick or waiver wire acquisition, those numbers are ok.
For an early-round selection, that just isn't going to cut it.
With tight end Jermichael Finley on the shelf, Jennings stepped up admirably and produced his best start of the season that featured six receptions (season high) for 133 yards (season high) and one touchdown.
Even better, Jennings was targeted seven times for his highest total since Week 1 at Philadelphia.
This guy has been quite inconsistent over the last two years, but a big-game performance one week after Finley went down with a knee injury should not be viewed as a coincidence. With one less receiving threat on the field, quarterback Aaron Rodgers went after Jennings more than he had in any of the previous four weeks, as he had to compensate for the loss of one of his best receiving options.
However, owners are advised to taper their expectations just a bit. Green Bay plays two of their next four games against a Minnesota Vikings defense that ranks tenth in fantasy points allowed to opposing wideouts (17.6 pts/gm).
From the 18: Here comes Marshawn Lynch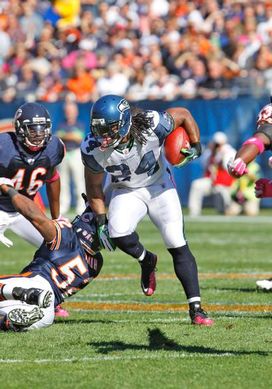 ICONLynch got off to a good start in his debut with the Seahawks.
It wasn't pretty (a 2.6 yards per carry average rarely is), but running back Marshawn Lynch racked up ten fantasy points (44 rushing yards, one touchdown) against Chicago's third-ranked run defense in his debut with the Seattle Seahawks.
More importantly, Lynch carried the rock 17 times on Sunday, which were seven more attempts than backup Justin Forsett (10-67-1) amassed.
As most of us expected, it looks like the backfield situation in Seattle is going to be a timeshare handled by both Lynch and Forsett. The good news is that a very favorable upcoming schedule could lead to a big return on investment for owners who jumped the waiver wire weeks ago and landed Lynch.
Seahawks upcoming schedule:
Week 7: vs. Arizona (fourth-most fantasy pts allowed to opposing RBs)
Week 8: at Oakland (third-most fantasy pts allowed to opposing RBs)
Week 9: vs. New York Giants (28th most fantasy pts allowed to opposing RBs)
Week 10: at Arizona
Week 11: at New Orleans (ninth-most fantasy pts allowed to opposing RBs)
From the 17: NFP Fantasy Expert's League Update
Brandon Funston of Yahoo! is on the verge of moving to 6-0 on the season, but the NFP band of misfits is hot on his heels and set to improve to 5-1.
For the second straight year, the National Football Post has put a plasma television and bragging rights on the line to see which draft strategies and in-season management philosophies truly are the best in the business.
As this thing continues to heat up, you guys are encouraged to follow all the action as it happens live.
Click HERE to check out the 2010 NFP Expert's League.
From the 16: Concussions
DeSean Jackson, Chris Cooley and Josh Cribbs all exited their respective games with concussions on Sunday.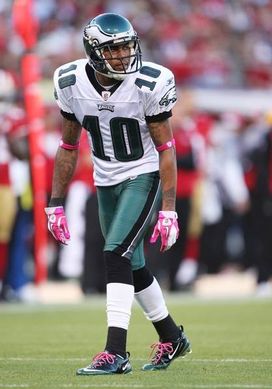 ICONDon't expect to see this guy for the next couple of weeks.
Jackson's was by far the worst of the bunch. The third-year wideout got lit up by Atlanta cornerback Dunta Robinson in the second quarter of Philadelphia's 31-17 win and was down on the field for several minutes before being helped to the locker room. Prior to the hit, Jackson had amassed 78 total yards and two touchdowns in just over one quarter of action.
Owners shouldn't count on seeing D-Jax in the lineup next week when the Eagles travel to Tennessee to take on the Titans. Jay Glazer of FoxSports.com reported Sunday evening that Jackson suffered a "severe concussion" and memory loss from the hit. Peter King of Sports Illustrated is reporting that Jackson likely won't be back on the field until November 7 against Indianapolis (Philly has a bye in Week 8).
Per a report from ProFootballTalk.com, Cribbs is expected to play next week at New Orleans.
No word as of yet on Cooley's status for Week 8 when the Redskins travel to Chicago to take on the Bears.
From the 15: Another injury to monitor
Chargers tight end Antonio Gates injured his left ankle during the second quarter of Sunday's 20-17 loss at St. Louis. The Pro Bowl tight end returned to action for one more series before being shut down for the day.
A ccording to the Associated Press, Gates is expected to undergo an MRI on Monday. He was seen wearing a walking boot in the locker room after the game.
What's amazing is that even after recording just two catches for 12 yards in Week 6, Gates is still by far and away the leading scorer among fantasy tight ends, with 88 points (Dustin Keller checks in at second, with 61 points).
We'll continue to monitor the situation and will keep you posted.
As of now, Gates owners are advised to start looking for a Plan B just in case the big man can't go in Week 7 vs. New England.
From the 14: Highlight of the week
This was a sick grab. I'm not really sure what else to say.
Garcon finished the evening with four receptions for 103 yards and one touchdown for his best fantasy output of the season (16 points, standard scoring) as the Indianapolis Colts held on for a 27-24 win over the Washington Redskins.
From the 13: LOCK OF THE YEAR UPDATE
Enter the red zone's lock of the year: Buffalo Bills UNDER 5.5 wins
Buffalo fans rejoiced this past weekend as the Bills figured out a way to avoid losing their sixth-consecutive game.
Granted, the Bills were on their bye week, but that shouldn't stop the good people of Buffalo from celebrating their team's most successful Sunday of the 2010 season.
Upcoming schedule:
Week 7: at Baltimore
Week 8: at Kansas City
Week 9: vs. Chicago (Toronto)
Week 10: vs. Detroit
Week 11: at Cincinnati
These five games will be the key to success for the "Lock of the Year" bet.
From the 12: They're going streaking!
Michael Crabtree, WR, San Francisco 49ers
Week 5: 14 targets, 9 receptions, 105 yards, 1 touchdown
Week 6: 6 targets, 4 receptions, 57 yards, 1 touchdown
Roy Williams, WR, Dallas Cowboys
Week 3: 6 targets, 5 receptions, 117 yards, 2 touchdowns
Week 4: BYE
Week 5: 8 targets, 6 receptions, 87 yards, 1 touchdown
Week 6: 3 targets, 3 receptions, 28 yards, 2 touchdowns
Kevin Kolb, QB, Philadelphia Eagles
Week 5: 21-31, 253 yards, 1 TD, 0 INTs
Week 6: 23-29, 326 yards, 3 TDs, 1 INT
LaDainian Tomlinson, RB, New York Jets
9.0+ fantasy points in each of last four games.
From the 11: Pick him up
Deion Branch, WR, New England Patriots
The Seahawks and Patriots completed a trade last Monday night that sent wide receiver Deion Branch from Seattle back to New England in exchange for a fourth-round draft pick.
In four games with the Seahawks this season, Branch caught 13 passes for 102 yards and one touchdown.
In four quarters with the Patriots on Sunday, the wide receiver caught 9 passes for 98 yards and one touchdown on a season-high 12 targets.
Looks like quarterback Tom Brady has found his guy. Owners are advised to make a move to acquire Branch.
From the 10: Torain gets it done, Indy's run defense stinks on the road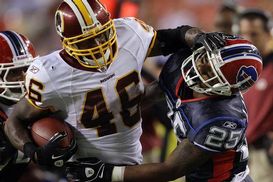 Torain is becoming a household fantasy name.
Waiver wire pickup Ryan Torain delivered in a big way on Sunday night against the Indianapolis Colts as he picked up 109 total yards and two touchdowns on 21 touches.
Since starter Clinton Portis went down with a groin injury in Week 4, Torain has stepped into the lineup and averaged 19.6 touches per game over the past three weeks. For those of you in deeper leagues, consider the 24-year old an every week starter from here on out.
In addition, we have a new target to circle on the NFL schedule. EVERYONE is advised to start ANY running back that HOSTS the Colts defense.
The Colts are currently giving up an average of 147.8 yards per game on the ground when they hit the road. To make matters worse, opposing running backs have already scored seven rushing touchdowns against this unit in just four road games.
Colts upcoming road games:
Week 9: at Philadelphia (LeSean McCoy)
Week 11: at New England (BenJarvus Green-Ellis)
Week 14: at Tennessee (Chris Johnson)
Week 16: at Oakland (Michael Bush, Darren McFadden)
Speaking of running backs…
From the 9: Week 6 Workhorse Running Back Report
Lets take a look at the 15 running backs that are getting the most carries per game:
1. Rashard Mendenhall, RB, Pittsburgh Steelers: 23.2
2. Chris Johnson, RB, Tennessee Titans: 22.6
3. Adrian Peterson, RB, Minnesota Vikings: 22.4
4. Darren McFadden, RB, Oakland Raiders: 21.2
5. Steven Jackson, RB, St. Louis Rams: 21.2
6. Cedric Benson, RB, Cincinnati Bengals: 20.6
7. Maurice Jones-Drew, RB, Jacksonville Jaguars: 20.4
8. Frank Gore, RB, San Francisco 49ers: 19.3
9. Arian Foster, RB, Houston Texans: 19.2
10. Ray Rice, RB, Baltimore Ravens: 19.2
11. Ahmad Bradshaw, RB, New York Giants: 18.3
12. Michael Turner, RB, Atlanta Falcons: 18.0
13. Marshawn Lynch, RB, Seattle Seahawks: 17.0
14. Knowshon Moreno, RB, Denver Broncos: 17.0
15. Thomas Jones, RB, Kansas City Chiefs: 15.8
Of those 15 aforementioned players, nine rank in the top-15 in scoring among fantasy running backs (Foster, Gore, Peterson, Johnson, Mendenhall, Bradshaw, Jackson, Rice, McFadden).
More carries equals more production. It's as simple as that.
From the 8: Another name to target on waivers
Danario Alexander, WR, St. Louis Rams
The rookie wide receiver out of Missouri caught four passes for 72 yards and one touchdown on five targets in the Rams' 20-17 upset win over the loser San Diego Chargers on Sunday.
With Mark Clayton out for the season, quarterback Sam Bradford spread the love to an amazing ten different receivers. Wideouts Brandon Gibson and Danny Amendola as well as tight end Billy Bajema all recorded five targets as well.
Be advised: We aren't predicting huge things from Alexander. We got a good look at him back in January during the Senior Bowl (practice week) and were somewhat impressed with his skill set. But he still has a way to go t o become a consistent producer at the NFL level.
Don't expect this guy to save your fantasy team.</p>
From the 7: Week 6 Target Report
Lets take a look at the 15 wide receivers that are getting the most targets per game:
1. Brandon Marshall, WR, Miami Dolphins: 12.4
2. Terrell Owens, WR, Cincinnati Bengals: 12.0
3. Roddy White, WR, Atlanta Falcons: 11.5
4. Andre Johnson, WR, Houston Texans: 11.0
5. Reggie Wayne, WR, Indianapolis Colts: 10.8
6. Larry Fitzgerald, WR, Arizona Cardinals: 10.8
7. Brandon Lloyd, WR, Denver Broncos: 10.6
8. Hakeem Nicks, WR, New York Giants: 9.5
9. Calvin Johnson, WR, Detroit Lions: 9.2
10. Miles Austin, WR, Dallas Cowboys: 9.2
11. Danny Amendola, WR, St. Louis Rams: 9.2
12. Santana Moss, WR, Washington Redskins: 9.2
13. Austin Collie, WR, Indianapolis Colts: 9.0
14. Chad Ochocinco, WR, Cincinnati Bengals: 9.0
15. Wes Welker, WR, New England Patriots: 9.0
Of those 15 aforementioned players, nine rank in the top-15 in scoring among fantasy wide receivers (Collie, Lloyd, Nicks, A. Johnson, White, Wayne, Austin, C. Johnson, Owens)
From the 6: Another quarterback controversy on the way in Philly?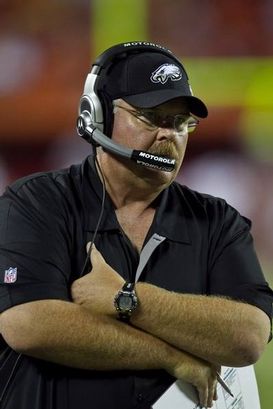 ICONLooks like Andy Reid has another big decision to make.
I mentioned this Sunday afternoon from the Lincoln Financial Field press box, but it looks like the Philadelphia Eagles are going to have yet another QB controversy on their hands.
With Michael Vick out for the past two weeks due to a rib injury, former starter/backup/starter/backup Kevin Kolb stepped in and delivered two straight wins for the Birds.
During those two games (San Francisco, Atlanta) Kolb threw for 579 yards and four touchdowns with one interception. His QB rating during Vick's absence is an impressive 118.7.
While no official word has been handed down as of yet, any owner in quarterback trouble with dead weight on their roster should make a move for Kolb.
If head coach Andy Reid went with Vick because he gave the Eagles "the best chance to win," how can he not go back to Kolb now that the former Donovan McNabb understudy has delivered two consecutive victories as the starter?
From the 5: Bump & Run Podcast reminder
Matt Bowen and I are trying to crash the itunes servers by having millions of fans download the Bump & Run Podcast.
While this goal may seem a little far-fetched (or downright asinine, depending on your outlook), check us out if you have some time to kill.
You can catch the Week 6 preview show by CLICKING HERE.
And remember, the Week 6 recap show will be made available Tuesday evening for your smooth-listening pleasure.
From the 4: IDP Update
Tackles
1. LaRon Landy, S, Washington Redskins: 63
2. Jerod Mayo, LB, New England Patriots: 61
3. London Fletcher, LB, Washington Redskins: 60
4. Bernard Pollard, S, Houston Texans: 57
5. Lawrence Timmons, LB, Pittsburgh Steelers: 57
6. D.J. Williams, LB, Denver Broncos: 56
7. DeMeco Ryans, LB, Houston Texans: 54
8. Chad Greenway, LB, Minnesota Vikings: 51
9. Curtis Lofton, LB, Atlanta Falcons: 51
10. Stephen Tulloch, LB, Tennessee Titans: 51
Note: DeMeco Ryans is OUT for the year after suffering an Achilles injury on Sunday vs. Kansas City.
Sacks
1. Clay Matthews, LB, Green Bay Packers: 8.5
2. Osi Umenyiora, DE, New York Giants: 8.0
3. DeMarcus Ware, LB, Dallas Cowboys: 7.0
4. James Hall, DE, St. Louis Rams: 6.0
5. Shaun Phillips, LB, San Diego Chargers: 6.0
6. Cameron Wake, LB, Miami Dolphins: 6.0
7. Jason Babin, DE, Tennessee Titans: 5.5
8. Robert Mathis, DE, Indianapolis Colts: 5.5
9. Kevin Burnett, DE, San Diego Charges: 5.0
10. Trent Cole, DE, Philadelphia Eagles: 5.0
From the 3: Stat of the week (3rd down conversions)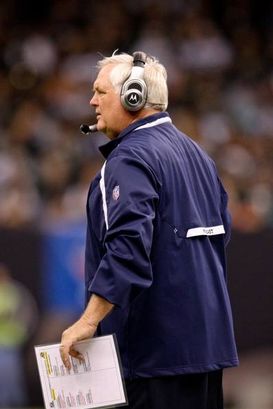 ICONThe Cowboys have done a nice job converting third downs this year. Too bad they can't convert any games into wins.
Of the ten teams that rank in the top-ten in the NFL in 3rd down conversions this season, nine of them have a winning record (New Orleans, Miami, New England, Atlanta, Indianapolis, Baltimore, Jacksonville, Houston, Seattle).
The team that doesn't is none other than the current shipwreck known as the Dallas Cowboys.
Those ten aforementioned teams have a combined 34-21 record this season (.618). Remove Wade Phillips' crew from the mix and that number shoots to 33-17 (.666).
Bonus stat of the week: The five teams that rank in the top-five in 3 & Out drives (Detroit, Chicago, Carolina, Buffalo, Oakland) are a combined 7-20 (.259) this season.
Bonus stat of the week #2: The five teams that rank in the top-five in turnover differential this season (NY Jets, Pittsburgh, Philadelphia, Atlanta, Tampa Bay) are a combined 20-8 this season (.714).
From the 2: The big-time return of Big Ben Roethlisberger
It may have come against the 1-5 Cleveland Browns, but the Pittsburgh offense was firing on all cylinders Sunday as Ben Roethlisberger returned from his four-game suspension to lead a 28-10 rout.
ICONBig Ben's return jump-started the Pittsburgh offense.
Big Ben threw for 257 yards and three touchdowns, but more importantly, he got everyone around him involved. Rashard Mendenhall, Mike Wallace, Hines Ward and Heath Miller all scored touchdowns and all finished with 11 or more fantasy points (standard scoring).
Receivers Hines Ward and Mike Wallace have been two of our favorite "buy low" candidates for the past few weeks. Hopefully, some of you made a move to land one of those guys.
Are the Steelers headed for the Super Bowl?
From the 1: Who ya got tonight?
As I mentioned last week, the Monday Night Pick 'Em Challenge is back in business here at the NFP. The good people are Procter & Gamble are sending me a bunch of stuff to give away to you guys, but I figured the best thing to do would be to make you earn it.
Leave your pick in the comments section below for a chance to win. You MUST pick the winner of the Monday night game (against the spread) and be the closest to the total amount of points scored in order to win.
Comment Example: Titans and 55
The Enter the red zone Monday night picks are currently 3-3.
Tonight, the 3-2 Tennessee Titans travel to Jacksonville to take on the 3-2 Jaguars.
Opening Line: Tennessee -3/44.5
Current Line: Tennessee -3/45
Since 2009, the Jaguars are 7-4 at home (2-1 in 2010). Meanwhile, since 2009, the Titans are 5-5 on the road (2-0 in 2010). The Jaguars rank 12th in the NFL against the run, but are 29th against the pass.
This is a tough game to call, but it's a primetime, divisional rivalry game where the home team is getting points.
Enter the red zone is taking the Jaguars.
Who ya got?
Hit me up on Twitter: @JoeFortenbaugh
Win cash today playing fantasy football with the NFP and FanDuel.