August 16, 2010 -
Joe Fortenbaugh
Enter the red zone
Now that the preseason is officially off and running, Enter the Red Zone is making it's triumphant return to the National Football Post.
Analysis, statistical breakdowns, predictions, picks and more as we try to cover the remaining 20 yards and punch it in for the score.
You are now entering the red zone…
From the 20: Houston, you've got a problem
Rookie running back Ben Tate will undergo surgery on Tuesday after breaking his ankle during Saturday night's 19-16 preseason loss at Arizona. The second-round draft pick out of Auburn suffered the injury after being tackled from behind by rookie linebacker Daryl Washington (TCU) in the third quarter. Per a report from the Houston Chronicle, Tate will be placed on injured reserve sometime after the surgery, effectively ending his season.
According to Mock Draft Central.com, Tate had an ADP (average draft position) of 60.74 and was, on average, the 26th running back selected this summer. Fantasy owners can now remove him from their draft boards as this injury brings a ton of uncertainty to the running back position in Houston. This is bad news for a team that ranked 30th in rushing last season (92.2 yards per game) and 30th in yards per carry average (3.5 YPC).
However…
From the 19: A new sleeper emerges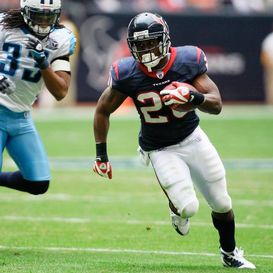 ICONWith Ben Tate out, don't forget about Steve Slaton on draft day.
While Arian Foster may be getting a little more love in mock drafts around the internet this summer, don't forget about former West Virginia standout Steve Slaton. Remember, this is the same guy that finished the 2008 fantasy season as a top-6 running back. If Slaton can remedy the fumbling problems that plagued him in 2009 the same way former Giants running back Tiki Barber did in 2005, he could very well regain the starting job in Houston.
Slaton's ability to catch the football out of the backfield increases his value as the Texans can bring him in on third down as yet another weapon on an already explosive offense. The two-year veteran has caught 94 passes for 794 yards and five touchdowns in just 27 career games. With a current ADP of 95.31 due to last year's underwhelming performance, Slaton's now worth the investment in the middle rounds.
From the 18: C.J. Spiller is on the rise
Four carries for 16 yards against the Washington Redskins on Friday night isn't the type of stat line that will have owners circling Spiller's name on draft day, but the former Clemson star showed an impressive burst in his first preseason appearance last week. It's only a matter of time before this guy gets out to the second level and takes one to the house.
However, the big news out of Buffalo this past weekend is that Spiller's competition for snaps is currently down for the count. Fred Jackson is expected to be out for the next four to six weeks with a broken left hand while Marshawn Lynch will miss three to four weeks with a sprained ankle. Now that the door is open, don't be surprised if last April's ninth overall draft pick figures out a way to win the starting job. Remember, with more pressing needs at offensive line and on the defensive side of the football, the Bills still opted to draft Spiller—which means they have no intentions of leaving this guy on the bench.
Expect Spiller's current ADP of 61.13 to get smaller by the minute, but keep in mind that he is still running behind a bad line on an offense that will struggle to score points this year.
From the 17: Making bills on the Bills
The over/under on total wins for the Buffalo Bills this season is 5.5, meaning if you bet the under, you'll make bank if the Bills win less than six games.
This pick is my lock of the year. No chance Buffalo puts six wins on the board with the schedule they're facing. Let's take a look:
Week 1: vs. Miami (loss)
Week 2: at Green Bay (loss)
Week 3: at New England (loss)
Week 4: vs. New York Jets (loss)
Week 5: vs. Jacksonville (win)
Week 6: BYE (currently 1-4)
Week 7: at Baltimore (loss)
Week 8: at Kansas City (win)
Week 9: vs. Chicago (in Toronto, loss)
Week 10: vs. Detroit (win)
Week 11: at Cincinnati (loss)
Week 12: vs. Pittsburgh (loss)
Week 13: at Minnesota (loss)
Week 14: vs. Cleveland (win)
Week 15: at Miami (loss)
Week 16: vs. New England (loss)
Week 17: at New York Jets (loss)
Even is we assume the Bills can beat the Jaguars, Chiefs, Lions and Browns, that still only gives them four wins, clearly coming in UNDER 5.5.
From the 16: Is Jimmy Clausen making a move for the starting job in Carolina?
Probably not, but he still looked good in his preseason debut. The former Notre Dame golden boy looked poised and polished on Thursday night as he completed eight of fifteen passes for 80 yards with no touchdowns and one interception.
Projected starter Matt Moore saw less action but completed four of seven passes for 32 yards with no touchdowns and no interceptions. The starting job is going to be Moore's to open the season, but it's always good to see a rookie quarterback step into the lineup and looked composed in his first NFL appearance. Clausen has potential.
From the 15: Johnny Knox vs. Devin Aromashodu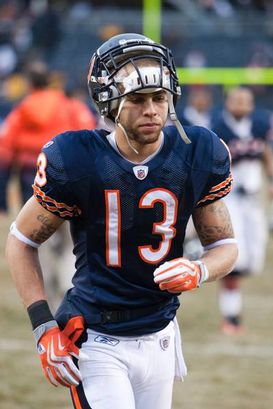 ICONKnox made the most of his limited action on Saturday.
This battle has been one of the hot topics amongst fantasy analysts this summer as one side of the industry favors Aromashodu while the other half (which includes the NFP) prefers Knox.
Taking a glimpse at the box score from Saturday night's game at San Diego, it appears that Aromashodu had the better night (4-78-1 on 6 targets). However, owners need to realize that the 26-year old made all of his plays AFTER the first quarter and did so with backup Caleb Hanie at quarterback against the Chargers' second-string defense.
On the flip side, Knox caught two passes for 47 yards (33 yards and 14 yards) on two targets in the first quarter with Jay Cutler at quarterback against San Diego's starting defense. In fact, those two receptions were Cutler's only two passing attempts on the evening.
In addition, Knox comes at a better value. The second-year wideout currently has an ADP of 145.03, while Aromashodu checks in at 87.13.
From the 14: Ryan Mathews update
The Chargers' first-round draft pick could make or break your fantasy team this season. That may appear to be a bold statement, but how often do rookie running backs get drafted within the top-20 picks (current ADP: 16.51)? Missing on this guy could really hurt your fantasy team in 2010.
The good news is that Mathews looked solid in his first NFL appearance as the former Fresno State Bulldo g averaged 5.6 yards per carry on his way to 50 rushing yards on just nine attempts. Mathews also chipped in two receptions for 11 yards on three targets.
The 22-year old displayed good speed and field vision and even ripped-off an 18-yard run at the end of the first quarter against the Chicago starters. It's way too early to crown this guy the next Chris Johnson, but it's certainly a good start for an early draft pick.
From the 13: The Seattle running back battle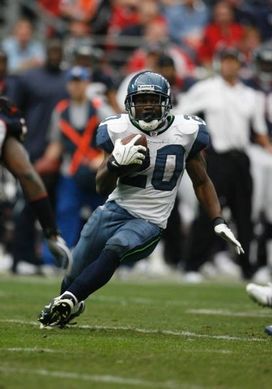 ICONForsett has game-breaking ability, but will the Seattle offensive line hold up?
Veteran bust Julius Jones looked sluggish in the first quarter on Saturday night, carrying the ball five times for only 13 yards (2.6 YPC) against the Tennessee Titans. However, the Seahawks offensive line got pushed around and dominated by the Titans' front four, giving Jones little to work with.
Potential 2010 sleeper Justin Forsett didn't fare any better when he took the field, as the three-year veteran carried the rock seven times for only 17 yards (2.4 YPC). However, Forsett did catch one pass for 30 yards and looked a lot more explosive than Jones.
This is going to be a battle worth watching this summer as the winner will definitely bring some fantasy value to the table. However, Seattle's offensive line has to get better if the Seahawks want to have any success on the ground in 2010. Forsett is the better and more explosive athlete (ADP: 113.30), while Jones is the more physical, between-the-tackles type of runner (ADP: 296.07).
We're not budging from our early-summer stance: Forsett gives the Seahawks a better chance to win and should be the starter.
From the 12: Is Brian Westbrook coming back?
According to a report from John Clayton of ESPN this past weekend, veteran running back Brian Westbrook could sign a contract with the St. Louis Rams as early as Monday.
From a fantasy perspective, Westbrook is only worth drafting as a late-round handcuff for Pro Bowler Steven Jackson. St. Louis is Jackson's team and Jackson's town. He's the best player on the roster and is one of the top running backs in the game today. Signing Westbrook would be about adding depth and insurance, but it would still put a slight dent into Jackson's 2010 fantasy value.
From the 11: Kevin Kolb does what he's supposed to do
I was in the press box Friday night for Philadelphia's preseason opener against the Jacksonville Jaguars and can tell you first hand that the Birds' new quarterback looked good. Kolb was patient in the pocket, demonstrated good footwork and put together two impressive scoring drives before calling it a night.
The former second-round pick completed 6 of 11 passes for 95 yards in the Eagles' 28-27 win over a Jacksonville team that looked downright turrible. It's still way too early to anoint Kolb the next big thing (he was almost intercepted after trying to force a pass into double coverage), but his composure and execution on Friday night were a good start to the year for a guy we feel has sleeper written all over him.
On a side note, Michael Vick appears to have found his legs. The former Falcons' starter carried the ball 6 times for 50 yards and one touchdown against the Jags and was as elusive as ever in the pocket. Watching him evade the Jacksonville pass rush gave me flashbacks to his Sugar Bowl performance against Florida State back in 2000.
Unfortunately for Vick, he still lost a fumble and threw an interception against Jacksonville's backups.
From the 10: Speaking of Jacksonville…
The starting offense looked awful as David Garrard and company were only on the field for six plays in the first quarter (the Eagles had the ball for close to 12 minutes in the opening frame), going three-and-out both times.
Granted, starting offensive linemen Eugene Monroe and Eben Britton didn't play, but the Jags' starters couldn't do a damn thing against the Phily defense.
To make matters worse, wide receiver Mike Sims-Walker injured his shoulder during the second quarter and was seen wearing a sling on the sidelines during the second half.
The good news is that the injury isn't believed to be serious.
From the 9: Fantasy Rankings Update!
For those of you that have already purchased the 2010 NFP Fantasy Draft Guide, we'll be updating the fantasy player rankings this week as well as adjusting the draft value chart.
If you haven't already purchased the draft guide, what are you waiting for? Click HERE to get involved!
From the 8: Tampa Bay's wide receiver situation
It was a sloppy night in Miami on Saturday as heavy rains and a muddy field limited the scoring in the Dolphins' 10-7 win over the Buccaneers at Sun Life Stadium.
For those of you closely following the Buccaneers' wide receiver battle, veteran Sammie Stroughter put together a nice evening as the 24-year old caught three passes for 33 yards (three targets) and scored Tampa Bay's only touchdown of the evening. Rookie Mike Williams got in on the action as well and caught one pass for 30 yards (one target) from starter Josh Freeman. Williams' catch was a beautiful grab that took place on a nine pattern down the sideline and featured some fancy footwork to stay in bounds.
Rookie second-round pick Arrelious Benn (Illinois) didn't have a single reception and was targeted only one time. His draft stock is beginning to plummet, so owners are advised to take him off their draft boards as of the current moment.
From the 7: Jamaal Charles does his thing, Dexter McCluster makes a move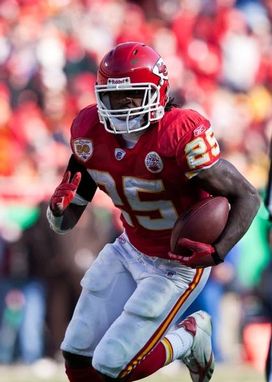 ICONCharles continues to pick up big yards when he touches the football.
Jamaal Charles' big-play ability and career 5.7 yards per carry average are two reasons why fantasy owners are very high on the Kansas City running back entering the 2010 season. On Friday night against the Falcons, Charles continued to flash his speed and elusiveness as the third-year rusher carried the ball four times for 37 yards (9.3 YPC) in the Chiefs' 20-10 loss.
But while Charles continued to make his case as a first-round fantasy selection, rookie wide receiver/running back Dexter McCluster quietly put on an impressive display in his NFL debut as well. The former Ole Miss star amassed 48 total yards (25 rushing, 23 receiving) on just eight touches and was targeted five times.
McCluster currently has an ADP of 230.07 (WR60) at Mock Draft Central and 140.4 (WR57) at Fantasy Football Calculator. His touches may be limited in 2010, but don't be surprised if new offensive coordinator Charlie Weis finds a way to get the ball into the speedy playmaker's hands. This guy is going to hit some home runs this season.
From the 6: Matthew Stafford, Jahvid Best turn in solid performances
Second-year quarterback Matthew Stafford looked like a seasoned vet Saturday against the Pittsburgh Steelers. The former No. 1 overall draft pick out of Georgia completed 8 of 11 passes for 61 yards and a touchdown in limited action. What's even more comforting is that Stafford targeted Pro Bowl wide receiver Calvin Johnson once the Lions reached the red zone as the two connected on a two-yard touchdown pass at the beginning of the second quarter. While Stafford did throw an interception, that mistake can be attributed to rookie running back Jahvid Best, who tipped a pass right into the hands of Pittsburgh safety Ryan Clark.
Speaking of Best, Lions head coach Jim Schwartz wasted no time getting his second first-round draft pick into the mix. Best carried the ball on the first three plays of the game and ended his evening with six rushing attempts for 29 yards (4.8 YPC), with one reception that went for nine yards (two targets).
Best currently has an ADP of 37.96 according to Mock Draft Central and is one of the NFP's top sleeper candidates entering the 2010 season.
From the 5: Is there a better value pick than Chris Cooley?
The Washington tight end caught three passes for 33 yards in limited action during the Redskins' 42-17 beat down of the Buffalo Bills on Friday night. That may not seem like much, but keep in mind that Cooley was targeted three times in quarterback Donovan McNabb's eight passing attempts.
Remember, McNabb is the guy that turned Philadelphia tight end Brent Celek into a fantasy force and we see no reason why he won't do the same thing with Cooley. Don't be surprised if the 28-year old tight end sneaks his way back into the top-five in scoring among TEs by season's end.
The fact that his current ADP is 113.15 and he's the 12th tight end off the board makes this an even more intriguing selection.
From the 4: Aaron Rodgers is still our top-ranked quarterback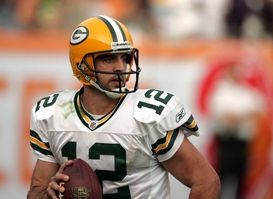 ICONRodgers ripped up the Cleveland defense on Saturday night.
Shocking, I know. But keep in mind that several other fantasy websites don't have Rodgers occupying the top spot.
The Green Bay signal caller looked to be in midseason form against the Browns on Saturday night as Rodgers completed 12 of 13 passes for 159 yards and one touchdown before exiting the game in the second quarter. For those of you scoring at home, that's a QB Rating of 143.3.
Yes, it came against the Browns and yes, it's only the first preseason game. But if you're going to invest a first or second round draft pick in Rodgers this summer, it's nice to see him come out of the gates with a performance like this.
From the 3: Is there another contender in the Cleveland backfield competition?
Much has been made this summer about the backfield battle between incumbent starter Jerome Harrison and rookie second-round pick Montario Hardesty. However, don't be surprised if a third horse enters this race.
Second-year running back James Davis, who only appeared in two games last season due to injury, carried the rock six times for 24 yards against the Packers on Saturday. Those numbers won't jump off the page at you, but a team source close to the National Football Post told us last week that Davis has looked great during training camp and is the fastest running back on the roster.
It's unlikely the former Clemson Tiger will win the starting job, but don't be surprised if the Browns split the workload amongst three running backs this season.
That's not good news for Harrison or Hardesty owners, as it could mean a drop in touches.
From the 2: Wes Welker update
Welker didn't play in Thursday night's preseason opener against the New Orleans Saints as the veteran wideout continues to battle back from a blown-out knee that took place last January against the Houston Texans.
However, Julian Edelman (ADP: 101.74, WR38) turned in a solid performance that consisted of six receptions on six targets for 90 yards. The better Edelman looks, the longer the Patriots can take in bringing Welker back into the rotation.
As a side note, I continue to see fantasy owners select Welker way too high in mock drafts this summer. The guy is only eight months removed from wrecking his knee and has been getting drafted as high as the third round in several mocks I've taken part in (not to mention the NFP Expert's League Draft).
We're aren't bashing Welker. It's quite the contrary. We love the guy and think he's a baller. But fantasy owners can't expect him to come back in 2010 and catch 100+ passes like nothing ever happened.
From the 1: What to watch for tonight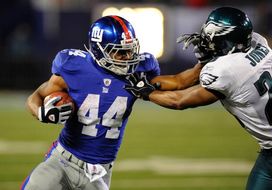 ICONKeep an eye on Bradshaw tonight against the Jets.
The New York Giants and New York Jets meet tonight at the brand-new Meadowlands Stadium in what will be the first preseason game for both teams.
While the Jets have dominated the headlines this offseason due to the show Hard Knocks and the Darrelle Revis contract situation, be sure to keep an eye on the Giants' backfield early in the game.
Rumor has it that running back Ahmad Bradshaw has been taking most of the snaps with the starting offense this summer. If the 24-year old can win the starting job, he's going to come at a big-time steal.
Bradshaw's ADP is currently 80.80, meaning you might be able to land starter production at a ninth-round value.
Hit me up on Twitter: @JoeFortenbaugh