November 08, 2010 -
Joe Fortenbaugh
Enter the red zone
Before we get to work, here's your Monday motivational moment of the day:
You are now entering the red zone…
From the 20: The Raiders gut it out
Trailing 10-0 at the half, the Oakland Raiders made the necessary adjustments, buckled down on defense and came back to pull out an impressive 23-20 overtime victory over the Kansas City Chiefs.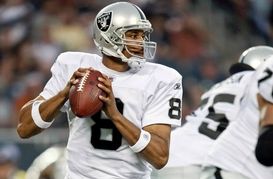 ICONWhen the Raiders needed it the most, Jason Campbell delivered.
Running back Darren McFadden turned in another solid fantasy performance (21 touches, 114 yards, 5.2 YPC), but this day belonged to quarterback Jason Campbell, who continually made the necessary big plays down the stretch that are expected of starting quarterbacks in the NFL.
Campbell finished the day with 229 yards and one touchdown on 19 of 33 attempts. Over his last three games, the former Redskin signal-caller has thrown for 743 yards (247.7 yds/gm) with five touchdowns to only one interception. He's been a fairly consistent fantasy producer, but be advised that when the Raiders come back from their Week 10 bye, Campbell's looking at dates with the Pittsburgh Steelers (Week 11) and San Diego Chargers (Week 13). However, a Week 14 showdown at Jacksonville provides a great opportunity to get this guy in the lineup.
Speaking of heroes from the Raiders-Chiefs game…
From the 19: Pick him up
Jacoby Ford, WR, Oakland Raiders
When the National Football Post was in Indianapolis for the 2010 NFL Combine, Ford's name came up quite a bit. Interestingly enough, it rarely had anything to do with football.
The former Clemson standout was a hot topic of conversation because everyone wanted to see if the collegiate track star could post a faster 40-yard dash time than Titans running back Chris Johnson. He didn't, and then everyone basically lost interest and Ford fell to the Raiders in the fourth round of April's draft.
The rookie wideout entered Sunday's game with just four receptions for 37 yards on the season, but ended the day as one of the fantasy world's top Week 9 performers.
Ford hauled in six passes for 148 yards on nine targets, which included a big reception of 29 yards to set up the game-tying field goal and another 47-yarder that paved the way for Sebastian Janikowski's game-winner.
Think of this guy as a poor man's Mike Wallace. Ford won't give you any 10-reception games, but he's got the big-play speed and explosion to produce a respectable fantasy week on just one play.
Somebody has to catch the ball in Oakland, right? After Sunday's breakout game, Ford could be Campbell's new go-to-guy.
From the 18: What in the Hillis is going on in Cleveland?
Want to know if you have a good NFL team? Put them up against the Cleveland Browns and see what happens.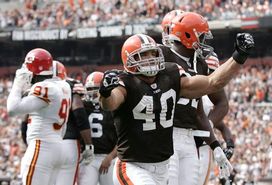 Hillis is currently one of the top RB options in all of fantasy.
For the second game in a row, Eric Mangini's crew has upset a big-time contender. The Browns busted up the defending champs in New Orleans two weeks ago 30-17 and then came off the bye on Sunday to blast the 6-1 New England Patriots 34-14.
Rookie quarterback Colt McCoy (14/19, 174, 0 TDs, 0 INTs) has been a very pleasant surprise, but the credit here belongs to the Cleveland defense and running back Peyton Hillis.
Against the Saints and Patriots, the Browns recorded four sacks, forced seven turnovers and allowed a total of 31 points. Believe it or not, this is currently a top-20 fantasy D/ST that will face the Jaguars and Panthers after a Week 10 showdown with the New York Jets.
As for Hillis, do you remember back in August when we were debating the pros and cons of running backs Montario Hardesty and Jerome Harrison? It's funny how things change. Hardesty was lost for the year due to a torn ACL suffered during the preseason and Harrison was recently traded to the Philadelphia Eagles.
Hillis, on the other hand, has been outstanding. The former Denver Bronco currently ranks fourth in scoring among fantasy running backs (one spot ahead of Chris Johnson), has found the end zone in six of eight games this season and is averaging a rock-solid 4.8 yards per carry. He's not a flashy runner, but Hillis blends an effective downhill running style with old school power that makes him extremely difficult to bring down.
After next week's game against the Jets, Hillis' upcoming schedule features four-straight favorable matchups (Jacksonville, Carolina, Miami, Buffalo).
From the 17: Is Philip Rivers your 2010 MVP?
I know, I know. "He doesn't win games," is going to be the first thing out of everyone's mouth. But what happens if the Chargers come back to win the AFC West? Then what?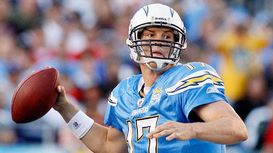 Philip Rivers has been rolling up crazy numbers with practice squad receivers.
Rivers was brilliant again on Sunday, completing 17 of 23 passes for 295 yards with four touchdowns and one interception (QB rating: 137.2) in San Diego's 29-23 win over the Houston Texans.
Not only is Rivers currently the highest-scoring quarterback in the fantasy world, but the dude leads the NFL in passing yards (2,944), touchdowns (19), completions of 20+ yards (47) and yards per attempt average (8.9). Rivers also ranks fifth in completion percentage (65.3%) and third in QB rating (102.9), trailing only Vince Young and Michael Vick.
And he's doing all of this without Vincent Jackson, Malcom Floyd, Legedu Naanee, Buster Davis and Antonio Gates (who was held out in Week 9 due to a foot injury).
As if that wasn't enough, Rivers is on pace for 5,233 passing yards this year, which would break Dan Marino's NFL record (5,084) for yards in a season.
Still don't like this guy for MVP? That's a shame, because prior to Sunday you could have bet $100 to win $2500 on Rivers taking home the NFL's most prestigious individual prize.
I guarantee you those odds come crashing down this week when the lines open up.
From the 16: LOCK OF THE YEAR UPDATE
Enter the red zone's lock of the year: Buffalo Bills UNDER 5.5 wins
At this point, all we have to do is sit back and wait to collect our cash.
The Bills dropped another close one on Sunday as Chan Gailey's squad lost 22-19 in Toronto to the Chicago Bears. Buffalo is now 0-8 on the year and must win six of their final eight games to ruin the lock of the year.
The lone bright spot was once again wide receiver Stevie Johnson, who caught 11 passes for 145 yards on 14 targets in Sunday's loss. The Bears kept Johnson out of the end zone for the first time in six games, but the wide receiver's final stat line was good enoug h to move him up the fantasy standings. Johnson now ranks seventh in scoring among fantasy wideouts.
Buffalo's upcoming schedule:
Week 10: vs. Detroit
Week 11: at Cincinnati
Week 12: vs. Pittsburgh
Week 13: at Minnesota
Week 14: vs. Cleveland
This thing appears to be in the bag.
From the 15: Highlight of the week
Normally I would post the video within the article, but the embedding code has "been disabled" for this clip.
As for Crowder, all that guy does is run his mouth.
Way to back up the bravado with four lousy tackles.
From the 14: The Philadelphia defense takes down Manning
A quarterback rating of 65.7 wouldn't be breaking news for a guy like Derek Anderson. But for Peyton Manning? That's a different story.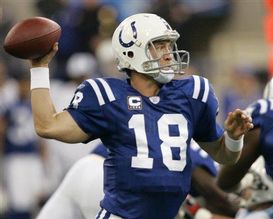 For the first time in his career, Manning lost to the Philadelphia Eagles.
Prior to Sunday, Manning had posted a QB rating of less than 70.0 just four times in his last 33 starts. Now that Week 9 is complete you can make that stat "five times in his last 34 starts."
The Philadelphia defense harassed the MVP quarterback all afternoon en route to a 26-24 win that takes head coach Andy Reid to 12-0 lifetime coming off the bye.
The three sacks Philadelphia recorded marks just the second time since December of 2007 that Manning was sacked more than twice in a football game. In addition, the Colts quarterback completed only 59.6% of his passes and threw two interceptions.
Hats off to defensive coordinator Sean McDermott, who put together one hell of a game plan to slow down Manning. The Eagles now rank 12th in scoring among fantasy D/STs.
From the 13: Highlight of the week No. 2
The play that changed the game…
Check out when Ford kicks it into high gear right around his own 40-yard line.
He leaves the Kansas City kickoff team licking their wounds in his wake.
From the 12: The Dallas Cowboys have officially quit
A 1-7 record is one thing, but a 1-7 record achieved in the style with which the Dallas Cowboys have been playing as of late is a totally different story.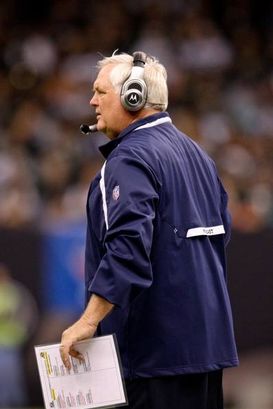 ICONSee ya, Wade.
Little D has surrendered 24 or more points in each of their last five games and has given up 34 or more points in four of the last five contests. Needless to say, Wade Phillips is finished…as is this football team.
The Dallas D/ST is nowhere near fantasy viable and should be dropped (if still owned) immediately. In addition, the Cowboys rank 31st in the NFL in rush offense (75.6 yds/gm) and have only topped 100 total rushing yards three times in eight games this season, which makes Marion Barber and Felix Jones close to worthless as well.
Jason Witten, Dez Bryant and Miles Austin are all still worth owning, as is quarterback Jon Kitna (for those of you in deep QB trouble).</p>
But after watching this team get embarrassed 45-7 last night in Green Bay, it's clear the Cowboys have officially packed it in.
From the 11: On the other side of the ball…
The Green Bay Packers looked outstanding last night. Quarterback Aaron Rodgers (27/34, 289, 3 TDs, 0 INTs) was close to flawless while wideout Greg Jennings found the end zone for the third time in his last four games.
While he's most likely unavailable, owners are advised to go after wideout James Jones, who caught eight passes for 123 yards and a touchdown on nine targets Sunday night. Since wide receiver Donald Driver went down with a quadriceps injury, Jones has become a much more integral part of the Green Bay offense.
The 26-year old has been targeted 26 times over the last three games and has topped 100 receiving yards twice in his last three outings.
From the 10: Week 9 Workhorse Running Back Report
Lets take a look at the 15 running backs that are recording the most carries per game this season:
1. Adrian Peterson, RB, Minnesota Vikings: 22.5
2. Chris Johnson, RB, Tennessee Titans: 22.2
3. Steven Jackson, RB, St. Louis Rams: 21.5
4. Rashard Mendenhall, RB, Pittsburgh Steelers: 20.9
5. Frank Gore, RB, San Francisco 49ers: 20.5
6. Cedric Benson, RB, Cincinnati Bengals: 20.4
7. Maurice Jones-Drew, RB, Jacksonville Jaguars: 20.2
8. Darren McFadden, RB, Oakland Raiders: 19.9
9. Arian Foster, RB, Houston Texans: 19.6
10. Michael Turner, RB, Atlanta Falcons: 19.4
11. Ahmad Bradshaw, RB, New York Giants: 19.1
12. Ray Rice, RB, Baltimore Ravens: 19.1
13. Thomas Jones, RB, Kansas City Chiefs: 17.1
14. Peyton Hillis, RB, Cleveland Browns: 16.6
15. Joseph Addai, RB, Indianapolis Colts: 15.5
Of those 15 aforementioned ball carriers, ten currently rank in the top-15 in scoring among fantasy running backs (Foster, Peterson, McFadden, Hillis, Johnson, Gore, Bradshaw, Turner, Mendenhall, S. Jackson).
From the 9: I want your opinion
Check out the following play and leave a comment with your thoughts on what happened.
I was in the press box in Philly on Sunday when this went down and a big-time debate heated up between a large portion of the beat writers in attendance as to whether or not that was a clean hit. Personally, I think the refs made a mistake throwing a flag on the play and I certainly don't think a fine should be handed down by the league office.
The good news is that Collie appears to be ok.
From the 8: Week 9 Target Report
Lets take a look at the 15 pass catchers that are recording the most targets per game:
1. Terrell Owens, WR, Cincinnati Bengals: 12.1
2. Reggie Wayne, WR, Indianapolis Colts: 11.6
3. Roddy White, WR, Atlanta Falcons: 11.0
4. Larry Fitzgerald, WR, Arizona Cardinals: 10.8
5. Brandon Marshall, WR, Miami Dolphins: 10.8
6. Hakeem Nicks, WR, New York Giants: 10.5
7. Andre Johnson, WR, Houston Texans: 10.3
8. Brandon Lloyd, WR, Denver Broncos: 9.9
9. Chad Ochocinco, WR, Cincinnati Bengals: 9.9
10. Calvin Johnson, WR, Detroit Lions: 9.3
11. Santana Moss, WR, Washington Redskins: 9.1
12. Miles Austin, WR, Dallas Cowboys: 9.0
13. Steve Smith, WR, New York Giants: 9.0
14. Marques Colston, WR, New Orleans Saints: 8.7
15. Jabar Gaffney, W R, Denver Broncos: 8.6
Of the 15 aforementioned wide receivers, six rank in the top-ten in scoring among fantasy wideouts (Nicks, Lloyd, White, C. Johnson, Owens, Wayne).
From the 7: Exercise caution…
When putting in your waiver claim for San Diego wide receiver Seyi Ajirotutu (it took me four minutes to get that spelled correctly).
Yeah, his four receptions for 111 yards and two touchdowns on Sunday at Houston was impressive, but the Chargers go on the bye in Week 10. Once they come back, injured wideouts Malcom Floyd and Legedu Naanee could bump Ajirotutu from the starting lineup.
In addition, wide receiver Vincent Jackson will finally be available to play in Week 12.
From the 6: Did you follow our advice regarding LeGarrette Blount?
After the rookie from Oregon ripped up the Arizona Cardinals for 120 yards and two touchdowns in Week 8, we listed LeGarrette Blount as one of our top "sell high" candidates entering Week 9.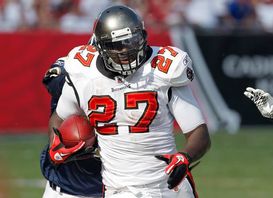 ICONAtlanta shut down Blount en route to an impressive divisional win.
As expected, the Atlanta Falcons limited the Tampa Bay ball carrier to just 46 yards and no touchdowns on 13 carries (3.5 YPC). Expect that trend to continue as Blount will face three defenses (San Francisco, Baltimore, Atlanta) over the next four weeks that rank in the bottom-eight in fantasy points allowed to opposing running backs.
If there is an owner in your league that is still in the market for Blount's services, pull the trigger. He's got a favorable matchup in Week 10 (vs. Carolina), but it all goes downhill after that.
From the 5: IDP Update
Tackles
1. Jerod Mayo, LB, New England Patriots: 96
2. Chad Greenway, LB, Minnesota Vikings: 83
3. Stephen Tulloch, LB, Tennessee Titans: 79
4. LaRon Landry, S, Washington Redskins: 76
5. James Anderson, LB, Carolina Panthers: 74
6. Bernard Pollard, S, Houston Texans: 74
7. London Fletcher, LB, Washington Redskins: 72
8. Lawrence Timmons, LB, Pittsburgh Steelers: 72
9. Donte Whitner, S, Buffalo Bills: 72
10. D.J. Williams, LB, Denver Broncos: 72
Sacks
1. Clay Matthews, LB, Green Bay Packers: 10.5
2. Cameron Wake, LB, Miami Dolphins: 8.5
3. Tamba Hali, LB, Kansas City Chiefs: 8.0
4. Osi Umenyiora, DE, New York Giants: 8.0
5. DeMarcus Ware, LB, Dallas Cowboys: 8.0
6. Jason Babin, DE, Tennessee Titans: 7.0
7. Trent Cole, DE, Philadelphia Eagles: 7.0
8. Brian Orakpo, LB, Washington Redskins: 7.0
9. Shaun Phillips, LB, San Diego Chargers: 7.0
10. James Hall, DE, St. Louis Rams: 6.5*
*Note: Two others (Robert Mathis, Ndamukong Suh) tied with 6.5.
From the 4: It's heating up in the NFP Fantasy Expert's League
The jockeying for playoff position and the coveted first-round byes has officially begun in the 2010 National Football Post Fantasy Expert's League.
CLICK HERE to follow the action!
From the 3: Stat of the week: Red Zone Touchdowns
The five NFL teams (NY Giants, San Diego, Indianapolis, Green Bay, New England) that have converted the most red zone touchdowns this season are a combined 27-15 (.642).
The five NFL teams (Miami, Seattle, Washington, Pittsburgh, Carolina) that have converted the fewest red zone touchdowns this season are a combined 18-21 (.461).
If you want to read something crazy, check this out: The 0-8 Buffalo Bills rank No. 1 in the NFL in red zone scoring efficiency (16 for 16, 100%).
Granted, the Bills currently rank dead last in the NFL in red zone drives (16).
From the 2: Stock Watch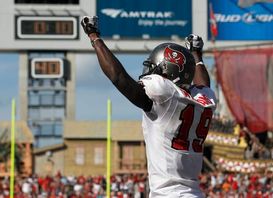 ICONMike Williams has been balling lately.
Stock Up: Mike Williams, WR, Tampa Bay Buccaneers: This guy is the real deal. Williams (4-89-1 in Week 9) has scored a touchdown in five of eight games this season and is averaging 11.4 fantasy points per week over his last five contests. The rookie from Syracuse currently ranks 16th in scoring among fantasy wideouts.
Stock Down: Roy Williams, WR, Dallas Cowboys: After a surprisingly hot start to the season, Williams has cooled off big-time. The veteran wide receiver has caught just two passes for 27 yards with no touchdowns on ten targets over his last three games.
From the 1: Who ya got tonight?
Leave a comment below with your pick for who will win tonight's game as well as the total amount of points that you think will be scored (this serves as the tiebreaker). I'll email the winner on Tuesday and will send out some stuff courtesy of the good folks at Procter & Gamble.
You are picking against the spread and your comment should look as follows:
BENGALS, 50
The Enter the red zone Monday night picks are currently 6-4 (we had the Colts last week).
Tonight, the 2-5 Cincinnati Bengals play host to the 5-2 Pittsburgh Steelers in an AFC North divisional showdown.
Opening Line: Steelers -3.5/41.5
Current Line: Steelers -6.5/41
After dropping five straight games to the Steelers from 2006-2008, Cincinnati bounced back in 2009 to sweep the season series. However, the Benglas are just 1-2 at home this season and have lost their last four games.
Enter the red zone is taking the STEELERS and laying the points.
Who ya got?
Hit me up on Twitter: @JoeFortenbaugh
Win cash today playing fantasy football with the NFP and FanDuel.