December 27, 2010 -
Joe Fortenbaugh
Enter the red zone
Your motivational moment of the day…
You are now entering the red zone…
From the 20: J-Cut gets it done
In a nationally televised showdown that featured two of the NFL's top defenses, Chicago quarterback Jay Cutler delivered an impressive 215-yard, three-touchdown performance to lead the Bears to a hard-fought 38-34 win over the New York Jets on Sunday.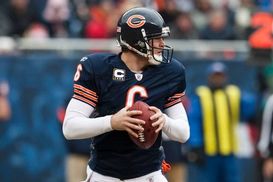 ICONCutler and the Bears have been red-hot over the last two months.
Week 16 marked the fourth time in the last five weeks that J-Cut posted a passer rating of 104.0 or higher and the sixth time in his last seven starts that the Windy City signal-caller threw two or more touchdown passes in a game. Wide receiver Johnny Knox was the beneficiary of Cutler's big day as the second-year wideout hauled in four receptions for 92 yards and two scores on six targets.
Sure, Cutler threw a pick-six in the second quarter, but this guy has led the Bears to seven wins in their last eight games and has his team in position to claim the No. 2 seed in the NFC with a win next week at Green Bay (or a Philadelphia loss in either of their next two games).
With a decent showing next week at Lambeau, Cutler will conclude the 2010 regular season with a new career-high in the passer rating department (currently at 90.6). If the Bears dedicate the offseason to improving their offensive line, this guy could be a top-five QB prospect next August.
Hat tip to Chicago running back Matt Forte, who posted 169 total yards and one score on 23 total touches against a Jets team that entered the day ranked fourth in the league in run defense.
From the 19: Dwayne Bowe delivers in the clutch
After a three-week stretch of games that consisted of only three receptions for 56 yards and no touchdowns, Kansas City wideout Dwayne Bowe busted out of his slump on Championship Weekend to deliver a six-catch, 153-yard, one-touchdown performance against the Tennessee Titans.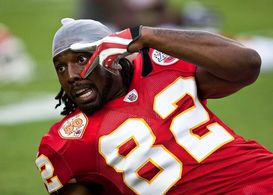 Bowe returned with a vengeance in Week 16.
Amazingly, Bowe's 21-point fantasy performance (standard scoring) in Week 16 ranks as just his fifth-highest fantasy game total of the 2010 season. The Chiefs' top target had already racked up 22 or more fantasy points in Weeks 6, 10, 11 and 12 this season.
With Sunday's outburst, Bowe has once again become the highest scoring wide receiver in the fantasy football world. I'd imagine keeper league owners have already highlighted his name for next season.
Hat tip to quarterback Matt Cassel (24/34, 314 yards, 3 TDs) and running back Jamaal Charles (117 total yards on 17 touches) for impressive performances as well. Charles has now posted 100 or more total yards in 12 of 15 games this season while Cassel now ranks 14th in scoring among fantasy quarterbacks, despite missing a game due to an emergency appendectomy.
Todd Haley's Chiefs have become a gold mine of fantasy talent.
From the 18: T-E-B-O-W
I'll be the first to admit that I didn't think the former Heisman Trophy winner was ready to step under center as a starting quarterback in the NFL this early in his career. But Tebow's focus, work ethic and competitiveness were on full display Sunday as he rallied the Broncos from 13 points down in the fourth quarter to shock the Houston Texans 24-23 in Denver.
ICONTebow!
The rookie quarterback completed just 16 of 29 passes (55.2%), but threw for more yards (308) than any other rookie quarterback making his first home start in NFL history.
Tebow also added two touchdowns (one passing, one rushing) and 27 rushing yards to finish the afternoon with 26 fantasy points, which currently ranks sixth in the NFL among quarterbacks who played in Week 16.
Said Broncos Pro Bowl cornerback Champ Bailey to ESPN after the game, ""I've never seen a winner lose. He's a winner and I expect him to win a lot of games as a pro quarterback. Hopefully, I'm around here to see him do it."
Maybe former head coach Josh McDaniels did something right after all.
From the 17: Speaking of the Texans…
You have to imagine the entire Houston coaching staff is headed for the unemployment line after Sunday's meltdown.
After starting the year 4-2, the Texans have now dropped eight of their last nine games to move to 5-10 on the season.
Maybe it has something to do with the fact that despite ranking fifth in the NFL in total offense (379.3 yds/gm), the Texans rank 29th in total defense (380.6 yds/gm) and 30th in scoring defense (27.3 pts/gm).
Which side of the ball do you think will be targeted with Houston's first round draft pick?
From the 16: It's a wrap!
Enter the red zone LOCK OF THE YEAR: Buffalo Bills UNDER 5.5 wins
Credit those pesky Buffalo Bills for making it interesting, but the LOCK OF THE YEAR</strong> became a cashable ticket Sunday afternoon after Tom Terrific and the Patriots pummeled the now 4-10 Bills 34-3 at Ralph Wilson Stadium.
For those of you scoring at home, the Patriots have now beaten the Bills 15 straight times dating back to 2003.
The LOCK OF THE YEAR will return next August with a new team to track for the 2011 NFL season.
From the 15: Speaking of Tom Terrific…
STAT(S) OF THE DAY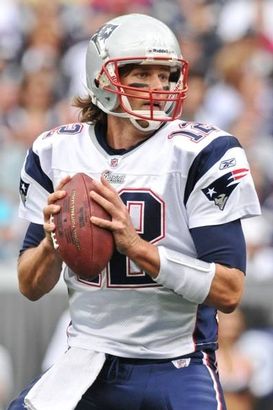 ICONUnstoppable.
1. Patriots quarterback Tom Brady set the NFL record for consecutive passing attempts without an interception on Sunday. The mark now stands at a ridiculous 319 (record was previously held by Cleveland's Bernie Kosar, with 308).
2. Brady has now thrown 24 touchdown passes since his last interception and is currently rocking a passer rating of 109.8 (first in NFL).
3. If you had a vote for this year's MVP award, would you give it to Brady?
From the 14: Last word on the Patriots
With seven forced turnovers, two sacks and only three points allowed, the New England D/ST racked up a rock solid 24 fantasy points in Sunday's win at Buffalo.
Did you start them?
From the 13: Highlight of the day
The whole damn thing…
Jim Schwartz's Lions have now won three-straight games for the first time since 2007. In addition, Sunday's road win at Miami marked the first time since 2004 that Detroit has won back-to-back road games in a season.
On the other side of the ball, the Dolphins went 1-7 at home this season (worst in NFL), which matches a franchise low.
Said Lions tight end Brandon Pettigrew to ESPN after the game, "We're obviously not going to the Super Bowl. We just want to get it done and lay a foundation for next year."
I said it at the beginning of the season and I'll say it again: Detroit will be back in the playoffs in 2012.
From the 12: Tampa Bay can play some football
Despite an impressive 9-6 record, the Tampa Bay Buccaneers are going to need a lot of help if they want to qualify for the playoffs this season.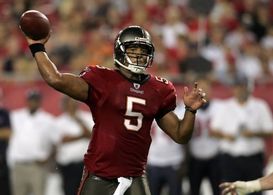 IconFreeman continues to light it up.
However, whether or not this team advances to the postseason is irrelevant. What matters here is that second-year head coach Raheem Morris is doing a hell of a job with a young nucleus of talent (youngest team in NFL) that continues to get better with each passing week.
Second-year quarterback Josh Freeman threw for 237 yards and a career-best five touchdown passes in Tampa's 38-15 blowout win over the Seattle Seahawks on Sunday. Freeman finished the day with 33 fantasy points, good for second among NFL quarterbacks to Green Bay's Aaron Rodgers (38).
But the former Kansas State signal-caller wasn't the only young gun to make waves in Week 16. Undrafted rookie running back LeGarrette Blount rushed for a career-high 164 yards on just 18 carries (9.1 YPC) and is now only 59 rushing yards short of eclipsing the 1,000-yard mark, despite playing just 12 games so far in 2010.
Rookie wide receiver Mike Williams also got in on the fun, as the Syracuse product hauled in three passes for 44 yards and two scores on seven targets. Not to be outdone, tight end Kellen Winslow caught a team-high seven passes for 98 yards and two scores on seven targets to lead all fantasy tight ends in scoring on Sunday.
On the flip side, the Seahawks went 2-6 on the road this season while surrendering 29.3 points per game.
Betting against Seattle on the road was arguably the safest play in the NFL this season.
From the 11: Update from the NFP Fantasy Expert's League
RotoWorld and CBSSports are currently in a heated battle to determine which team will walk away as the 2010 NFP Fantasy Expert's League Champion. The winner also receivers a brand-new plasma television, courtesy of the NFP.
CLICK HERE TO FOLLOW THE ACTION.
From the 10: Another league championship to monitor
Which team would you rather own?
TEAM 1: 31.34-point lead with Jeremy Maclin, Tony Gonzalez and Matt Bryant left to play.
TEAM 2: (trailing by 31.34 points) with Michael Vick and Marques Colston left to play.
(Hint: The NFP is Team 1 and will win the Procter & Gamble Blogger's Fantasy League championship if we can protect that lead).
From the 9: Tweet of the day
From Tennessee Titans running back Chris Johnson after Sunday's 34-14 loss at Kansas City:
"I dont understand y ppl get upset w/ me abt fantasy if I dont get many touches I cnt do ne thing n at the end of the day I nevr ask anyone 2 pick me"
-On Championship Weekend, the fantasy world's consensus No. 1 draft pick amassed just 58 total yards and no touchdowns on 14 touches.
Be easy, everybody. Johnson still ranks sixth in scoring among fantasy running backs this season.
From the 8: Aaron Rodgers and the Packers smash the Giants
Any Rodgers owner who somehow survived the last two weeks was handsomely rewarded Sunday afternoon as the Pro Bowl quarterback threw for 404 yards and four touchdowns (QB Rating: 139.9) en route to a 38-point fantasy performance in a 45-17 rout of the suddenly reeling New York Giants.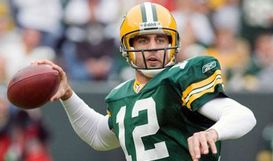 Rodgers ripped apart a New York defense that suddenly finds itself on the ropes.
Rodgers was spectacular in Week 16 as he completed 25 of 37 passes and helped wide receivers Greg Jennings (7-142-0), Jordy Nelson (4-124-1) and James Jones (4-36-1) all post solid fantasy totals on Championship Weekend.
But the unsung hero from this NFC showdown was Shippensburg (PA) product John Kuhn, who found the end zone three times in Sunday's win.
The Packers are now back in the hunt and control their own playoff destiny.
I think I speak for all of us when I say I can't wait to watch next week's Green Bay-Chicago showdown.
From the 7: Speaking of the New York Giants…
Big Blue has now surrendered 73 points and over 700 yards of offense in their last five quarters of football.
Any chance this team rallies in Week 17 to make the playoffs?
If they fail to qualify for the postseason, is Tom Coughlin finished in New York?
From the 6: How could you leave us hanging?
These three players flopped on Championship Weekend: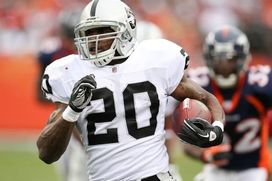 ICONMcFadden was set for a big day, until Oakland decided to limit his touches.
Darren McFadden, RB, Oakland Raiders: In a must-win game against one of the NFL's worst run defenses, Run DMC recorded just 76 total yards and no touchdowns in a 31-26 loss to the Indianapolis Colts. Granted, you have to question Oakland's play-calling. Only 15 touches for McFadden? What's that about?
Reggie Wayne, WR, Indianapolis Colts: Sunday's three-catch, 40-yard performance at Oakland certainly didn't help much when it mattered most. Wayne has now scored only one touchdown in his last five games and has posted a grand total of just 74 receiving yards over his last two outings.
Rashad Jennings, RB, Jacksonville Jaguars: Thanks for nothing. The second-year running back out of Liberty stepped into the starting lineup in place of the injured Maurice Jones-Drew on Sunday and was presented with a tasty matchup against a crap Washington Redskins defense. How did Jennings respond? By scoring five lousy fantasy points (62 total yards, 0 touchdowns) in Jacksonville's 20-17 loss to Rex Grossman and the 'Skins.
From the 5: San Diego, Super Choke Artists
How pathetic was this tank-job? In a must-win situation against a 3-11 Cincinnati Bengals team that was without starting wide receivers Terrell Owens and Chad Ochocinco, Norv Turner's team laid yet another egg and was eliminated from postseason contention with an embarrassing 34-20 loss to the Bengals.
Since Turner took over for Marty Schottenheimer in 2007, the Bolts have gone 40-23 (.635) during the regular season. However, Turner's Chargers are 8-17 since 2007 when trailing at the half.
Quarterback Philip Rivers posted 15.0 fantasy points, but credit an all-passing 73-yard garbage touchdown drive late in the fourth quarter for the semi-respectable fantasy stat line.
Any chance the Bolts stick with Turner for the 2011 season?
From the 4: Hit up the NFP Message Boards
Got an issue with one of your fantasy players?
Got a college bowl game or NFL lock?
Then let us know about it in the National Football Pos t Message Boards.
CLICK HERE to check them out.
From the 3: Lowlight of the week
Merry Christmas, Cowboys fans.
From the 2: The Carolina Panthers are on the clock
At 2-13, the Carolina Panthers have officially locked up the first overall pick in the 2011 NFL Draft.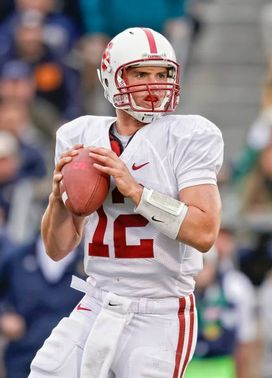 ICONIs Andrew Luck headed for Carolina?
The NFP has been working overtime to put together a brand-new page for the upcoming draft season, which is set to launch sometime in January. However, until that day comes, it doesn't hurt to begin the process of speculating who the Panthers will select with the first overall pick.
What say you, NFP Nation? Who are the Panthers going to target with the first overall pick?
From the 1: Monday night pick 'em
I'm officially out of Procter & Gamble gift bags, so this week's pick 'em is just for fun.
My apologies.
Week 16 Monday Night Football
New Orleans Saints (10-4, 5-2 road) at Atlanta Falcons (12-2, 6-0 home)
Opening Line: Falcons –2/47.5
Current Line: Falcons -2.5/49.5
Enter the red zone's current Monday night record: 9-8
Upset Alert: I'm taking the Saints (+2.5) and the OVER (49.5).
Who ya got?
Hit me up on Twitter: @JoeFortenbaugh
Win cash today playing fantasy football with the NFP and FanDuel.