October 25, 2010 -
Joe Fortenbaugh
Enter the red zone
Before we get down to business, here's your Monday motivational speech to get you through the work day:
You are now entering the red zone…
From the 20: Demolition derby in Denver
Embarrassing is one of many words you could use to describe the Broncos' performance in Sunday's 59-14 home ass-kicking suffered at the hands of the Oakland Raiders.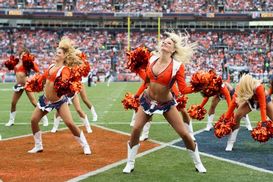 ICONOutside of the Oakland Raiders, these cheerleaders were the only thing that looked good in Denver on Sunday.
Running back Darren McFadden—who claimed he was 70% healthy entering Week 7—ripped the Denver defense to shreds as the veteran runner totaled 196 yards and four touchdowns for the top fantasy performance of the week. Amazingly, Run DMC averaged 10.3 yards per carry as he repeatedly gashed a Denver defensive unit that quit (but will still receive paychecks) very early in the first quarter.
McFadden has topped the 100-yard rushing plateau in three of five games this season, is averaging a healthy 5.5 yards per carry and is now ranked fourth in scoring among fantasy running backs. This is the type of production the Raiders hoped they were acquiring when they selected the former Arkansas Razorback fourth overall in the 2008 draft.
As we usually advise in these types of situations, now is the best time to trade away McFadden. A 43-point fantasy performance is likely to have at least one owner in your league salivating at an opportunity to upgrade their RB unit. Just keep in mind that for as good as he looked in Week 7, McFadden will continue to split carries with Michael Bush (15-52-1).
How many of you actually had McFadden in your starting lineups this weekend?
From the 19: It wasn't all bad for the Broncos
That's a lie, but at least second-year running back Knowshon Moreno had an opportunity to cash in on some garbage time stats in Sunday's blowout loss.
The former Georgia Bulldog amassed 90 total yards (53 rushing, 37 receiving) and found the end zone twice through the air for a total of 20 fantasy points (standard scoring) on Sunday. Since returning to action from a hamstring injury in Week 6, Moreno has reassumed the lead-dog role in the Denver backfield. While his numbers haven't been gaudy (3.9 YPC over last two weeks), Moreno has a favorable upcoming schedule that features just one top-ten fantasy run defense (San Diego) over the next four games.
If you can land him for the right price, this guy could make for a nice RB2/flex option heading down the stretch.
From the 18: Rowdy Roddy White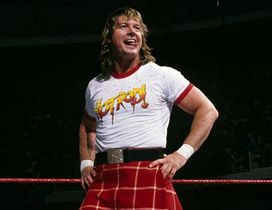 Is White now the most famous "Roddy" in American history?
With Randy Moss in the twilight of his career and Larry Fitzgerald's talent being wasted in Arizona, is Roddy White the best receiver in the NFL?
After Sunday's performance against the Cincinnati Bengals (11-201-2), it's tough to find a better pass-catcher in the league right now.
Receptions: 54 (1st in NFL)
Receiving Yards: 747 (1st in NFL)
Touchdowns: 5 (5th in NFL among WRs)
Targets: 82 (1st in NFL)
Receptions of 20+ yards: 10 (3rd in NFL)
Receptions of 40+ yards: 3 (4th in NFL)
Through seven weeks, White is averaging 14.7 fantasy points per game, has scored a touchdown in four of seven contests and has topped 100 receiving yards in a game four times.
And it gets better. White's next four games (Tampa Bay, Baltimore, St. Louis, Green Bay) come against teams that rank in the bottom half of the league in fantasy points allowed to opposing wide receivers.
From the 17: LOCK OF THE YEAR UPDATE
Enter the red zone's lock of the year: Buffalo Bills UNDER 5.5 wins
Credit the Bills for coming off their bye week and putting up a legitimate fight in Baltimore, but in the end, this was yet another example of a bad football team figuring out how to lose games.
Despite holding a 24-10 lead in the second quarter, the Bills committed four turnovers and picked up a costly penalty in overtime to lose 37-34 to the Ravens. In addition, the 506 yards of offense Buffalo amassed was the most given up by a Baltimore defense since December 24, 2000 against the New York Jets.
The Bills are now 0-6 on the year and need to finish the season 6-4 in order to ruin the Lock of the Year.
Buffalo's upcoming schedule
Week 8: at Kansas City
Week 9: vs. Chicago (Toronto)
Week 10: vs. Detroit
Week 11: at Cincinnati
Week 12: vs. Pittsburgh
From the 16: Pick him up
Stevie Johnson, WR, Buffalo Bills
For as bad as the Bills have been this season, there are definitely some decent fantasy options on their roster.
Three-year veteran wideout Stevie Johnson has found the end zone in each of his last four contests (5 total touchdowns) and is being targeted 6.8 times per game. Believe it or not, this guy is currently 14th in fantasy scoring among NFL wide receivers.
And let's not forget about Harvard alum Ryan Fitzpatrick, who has tossed two or more touchdown passes (11 total) in all four games as the starting quarterback in Buffalo. The 27-year old signal-caller is averaging 242.3 passing yards per game and is currently ranked 18th in scoring among fantasy quarterbacks.
Garbage time stats are a big deal in fantasy football. The Bills are living proof.
From the 15: Is this finally the end of Brett Favre?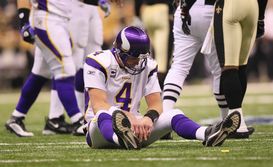 Shut it down, Favre. We've seen enough.
I'm not sure why, but I'm getting tired of television commentators giving Favre a free pass for terrible play. If JaMarcus Russell had been under center for the Vikings Sunday night and played like Favre did, Al Michaels and Cris Collinsworth would have killed him.
Instead, we heard more about Favre's ankle injury and his illustrious career than we did about his three interceptions (one of which was returned for a touchdown) and 55.2% completion percentage.
Through seven weeks, Favre has produced only one game in which he threw more than one touchdown pass (at New York Jets). He's got a quarterback rating of 68.0, is leading a team that is 2-4 (0-3 on the road) and ranks just 27th in scoring among fantasy quarterbacks (11.8 fantasy pts/gm).
The upcoming schedule has some bright spots (New England, Arizona, Washington) but fantasy owners can no longer view this guy as an every week starter. He's too inconsistent and makes way too many costly mistakes.
From the 14: Highlight of the week
Nice tackle, Perrish Cox. I know this won't go down as the best play of the weekend, but my YouTube o ptions were limited. Either way, this guy was a human highlight reel on Sunday.
From the 13: The Big Ben effect
In his second game back from suspension, Pittsburgh quarterback Ben Roethlisberger completed 19 of 27 passes for 302 yards with two touchdowns and no interceptions in a 23-22 win at Miami.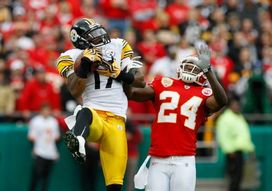 ICONMike Wallace's numbers are on the rise since the return of Big Ben.
Big Ben has now topped 22.0 fantasy points in both games he's played this year and is currently rocking a QB rating of 122.4. In case you haven't already figured it out, he's an every-week starter.
More importantly, Roethlisberger's return has vaulted the stock values of wide receivers Hines Ward and Mike Wallace. Both players have topped 11.0 fantasy points in each of the past two weeks.
Since the upgrade at quarterback, Ward has caught 12 passes for 185 yards with two touchdowns (18 targets), while Wallace is right on his heels with five receptions for 143 yards and two scores (10 targets).
Ward is now a WR1/WR2 while Wallace is a WR2/WR3. In addition, both are excellent "sell high" candidates in the event you have a nice stable of wide receivers on your roster.
From the 12: Another quarterback change in Philadelphia
In case you missed the news on Sunday, Eagles head coach Andy Reid announced that Michael Vick will be the starting quarterback when the Birds come off the bye in Week 9 (vs. Indianapolis).
Kevin Kolb is headed back to the bench after a three-turnover performance in the Eagles' 37-19 loss at Tennessee on Sunday. After leading 19-10 through three quarters of action, Philly was outscored 27-3 during the final frame.
Between the Phillies loss and the Eagles' defensive collapse, it was a rough weekend in Philadelphia.
From the 11: From the same game…
Titans wide receiver Kenny Britt continued his assault on the stats column this past weekend with a career performance that consisted of seven receptions for 225 yards and three touchdowns (10 targets).
What's really impressive about Britt's explosion is that he rolled up those numbers A) without his starting quarterback and B) without playing in the first quarter due to a suspension handed down from head coach Jeff Fisher.
Britt is now averaging 12.1 fantasy points per week, ranks second in fantasy scoring among wide receivers and has found the end zone in each of his last five games.
On the flip side, it will be interesting to see if Eagles cornerback Ellis Hobbs keeps job after spending Sunday afternoon getting torched like a marshmallow at a campout.
From the 10: Week 7 Target Report
Lets take a look at the 15 wide receivers that are recording the most targets per game:
1. Terrell Owens, WR, Cincinnati Bengals: 12.2
2. Brandon Marshall, WR, Miami Dolphins: 11.8
3. Roddy White, WR, Atlanta Falcons: 11.7
4. Andre Johnson, WR, Houston Texans: 11.0
5. Reggie Wayne, WR, Indianapolis Colts: 10.8
6. Larry Fitzgerald, WR, Arizona Cardinals: 10.7
7. Chad Ochocinco, WR, Cincinnati Bengals: 10.1
8. Brandon Lloyd, WR, Denver Broncos: 9.6
9. Hakeem Nicks, WR, New York Giants: 9.5
10. Calvin Johnson, WR, Detroit Lions: 9.2
11. Santana Moss, WR, Washington Redskins: 9.0
12. Austin Collie, WR, Indianapolis Colts: 9.0
13. Steve Smith, WR, New York Giants: 9.0
14. Jabar Gaffney, WR, Denver Broncos: 8.9
15. Mike Williams, WR, Tampa Bay Buccaneers: 8.8
Of those 15 aforementioned wide receivers, seven of them rank in the top-ten in scoring among fantasy wideouts (White, Lloyd, Collie, Nicks, C. Johnson, Owens, Wayne).
From the 9: Lets go Ahmad Bradshaw!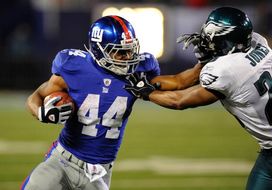 ICONWill Bradshaw come through for the NFP?
As much as I hate to root for the New York Giants (and the Dallas Cowboys, for that matter), I'm going to be glued to the television Monday night cheering on my man Ahmad Bradshaw.
In the 2010 NFP Expert's League, I'm currently trailing Matt Loede of NFL Gridiron Gab by 12.7 points (standard scoring). His roster is finished and I'm left with Bradshaw.
Will the New York running back deliver? Will Brandon Jacobs once again steal the goal line carries and cost me a win?
Tune in tonight and check out all of the action from the NFP Expert's League by CLICKING HERE.
From the 8: Week 7 Workhorse Running Back Report
Lets take a look at the 15 running backs that are recording the most carries per game:
1. Adrian Peterson, RB, Minnesota Vikings: 23.3
2. Chris Johnson, RB, Tennessee Titans: 23.3
3. Rashard Mendenhall, RB, Pittsburgh Steelers: 21.8
4. Steven Jackson, RB, St. Louis Rams: 21.3
5. Cedric Benson, RB, Cincinnati Bengals: 20.5
6. Marshawn Lynch, RB, Seattle Seahawks: 20.5
7. Darren McFadden, RB, Oakland Raiders: 20.2
8. Frank Gore, RB, San Francisco 49ers: 19.3
9. Maurice Jones-Drew, RB, Jacksonville Jaguars: 19.3
10. Arian Foster, RB, Houston Texans: 19.2
11. Ray Rice, RB, Baltimore Ravens: 18.7
12. Michael Turner, RB, Atlanta Falcons: 18.7
13. Ahmad Bradshaw, RB, New York Giants: 18.3
14. Thomas Jones, RB, Kansas City Chiefs: 16.5
15. Ryan Torain, RB, Washington Redskins: 16.4
Of the 15 aforementioned running backs, ten of them rank in the top-15 in scoring among fantasy running backs (Foster, Peterson, Johnson, McFadden, Gore, Jackson, Mendenhall, Turner, Bradshaw, Jones-Drew).
From the 7: Stock Drop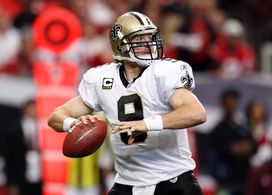 ICONBreesus is throwing too many picks this season.
Drew Brees, QB, New Orleans Saints: Seven touchdown passes with eight interceptions over his last three games (1-2). Brees is currently ranked fourth in scoring among fantasy QBs. In addition, the Pro Bowl quarterback is currently tied with Minnesota's Brett Favre for the league lead in interceptions (10).
Ronnie Brown, RB, Miami Dolphins: Has rushed for only 114 yards on 39 carries over his last three games. What's even worse is that Brown hasn't scored a touchdown since Week 1.
Larry Fitzgerald, WR, Arizona Cardinals: Hasn't scored a touchdown since September 26 (vs. Oakland) and has recorded just one game this season with more than 85 receiving yards. Kurt Warner's retirement is killing this guy.
From the 6: Bump & Run Podcast Update
Matt Bowen and I failed to pollute the airwaves this past weekend due to scheduling conflict s, but we'll be back in action Tuesday afternoon/evening with our Week 7 recap.
I apologize to those of you who were interested in hearing my loser picks so you could bet the other way and win some money.
From the 5: Stock up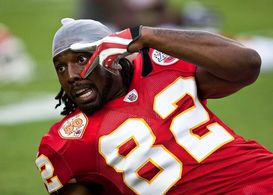 Two straight weeks of big-time production from Dwayne Bowe.
Joe Flacco, QB, Baltimore Ravens: Flacco has thrown for 535 yards with five touchdowns and zero interceptions over his last two games. Don't look now, but this guy is currently ranked seventh in scoring among fantasy quarterbacks.
Brandon Jackson, RB, Green Bay Packers: Ryan Grant's backup has amassed 326 total yards and one touchdown over his last three games. B-Jax is making plays in both phases of Green Bay's offense and is averaging 11.6 fantasy points per week over his past three starts.
Dwayne Bowe, WR, Kansas City Chiefs: For the second straight week, Bowe delivered in big way for fantasy owners. Over his last two games, the veteran wideout has caught nine passes for 189 yards and four touchdowns.
From the 4: Stat of the week: blitzing
The five NFL teams (Detroit, Minnesota, Oakland, Carolina, Arizona) that have the worst QB rating against the blitz are a combined 10-21 (.323) this season.
The five NFL defenses (San Francisco, Arizona, New England, Cleveland, Buffalo) that are surrendering the best QB rating when blitzing are a combined 11-21 (.343) this season.
From the 3: IDP Update
Tackles
1. Jerod Mayo, LB, New England Patriots: 72
2. Stephen Tulloch, LB, Tennessee Titans: 71
3. London Fletcher, LB, Washington Redskins: 68
4. LaRon Landry, S, Washington Redskins: 68
5. Chad Greenway, LB, Minnesota Vikings: 63
6. D.J. Williams, LB, Denver Broncos: 63
7. Ray Lewis, LB, Baltimore Ravens: 60
8. Lawrence Timmons, LB, Pittsburgh Steelers: 60
9. A.J. Hawk, LB, Green Bay Packers: 59
10. Curtis Lofton, LB, Atlanta Falcons: 58
Sacks
1. Clay Matthews, LB, Green Bay Packers: 8.5
2. Osi Umenyiora, DE, New York Giants: 8.0
3. Brian Orakpo, LB, Washington Redskins: 7.0
4. Shaun Phillips, LB, San Diego Chargers: 7.0
5. DeMarcus Ware, LB, Dallas Cowboys: 7.0
6. James Hall, DE, St. Louis Rams: 6.5
7. John Abraham, DE, Atlanta Falcons: 6.0
8. Jason Babin, DE, Tennessee Titans: 6.0
9. Dave Ball, DE, Tennessee Titans: 6.0
10. Trent Cole, DE, Philadelphia Eagles: 6.0
*Miami Dolphins defensive end Cameron Wake also has 6.0 sacks this season.
From the 2: Pick him up
LeGarrette Blount, RB, Tampa Bay Buccaneers
The rookie from Oregon rushed for a career-high 72 yards on just 11 carries (6.5 YPC) in Sunday's 18-17 win over the St. Louis Rams. More importantly, Blount's 11 rushing attempts were seven more than what former starting running back Carnell Williams received.
Blount won't be an every-week producer and will be inconsistent at times during the remainder of the 2010 season, but for those of you in deeper leagues that could use some RB help, he's probably one of the only viable options still available.
From the 1: Who ya got tonight?
You all know how this works: Leave a comment below with your pick for who will win tonight's game as well as the total amount of points that you think will be scored (this serves as the tiebreaker). I'll email the winner on Tuesday and will send out some stuff courtesy of the good folks at Procter & Gamble.
You are picking against the spread and should enter your comment like so:
GIANTS, 45
The Enter the red zone Monday night picks are currently 3-4.
Tonight, the 4-2 New York Giants travel to Dallas to take on the 1-4 Cowboys.
Opening Line: Cowboys -3, 44.5
Current Line: Cowboys -3, 45
The Giants have won three of the last four meetings between these two teams. In addition, in the last eight games between Dallas and New York, these two teams have combined to score 45 or more points five times.
Enter the red zone LOVES the over in tonight's game and we'll take the Giants as well.
Who ya got?
Hit me up on Twitter: @JoeFortenbaugh
Win cash today playing fantasy football with the NFP and FanDuel.