September 13, 2010 -
Joe Fortenbaugh
Enter the red zone
Enter the red zone is back to break down all of the Week 1 action that took place on Sunday.
We've got performances to evaluate, injuries to update, predictions to make and much, much more.
You are now entering the red zone...
From the 20: The city of Detroit gets screwed again
Enter the red zone is primarily a fantasy roundup with a little handicapping talk sprinkled in along the way. But after what happened to the Detroit Lions at Soldier Field on Sunday, I wouldn't be able to live with myself if we let this one slip past.
Just three months after MLB umpire Jim Joyce robbed Detroit Tigers pitcher Armando Galarraga of a perfect game against the Cleveland Indians, Motown was jobbed again, this time by an NFL officiating crew.
On second and ten from the Chicago 25-yard line trailing 19-14 and with just 31 seconds remaining, the Bears brought a blitz up the middle that forced backup quarterback Shaun Hill to unload the ball in a hurry to his Pro Bowl wide receiver.
Megatron made a spectacular grab in the end zone, which should have sent the Lions to the win column for only the fourth time in their last 41 games. Instead, the refs "interpreted the rule correctly," and the Bears escaped with a tainted win.
I couldn't care less to hear what is considered to be the proper interpretation of the rule. Johnson scored a touchdown, Galarrage threw a perfect game and Tom Brady fumbled against the Raiders in the AFC Championship. The infamous "tuck rule" was wrong and so is this.
Tell me, does this look like a fumble to you? (I apologize for this video being weak, but I couldn't find anything better).
And doesn't this look like a reception?
From the 19: Swiss cheese should be renamed "Indy run defense cheese"
OK, the name change I'm suggesting probably wouldn't be good for sales, but how else would you describe what the Colts defense looked like in Houston on Sunday?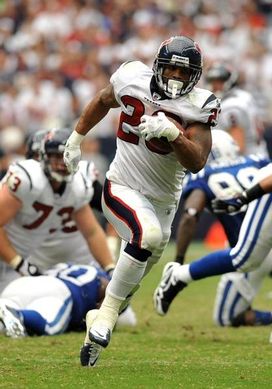 ICONFoster gashed the Indy defense for a ridiculous 231 rushing yards.
Former practice squad running back Arian Foster slashed and gashed Indianapolis 33 times for a career-high and franchise record 231 rushing yards in the Texans' 34-24 beat down of the Colts. The 24-year old Foster also found the end zone three times while averaging a sickening 7.0 yards per carry en route to "Stud of the Week" honors here at the NFP.
What does it all mean? For starters, Foster is now an every week RB1/RB2 for fantasy owners who appear to have landed a steal in the middle rounds when they drafted this guy.
However, don't go celebrating a fantasy championship just yet. We're just one week into the regular season, so we aren't going to kill the guys who failed to show up or celebrate the players who came through big. Let's see how much success Foster has over the next two weeks, when the Texans hit the road to play Washington and then return home to take on the Cowboys.
But I don't want to sound like a total buzz kill, because Foster deserves big-time respect for what he did to Indianapolis. That defense couldn't tackle worth a damn and pretty much quit at the start of the fourth quarter.
Is a new era beginning in the AFC South?
From the 18: Waiver wire hotness
Steve Breaston, WR, Arizona Cardinals: The 27-year old made the NFP's top-20 sleepers list entering the 2010 season and didn't disappoint Sunday in St. Louis.
Breaston was only targeted seven times by quarterback Derek Anderson, but he caught everything thrown his way and racked up a career-high 132 receiving yards in the process as the Cardinals pulled out a 17-13 nail-bitter against the powerhouse St. Louis Rams.
The No. 2 wideout in Arizona had an ADP (average draft position) of just over 100.0 entering the season, so he won't be available in all of your leagues.
But for those of you in need of some wide receiver help who play in a league where Breaston is on the market, we advise you to highly consider him for the job.
Breaston's next three games…
Week 2: @ Atlanta Falcons
Week 3: vs. Oakland Raiders
Week 4: @ San Diego Chargers
From the 17: LOCK OF THE YEAR update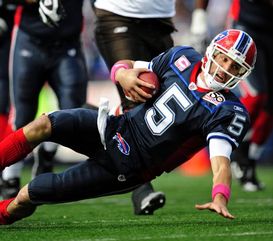 ICONSorry, Buffalo fans. But Trent Edwards and the Bills just plain stink.
We don't just strive for fantasy excellence here at Enter the red zone. We also make an effort to fatten your pockets throughout the course of the NFL season.
For those of you familiar with this column, you know our "LOCK OF THE YEAR" was to take UNDER 5.5 total wins for the Buffalo Bills.
How did Week 1 of this 17 week play work out? The Buffalo offense managed just 10 points, 166 total yards of offense, 9 first downs and held the ball for only 23:06 in a 15-10 home loss to the Miami Dolphins.
The sad thing for Bills fans is that Sunday against Miami was one of the few winnable games on the 2010 schedule:
Buffalo's next three games:
Week 2: @ Green Bay Packers
Week 3: @ New England Patriots
Week 4: vs. New York Jets
From the 16: Alex Smith and Chad Henne tank
Late-round sleeper quarterbacks Alex Smith and Chad Henne looked miserable in their respective games on Sunday. If there's a better word for "miserable" in the dictionary that you prefer, please feel free to leave it in the comments section below.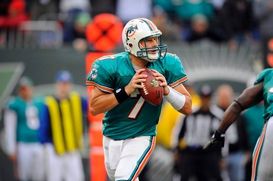 ICONSunday was not a good start for Chad Henne owners.
Henne came away with a 15-10 win at Buffalo, but completed 21 of 34 passes (61.2%) for only 182 yards (5.4 YPA) with no touchdowns. The former Michigan standout was reluctant to throw the ball down the field and struggled with his decision making in the process.
Smith was even worse in a 31-6 blowout loss at Seattle. The 26-year old completed 26 of 45 passes (57.7%) for 225 yards (5.0 YPA) with zero touchdowns and two interceptions.
I shouldn't say "zero touchdowns" because Smith threw a beautiful 32-yard pick-six to Seattle cornerback Marcus Trufant.
Yes, it's too early to panic regarding these two starting quarterbacks, but the big concern is what their erratic play could mean for fantasy studs like Brandon Marshall, Michael Crabtree and Vernon Davis.
Those three guys combined to catch 18 passes for only 138 yards with no touchdowns.
Henne's at Minnesota next week while Smith and the 49ers play host to the defending champion New Orleans Saints. Let's see if they pick it up in Week 2.
From the 15: Injuries? What injuries?
Patriots wide receiver Wes Welker (torn ACL) and Broncos running back Knowshon Moreno (hamstring) entered Week 1 of the regular season with some question marks surrounding their health and ability to make plays on the field.
The stat lines speak for themselves. Both guys looked pretty damn good:
Wes Welker, WR, New England Patriots: 8 receptions, 64 yards, 2 touchdowns, 11 targets
Knowshone Moreno, RB, Denver Broncos: 15 carries, 60 yards, 1 touchdown, 1 reception, 4 yards, 2 targets
From the 14: Week 1 Target Report
Here's the top-ten most targeted pass catchers after Week 1 in the NFL. For a more detailed list, check out the NFP's Total Access Pass.
1. Roddy White, WR, Atlanta Falcons: 23
2. Mark Clayton, WR, St. Louis Rams: 16
3. Larry Fitzgerald, WR, Arizona Cardinals: 15
4. Dallas Clark, TE, Indianapolis Colts: 13
5. Brandon Marshall, WR, Miami Dolphins: 13
6. Chad Ochocinco, WR, Cincinnati Bengals: 13
7. Terrell Owens, WR, Cincinnati Bengals: 13
8. Dez Bryant, WR, Dallas Cowboys: 12
9. Vernon Davis, TE, San Francisco 49ers: 12
10. Miles Austin, WR, Dallas Cowboys: 11
Be sure to make a mental note of the fact that St. Louis wideout Mark Clayton was targeted 16 times by rookie quarterback Sam Bradford. Clayton finished with 10 receptions for 119 yards and is available on the waiver wire in most fantasy leagues.
From the 13: Highlight of the week
Game, set, match.
From the 12: Week 1 Workhorse Running Backs
Which ball carriers had a busy day this weekend? Let's take a look:
1. Arian Foster, RB, Houston Texans: 33 carries
2. Chris Johnson, RB, Tennessee Titans: 27 carries
3. Maurice Jones-Drew, RB, Jacksonville Jaguars: 23 carries
4. Steven Jackson, RB, St. Louis Rams: 22 carries
5. Rashard Mendenhall, RB, Pittsburgh Steelers: 22 carries
6. Cadillac Williams, RB, Tampa Bay Buccaneers: 22 carries
7. Ahmad Bradshaw, RB, New York Giants: 20 carries
8. Pierre Thomas, RB, New Orleans Saints: 19 carries
9. Michael Turner, RB, Atlanta Falcons: 19 carries
10. Brandon Jackson, RB, Green Bay Packers: 18 carries*
*Owners in need of some running back help should consider making a move for Green Bay's Brandon Jackson. Ryan Grant injured his ankle in the second quarter against Philadelphia on Sunday and did not return. Jackson ended the day with 18 carries for 63 yards.
While Grant's status is up in the air as of the current moment, keep in mind that he hans't missed a start since becoming the top guy on the Green Bay depth chart in 2007.
From the 11: Be careful betting the Chargers tonight
San Diego is currently a 4.5-point favorite entering Monday night's showdown with the Kansas City Chiefs at the new Arrowhead Stadium. However, we advise you to think twice before betting the Chargers. We aren't saying they won't cover, but just keep the following stats in mind:
Week 1 division rivalries featuring home underdog:
Seattle (+3) vs. San Francisco: Seattle covers
Houston (+1.5) vs. Indianapolis: Houston covers
Washington (+4) vs. Dallas: Washington covers
St. Louis (+3) vs. Arizona: St. Louis misses covering by one point
Buffalo (+3) vs. Miami: Buffalo misses covering by two points
In addition, the Chargers were a road favorite in a division rivalry last year in Week 1 when they traveled to Oakland to take on the Raiders. San Diego won 24-20, but failed to cover.
From the 10: There's always a problem in Philadelphia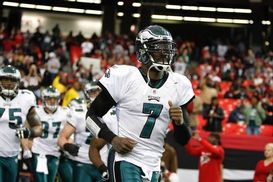 ICONHow long until Philly fans start calling for Michael Vick? Oh wait, they already have.
What a disastrous start for the Kevin Kolb era in Philadelphia as the new franchise quarterback completed just five of 10 passes for 24 yards with no touchdowns before getting knocked out of the game with a concussion, courtesy of Green Bay linebacker and stud athlete Clay Matthews.
To make matters worse, not only did the Birds lose, but backup quarterback Michael Vick played his best football since being released from federal prison. Vick completed 16 of 24 passes for 175 yards with one touchdown and no interceptions. He also led the Eagles in rushing with 11 carries for 103 yards.
More impressively, Vick didn't turn the ball over once.
Vick's performance, coupled with Donovan McNabb's win over the Dallas Cowboys on Sunday night, is going to have Philly sports radio abuzz on Monday about what to do at the quarterback position. While Kolb may not play next week at Detroit due to his concussion, he's going to remain the starter. Head coach Andy Reid and the front office can't afford to throw in the towel on this kid just yet.
However, the bad news for fantasy owners is that the Detroit game in Week 2 is one of the best matchups on the schedule for Kolb this season.
Don't panic just yet. It's only one game.
But boy was it a bad one.
From the 9: Speaking of McNabb…
How great do you think this guy is feeling today?
Run out of Philadelphia by team and fans alike, McNabb and a stellar Washington defense led the way in a 13-7 Sunday night win over the hated Dallas Cowboys.
His fantasy numbers certainly won't win you a championship (15/32, 171 yards, 0 touchdowns), but we told you that entering the season. McNabb is a QB2 this year with some upside that should only be considered when the schedule offers up a soft defense.
However, tight end Chris Cooley ended the night with six receptions for 80 yards on nine targets. As we mentioned this summer, Cooley was way too undervalued in fantasy drafts. McNabb LOVES to target his tight ends.
And speaking of the Washington defense…
From the 8: Waiver wire hotness
Washington Redskins, D/ST: Defensive coordinator Jim Haslett brought the heat all night and it was a big problem for Tony Romo and the Dallas Cowboys. The 'Skins gave up just 7 points, recorded a sack, forced a fumble, scored a touchdown, racked up four tackles for a loss and held the Cowboys to only 380 total yards of offense.
NFP analyst Matt Bowen was hyping up this defense back in August. Looks like he knew what he was talking about.
From the 7: Matthew Stafford update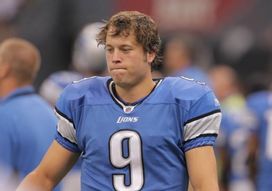 ICONStafford could find himself on the sidelines for the next few weeks.
What's it going to take for the Detroit Lions to catch a break?
Franchise quarterback Matthew Stafford injured his throwing shoulder on Sunday after getting decked from behind by free agent acquisition Julius Peppers. The second-year quarterback will undergo an MRI on Monday and will likely miss next week's home game against the Philadelphia Eagles.
Before the hit, Stafford had completed 11 of 15 passes for 83 yards with no touchdowns and no interceptions.
If you need some help at QB and Vince Young is still available, make the move.
Young looked smooth like poured water yesterday as he completed 13 of 17 passes (76.5%) for 154 yards and two touchdowns with no interceptions in a 38-13 drubbing of the Oakland Raiders. He also picked up 30 yards on the ground on just seven carries.
From the 6: Backfield timeshare in Cleveland
In a game that nobody watched (but probably bet), there were some interesting fantasy developments taking place at Raymond James Stadium in Tampa on Sunday.
For starters, the Cleveland backfield situation looks to be a full-blown running back by committee approach as both Jerome Harrison (52 yards, no touchdowns) and Peyton Hillis (41 yards, one touchdown) carried the ball nine times.
However, Hillis had the edge in the passing game as the former Denver Bronco hauled in four passes for 24 yards on five targets, while Harrison caught just one pass for seven yards on one target.
Hillis will likely be the short yardage and goal line running back for the Browns, which further decreases Harrison's value.
From the 5: From the same game…
Tampa Bay rookie wide receiver Mike Williams emerged as quarterback Josh Freeman's No. 1 target in the Bucs' 17-14 win over the Browns on Sunday.
Williams was targeted a team-high nine times and finished the game with five receptions for 30 yards and his first NFL touchdown.
That's an excellent start for a fantasy wideout who was a late-round draft pick at best.
On a side note, second-round pick Arrelious Benn (WR, Illinois) was nowhere to be found in the box score.
Looks like the Bucs may have missed on that one.
From the 4: The Big Blue Backfield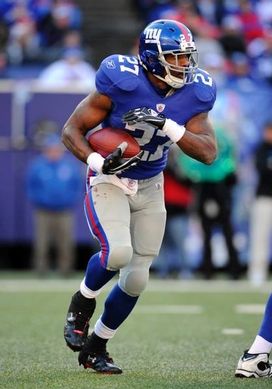 ICONJacobs has assumed a much smaller role in New York to open the year.
We were real high on Giants running back Ahmad Bradshaw entering the season. Not just because of his talent, but because of the excellent value owners could land him at on draft day (ADP: 65.4).
Not only did Bradshaw finish the weekend ranked 7th in the NFL in carries (20), but he also posted 93 total yards (76 rushing, 17 receiving) and a touchdown in New York's 31-18 win over the Carolina Panthers.
For those of you scoring at home, that's a solid 14 fantasy points in standard scoring formats.
Meanwhile, former starter Brandon Jacobs carried the ball just 12 times for 44 yards (3.7 yards per carry). The big bruiser ripped off a 22-yard carry at one point, meaning he amassed just 22 yards on his other 11 rushes.
As of the current moment, Bradshaw is the guy in New York. Start him with confidence.
From the 3: The Big Blue Receiving Unit
Starting wideouts Steve Smith (8) and Hakeem Nicks (8) both saw the same amount of targets on Sunday, but it was Nicks who cashed in at the bank.
The second-year wide receiver racked up 75 yards and three touchdowns on just four receptions for a 25-point fantasy performance to open the season.
It will be very interesting to watch who quarterback Eli Manning begins to favor more as the season progresses.
From the 2: Stat of the week
Question: What do the six quarterbacks who threw the most passes this weekend all have in common?
1. Peyton Manning, QB, Indianapolis Colts: 57
2. Sam Bradford, QB, St. Louis Rams: 55
3. Carson Palmer, QB, Cincinnati Bengals: 50
4. Tony Romo, QB, Dallas Cowboys: 47
5. Alex Smith, QB, San Francisco 49ers: 45
6. Matt Ryan, QB, Atlanta Falcons: 44
Answer: They all lost.
From the 1: Who ya got on Monday night?
Baltimore Ravens at New York Jets
Opening Line: Jets -3, 37
Current Line: Jets -1.5, 36.5
San Diego Chargers at Kansas City Chiefs
Opening Line: Chargers -5.5, 45
Current Line: Chargers -4.5, 44.5
I'm going with the JETS and CHIEFS.
Who ya got?
And follow me on Twitter, where we're currently red-hot at 3-0-1 (Saints, Michigan, Alabama, NY Giants).