September 20, 2010 -
Joe Fortenbaugh
Enter the red zone
You couldn't help but watch in awe as the Lions and Eagles put on a fantasy show for the ages Sunday afternoon in Detroit. Seven offensive players reached double digits in scoring as the Birds held off a late surge by the Lions to win 35-32.
At the same time the greater Detroit area was being lit up like the Fourth of July, I'm sure many of you watched in horror as the Cardinals, Titans, Steelers, Panthers, Bills, Ravens and Bengals failed to get their offenses to fire for four quarters.
So is life in the NFL.
It's Monday afternoon here at the National Football Post, which means it's time to take a look back at some of the key action that took place this past weekend.
You are now entering the red zone…
From the 20: Best in show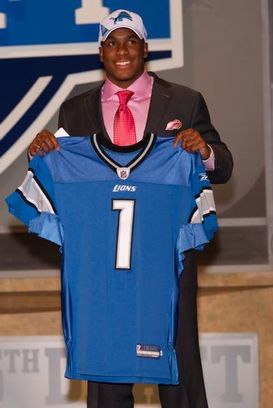 ICONTrading back into the first round to land Jahvid Best looks to be one hell of a move after two weeks.
One week after Houston Texans running back Arian Foster turned in a 41-point fantasy performance against the Indianapolis Colts, Lions rookie speedster Jahvid Best posted a gem of his own as the former Cal product slashed and gashed the Philadelphia defense for 232 total yards and three touchdowns (40 fantasy points, standard scoring) in a 35-32 loss. Best's outburst was bittersweet because the 30th overall pick in April's draft was an NFP top-five sleeper recommendation this summer, but also made an appearance on the sit list last Friday (direct all hate email to: Joe.Fortenbaugh@NationalFootballPost.com).
Through two weeks, Best is currently accounting for 37.6% of Detroit's total offense (268 of 712 total yards) and 65.2% of the Lions' scoring (30 of 46 points). With quarterback Matthew Stafford out due to a shoulder injury, expect the offense to continue to run through the fantasy world's newest sensation. The next two games will be a great test to see what this guy is truly made of:
Week 3: at Minnesota Vikings
Week 4: at Green Bay Packers
From the 19: Overshadowed
Lost in the drooling that took place over Best's performance against the Eagles was the fact that three starters from the Philly offense posted 19 or more fantasy points Sunday at Detroit:
LeSean McCoy: 30 points (128 total yards, 3 touchdowns)
Michael Vick: 25 points (284 passing yards, 2 TDs, 0 INTs, 37 rushing yards)
DeSean Jackson: 19 points (4 receptions for 135 yards, 1 touchdown, 7 targets)
What does it all mean? For starters:
1. Detroit's defense still has a long way to go.
2. Even though head coach Andy Reid said Kevin Kolb will start next week at Jacksonville, Vick is currently the fan favorite in Philadelphia. Looks like we have a full-blown QB controversy on our hands.
3. McCoy has the potential to evolve into the second-coming of Brian Westbrook.
4. Letting DeSean Jackson get into open space is a defensive coordinator's nightmare.
On a more unpleasant note, Eagles tight end Brent Celek has caught just five passes for 59 yards and no scores in two games this year. Vick targeted him five times in 34 attempts (14%), which apparently is not going to cut it for Celek owners.
From the 18: The NFP moves to 2-0
The National Football Post took down ESPN this weekend in the NFP Fantasy Expert's League 154.30-113.80 to move to 2-0. Peyton Manning (24.70), LeSean McCoy (30.80) and Adrian Peterson (24.60) tried their best to earn MVP honors for the Post, but the Pittsburgh D/ST (40.0) put on a fantasy show for the ages on Sunday at Tennessee to steal the prize.
Ten of us are competing for a plasma television and bragging rights in the expert's league for the second-consecutive season. Click HERE to check out the Week 2 results.
From the 17: How many of you listened to the Kevin Walter advice this summer?
Deservedly so, I'm going to take it on the chin for Friday's Jahvid Best recommendation. However, every now and again, even a blind squirrel like myself finds a nut.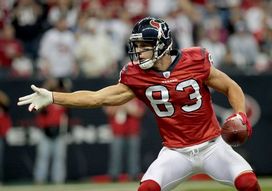 ICONWalter will be a hot waiver wire pickup this week.
Houston Texans wide receiver Jacoby Jones (ADP: 124.7) was a hot sleeper candidate this past summer, but we repeatedly told you guys to target Kevin Walter (ADP: 159.5) in the later rounds. Our logic: You don't sign a guy to a $21.5 million contract because you want to watch him count his money on the bench.
Walter fell below the radar in Houston's 30-27 overtime win at Washington on Sunday afternoon, despite catching 11 passes for 144 yards and one touchdown (13.1 YPR) on 11 targets. For those of you who didn't see this one, quarterback Matt Schaub was frequently looking Walter's way late in the game during the Texans' impressive comeback, as the veteran receiver ran some smooth routes and did a nice job creating separation.
Look for Walter on the waiver wire this week. One of the best jobs in the NFL is playing opposite Andre Johnson (17 targets, 12 receptions, 158 yards, 1 touchdown).
Oh yeah, for those of you scoring at home, Walter has now found the end zone in each of the Texans' first two games.
From the 16: LOCK of the Year update
Enter the red zone's lock of the year was to lay the 401K on the Buffalo Bills' 2010 win total (UNDER 5.5 wins).
Two games into the season, the Bills are currently 0-2 and rank 32nd in the NFL in scoring (8.5 points per game).
Buffalo Bills upcoming schedule:
Week 3: at New England
Week 4: vs. New York Jets
Week 5: vs. Jacksonville
Week 6: BYE
Week 7: at Baltimore
From the 15: Highlight of the week
This one speaks for itself…and it was lethal enough to send Jets All-Pro cornerback Darrelle Revis to the locker room.
Moss finished the game with 2 receptions for 38 yards and one touchdown on 10 targets.
From the 14: Stat of the week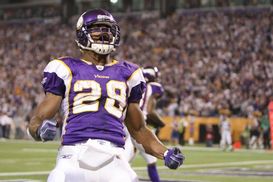 ICONA.P. is going to need some help if the Vikings want to make it back to the playoffs.
Entering the 2010 season, the Minnesota Vikings were 9-1 over the last three years when running back Adrian Peterson rushed for over 125 yards.
A.P. was at it again on Sunday, but it wasn't enough to compensate for quar terback Brett Favre's four-turnover performance. Peterson rushed for 145 yards on 28 carries (5.2 YPC) in one of the most impressive displays of speed, power and finesse you'll find outside of a Pauly Shore movie. During the fourth quarter, all 11 members of the Miami Dolphins defense knew A.P. was going to get the football, but they still had trouble slowing down Minnesota's only offensive weapon.
Check out how the former Oklahoma standout's 2010 rushing performance breaks down:
First Quarter: 11 carries, 59 yards (5.4 YPC)
Second Quarter: 14 carries, 59 yards (4.2 YPC)
Third Quarter: 10 carries, 34 yards (3.4 YPC)
Fourth Quarter: 12 carries, 80 yards (6.7 YPC)
After Sunday, Peterson now ranks third in the NFL in rushing yards (232).
From the 13: Speaking of Brett Favre…
There are many words that can be used to describe Favre's Week 2 performance against the Dolphins, so I'll leave that to you guys.
This is what happens when a 40-year old quarterback skips training camp. It may have turned out fine for the Vikings last season when they opened with Cleveland, Detroit and San Francisco, but it doesn't work against teams that can actually play some defense (New Orleans, Miami).
Through two games, Favre has just one touchdown pass and five turnovers as the Vikings have stumbled out of the gate to a 0-2 start. Minnesota currently ranks 24th in passing offense (185.0 yds/gm) and 30th in scoring (9.5 pts/gm) while Favre ranks 25th in scoring among fantasy quarterbacks.
Next week against the Detroit Lions will be a good indicator to see if Favre plans on delivering in any way, shape or form this season. Fantasy owners should keep a close eye while watching the waiver wire at the same time.
Minnesota's upcoming schedule
Week 3: vs. Detroit Lions
Week 4: BYE (this should be huge for Favre)
Week 5: at New York Jets
Week 6: vs. Dallas Cowboys
Week 7: at Green Bay Packers
From the 12: Vince Young gets the hook
There seems to be a reoccurring them in Tennessee:
2008: Young gets benched, Kerry Collins leads the Titans to the playoffs
2009: Collins gets benched, VY promptly rips off a five-game winning streak and finishes 8-2.
2010: Young gets benched in Week 2…?
Young looked awful on Sunday against a nasty Pittsburgh defense that forced seven turnovers and held the Titans to just 11 points and 238 yards of offense. Whether or not Collins remains the guy moving forward is somewhat unclear at the moment, but the bottom line is that Vince Young still hasn't evolved into a big-game quarterback.
Young owners don't need to throw in the towel just yet, but with upcoming games against the New York Giants, Denver Broncos and Dallas Cowboys, we'll find out soon enough whether or not you can rely on this guy to get the job done.
From the 11: Week 2 Target Report
Let's take a look at the 15 most targeted pass-catchers through two weeks:
1. Roddy White, WR, Atlanta Falcons: 35
2. Larry Fitzgerald, WR, Arizona Cardinals: 27
3. Miles Austin, WR, Dallas Cowboys: 26
4. Terrell Owens, WR, Cincinnati Bengals: 24
5. Andre Johnson, WR, Houston Texans: 22
6. Santana Moss, WR, Washington Redskins: 22
7. Chad Ochocinco, WR, Cincinnati Bengals: 22
8. Mark Clayton, WR, St. Louis Rams: 21
9. Calvin Johnson, WR, Detroit Lions: 21
10. Brandon Marshall, WR, Miami Dolphins: 21
11. Jahvid Best, RB, Detroit Lions: 20
12. Dallas Clark, TE, Indianapolis Colts: 20
13. Reggie Wayne, WR, Indianapolis Colts: 19
14. Anquan Boldin, WR, Baltimore Ravens: 18
15. Randy Moss, WR, New England Patriots: 18
St. Louis Rams wide receiver Mark Clayton is the only guy on this list that might be available in your fantasy league, so pick him up if you're looking to upgrade the wideout position.
Mark Clayton, WR, St. Louis Rams: 12 receptions, 143 yards, 2 touchdowns in 2 games.
From the 10: The streak comes to an end
Sunday's 34-yard performance from Titans running back Chris Johnson marked the end of CJ2K's 12-game streak with 100 or more rushing yards. Johnson's streak began in Week 6 last season when he ripped off 128 yards on 17 carries against the New England Patriots in a 59-0 loss.
Johnson's streak was the second longest in NFL history, behind Hall of Famer Barry Sanders, who ripped off 14-straight 100-yard rushing efforts with the Detroit Lions in 1997.
Here's a highlight that took place in 2009 during "the streak."
From the 9: Week 2 Workhorse Running Back Report
Let's take a look at the 15 running backs that are getting the most carries:
1. Arian Foster, RB, Houston Texans: 52
2. Cadillac Williams, RB, Tampa Bay Buccaneers: 49
3. Darren McFadden, RB, Oakland Raiders: 48
4. Adrian Peterson, RB, Minnesota Vikings: 47
5. Rashard Mendenhall, RB, Pittsburgh Steelers: 45
6. Chris Johnson, RB, Tennessee Titans: 43
7. Steven Jackson, RB, St. Louis Rams: 41
8. Knowshon Moreno, RB, Denver Broncos: 39
9. Cedric Benson, RB, Cincinnati Bengals: 38
10. Ahmad Bradshaw, RB, New York Giants: 37
11. Ray Rice, RB, Baltimore Ravens: 37
12. Maurice Jones-Drew, RB, Jacksonville Jaguars: 35
13. Thomas Jones, RB, Kansas City Chiefs: 33
14. DeAngelo Williams, RB, Carolina Panthers: 33
15. Jahvid Best, RB, Detroit Lions: 31
Thomas Jones is ahead of Jamaal Charles?...
From the 8: Players are signed for a reason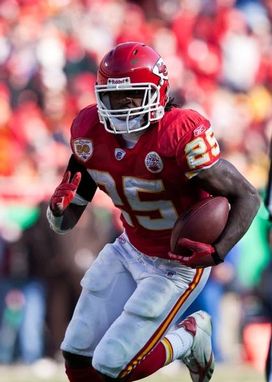 ICONCharles is an excellent player to target via trade right now.
From 2005-2009, Thomas Jones ripped off five-straight 1,000+ yard rushing seasons and scored 23 touchdowns over the last two years. The Kansas City Chiefs recognized this and signed Jones to a two-year, $5 million contract this past offseason.
This is basically the same theory behind our support for Texans wide receiver Kevin Walter. NFL front offices don't spend money because it's fun. They do it because they expect a return on their investment. This is the exact reason why we rated Jamaal Charles a bit lower than most other fantasy publications this past summer.
Through two weeks:
Thomas Jones: 34 touches, 127 total yards, 0 touchdowns
Jamaal Charles: 24 total touches, 176 yards, 1 touchdown
What does it all mean? For starters, Charles is a running back that you should be targeting via trade. There's a good chance his current owner is very pissed about Jones' role in the Kansas City offense. Remember, nobody likes to see a first or second round draft pick standing on the sidelines.
Charles is a playmaker and we love his skill set, but he's going to split carries in Kansas City whether you like it or not.
From the 7: Jay-Cut on the rise
It's only been two weeks, but the addition of offensive coordinator Mike Martz to the Chicago coaching staff is already being felt.
After Sunday's dismantling of the Dallas Cowboys, Jay Cutler is currently ranked fourth in fantasy scoring among quarterbacks (remember, Drew Brees has yet to play his second game). Cutler completed 21 of 29 passes for 277 yards and three touchdowns (with no interceptions) in the Bears' 27-20 win.
Ranking Cutler:
QB Rating: 121.2 (1st in NFL)
Passing Yards: 649 (3rd)
Touchdowns: 5 (2nd)
Completion Percentage: 68.8% (4th)
Completions of 20+ yards: 8 (6th)
What's most impressive here is that Cutler also leads the NFL in yards per attempt average, at 10.1. Credit Martz and his vertical passing attack for Cutler's early-season success.
Cutler and the Bears play host to Aaron Rodgers and the Green Bay Packers next Monday night.
From the 6: The Indianapolis defense
For as bad as the Colts defense looked in Week 1 against Arian Foster and the Texans, believe it or not this unit is now ranked third in scoring among fantasy D/STs through two weeks.
Upcoming schedule:
Week 3: at Denver
Week 4: vs. Jacksonville
Week 5: vs. Kansas City
Week 6: at Washington
Week 7: BYE
Indy held the New York Giants to just 257 yards of offense on Sunday night and forced three turnovers. What really helped was the fact that Peyton Manning and the offense were on the field for just over 35 minutes, keeping the defense fresh and the Giants offense out of rhythm.
Oh yeah, getting two sacks out of Dwight Freeney and two sacks out of Robert Mathis were a nice addition as well.
Keep this in mind if you're looking to add another defense to your roster:
Indianapolis defense at home since 2008:
Record: 14-2 (Jets loss doesn't count, as starters rested)
Points Allowed: 16.3/gm
Turnovers: 30 (1.9/gm)
Sacks: 40
From the 5: Did you know…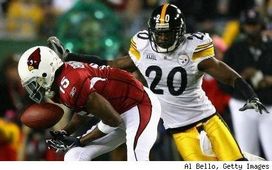 Leading the league in "burned defenders" probably wasn't an incentive in McFadden's contract.
Pittsburgh Steelers CB Bryant McFadden currently leads the league in a statistic known as "burned defenders?"
In two games this year, McFadden has been targeted 15 times and "burned" 11 times.
While this may have little (or nothing) to do with fantasy, the NFL keeps unique stats like this for a variety of players. I know some of you are stats nuts, so I figured I would carve out a small section of Enter the red zone each week to discuss one of the more interesting stats from around the league.
And just in case you were wondering, the Buffalo Bills currently lead the NFL in "negative plays", with 11 for -85 yards.
From the 4: IDP update
Note: The 49ers and Saints have only played one game (but you already knew that).
Tackles
1. LaRon Landry, S, Washington Redskins: 28
2. Lawrence Timmons, LB, Pittsburgh Steelers: 26
3. Rocky McIntosh, LB, Washington Redskins: 24
4. Patrick Chung, S, New England Patriots: 21
5. DeAngelo Hall, CB, Washington Redskins: 21
6. Yeremiah Bell, S, Miami Dolphins: 20
7. Michael Boley, LB, New York Giants: 20
8. Zac Diles, LB, Houston Texans: 20
9. Chad Greenway, LB, Minnesota Vikings: 20
10. Steve Gregory, S, San Diego Chargers: 20
Sacks
1. Clay Matthews, LB/Beast, Green Bay Packers: 6
2. Mario Williams, DE, Houston Texans: 4
3. Dwight Freeney, DE, Indianapolis Colts: 3
4. James Harrison, LB, Pittsburgh Steelers: 3
5. Mathias Kiwanuka, DE, New York Giants: 3
6. Juqua Parker, DE, Philadelphia Eagles: 3
7. Marcus Benard, LB, Cleveland Browns: 2.5
8. Cameron Wake, LB, Miami Dolphins: 2.5
9. Jason Babin, DE, Tennessee Titans: 2
10. 8 others tied at 2
From the 3: On the decline
Oakland Raiders running back Michael Bush is taking a serious hit in the stock market.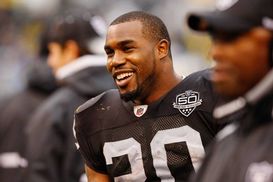 ICONMcFadden was all smiles after carving up the St. Louis defense.
The former Louisville standout had a chance to secure the starting job in Oakland this year, but a preseason thumb injury has held him out of action for the first two weeks while simultaneously opening the door for former top-ten draft pick Darren McFadden.
McFadden torched the St. Louis Rams this weekend for 145 rushing yards on 30 carries (4.8 YPC). For the season, the former Arkansas Razorback ranks second in the NFL in rushing yards (240) and is averaging a hefty 5.0 yards per carry.
It's going to be real tough for Raiders head coach Tom Cable to put McFadden on the sidelines after what he's produced so far this season.
From the 2: Not what we were looking for
Question: What do Maurice Jones-Drew, Ray Rice, Steven Jackson, Michael Turner and DeAngelo Williams all have in common?
Answer: None of them have scored a touchdown this season.
Bonus: None of them currently rank higher than 18th in scoring among fantasy running backs this season (standard scoring).
From the 1: Who ya got tonight?
The Enter the red zone picks are currently 1-1 (Jets and Chiefs last week) entering the second week of Monday night football.
Tonight, the 1-0 New Orleans Saints travel to San Francisco to take on the 0-1 49ers.
Opening Line: New Orleans -4.5/44.5
Current Line: New Orleans -5.5/43.5
I could end up being wrong, but there is no way I'm putting money on Alex Smith over Drew Brees. I got the Saints.
Who ya got?
Follow me on Twitter: @JoeFortenbaugh
Click HERE to win cash today playing Fantasy Football with the NFP and FanDuel.