December 06, 2010 -
Joe Fortenbaugh
Enter the red zone
Before we get down to business on this very fine Monday afternoon, here is your motivational moment of the day:
You are now entering the red zone…
From the 20: The beautiful thing about fantasy football
Think back to one year ago at this time when the Indianapolis Colts were 13-0 and in position to rest their starters heading into the playoffs. Sure, Colts fans were happy that their franchise was about to secure the No. 1 seed in the AFC, but fantasy owners who had relied on the likes of Peyton Manning, Reggie Wayne, Dallas Clark and Joseph Addai to deliver the goods on a weekly basis were overcome by panic.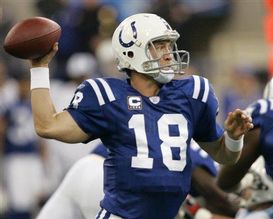 So what if Manning has been throwing a ton of interceptions? He's still racking up big-time fantasy points.
Would head coach Jim Caldwell rest his starters in preparation for Indy's impending playoff run?
The answer turned out to be yes, and Manning owners were left scrambling on championship weekend in the hopes of landing a suitable replacement. Just ask my colleague, Matt Bowen, who was forced to turn to David Garrard during his league's Super Bowl (Shockingly, it didn't work out for him).
Fast forward to early December 2010 and one of the top stories making waves around the country once again involves the Indianapolis Colts. The reigning AFC champs are currently 6-6 and in danger of missing the playoffs for the first time since 2002. Four-time NFL MVP Peyton Manning has thrown 11 interceptions over his last three games, leading many to ponder if the future Hall of Famer is beginning to show signs of old age.
But that's the beauty of fantasy football. The Colts may be struggling, but keep in mind that Manning is averaging 19.4 fantasy points per game over his last five outings and currently ranks third in scoring among fantasy quarterbacks.
Yes, he may be throwing more interceptions than usual this season, but as long as Indy's starters are on the field, they are fantasy viable. The Colts currently rank fourth in the NFL in scoring (26.4 pts/gm) and fifth in total offense (382.4 yds/gm). In addition, after 13 weeks of football, Manning has reclaimed his spot as the NFL's leading passer (3,709 yards).
Owners have no reason to worry about the 6-6 record and should continue to start Manning with confidence.
Colts fans? Well, that's a different story.
From the 19: T-Jack leads the Vikings
It wasn't pretty (three interceptions), but Tarvaris Jackson (15/22, 187 yards, 2 TDs) came on in relief of the injured Brett Favre and led the Minnesota Vikings to a 38-14 win over the Buffalo Bills on Sunday. The 38 points scored by the Purple are the most Minnesota has posted in 12 games this season.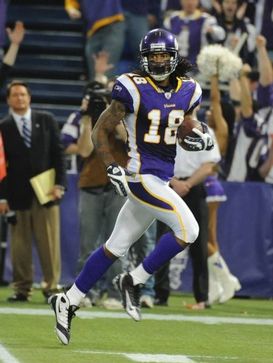 ICONSidney Rice is balling.
Remember Sidney Rice? Some of you were patient enough to hold onto the Minnesota wideout while he worked his way back from preseason hip surgery. Rice rewarded his owners with a 2010 breakout performance that consisted of five receptions for 105 yards and two scores, one of which was arguably the play of the week.
In addition, reports swirled at the conclusion of Week 12 that Pro Bowl running back Adrian Peterson was nursing an injured ankle and would be questionable for Sunday's showdown with the Bills. All Day needed just 16 carries to rip off 107 yards and three touchdowns (6.7 YPC), which was enough to move him back into second place in scoring among fantasy running backs.
Ankle injury? What ankle injury? This guy is a freight train and is making it a point to stick it to fantasy owners that opted to draft Tennessee's Chris Johnson ahead of him back in August.
As for the Vikings, where do they go from here? Does head coach Les Frazier go back to Favre in Week 14? If you're a Minnesota fan, do YOU want Favre back in the starting lineup?
From the 18: Speaking of the Minnesota-Buffalo game…
Enter the red zone LOCK OF THE YEAR: Buffalo Bills UNDER 5.5 wins
One loss. Just one more loss until the LOCK OF THE YEAR becomes official. Sunday's 38-14 defeat at Minnesota moved the Bills to 2-10 on the season and now puts us just 60 minutes from pay dirt.
Buffalo Bills upcoming schedule
Week 14: vs. Cleveland Browns
Week 15: at Miami Dolphins
Week 16: vs. New England Patriots
Week 17: at New York Jets
Will the Browns close the show for us on Sunday?
From the 17: It's time to talk about the Jaguars
After opening the season 1-2 and looking rather ordinary in the process, the Jacksonville Jaguars have won four of their last five games and now sit atop the AFC South at 7-5. The reason for their success? Look no further than Pro Bowl running back Maurice Jones-Drew.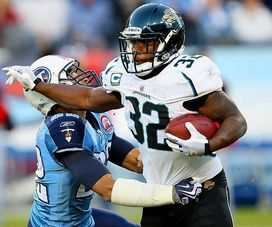 Over the last five weeks, MJD has been kicking ass and taking names.
The former backup to Fred Taylor rushed for a career-high 186 yards in Sunday's 17-6 win at Tennessee and has now amassed a ridiculous 803 total yards and three touchdowns over his last five games. In addition, Week 14 marked the fifth-consecutive week that Jones-Drew rushed for more than 100 yards in a game.
After a slow start to the 2010 fantasy season, MJD now ranks fifth in scoring among running backs and fourth in the NFL in scrimmage yards (1,453).
Is it time to start talking about MJD for MVP?
From the 16: So long, San Diego
Until Sunday afternoon, 2010 was shaping up to be a typical season for the San Diego Chargers. The Bolts got off to a slow start at 2-5, but ripped off four straight wins to get back into the playoff race. Everything was shaping up nicely for a Week 14 showdown with the Kansas City Chiefs that had all the makings of a playoff game.
Unfortunately for San Diego fans, the Oakland Raiders didn't feel like playing along.
Tom Cable's crew punched the Chargers right in the mouth from the opening whistle, jumped out to a comfortable 21-3 lead and finished the day with an impressive 28-13 win over their hated rivals.
In addition, Sunday's win marked the first time since 2001 that the Raiders swept their season series with the Chargers.
I'm no genius (far from it, actually), but maybe the following stats had something to do with yesterday's outcome:
Time of Possession
Oakland Raiders: 38:39
San Diego Chargers: 21:21
Rushing Attempts
Oakland Raiders: 52
San Diego Chargers: 8
Any chance Norv Turner keeps his job?
From the 15: Highlight of the week
<p> Sick.
There's just no other way to describe what you're about to watch.
(I know it's a bit fuzzy at first, but be sure to watch the multiple replays)
From the 14: PICK HIM UP
Tashard Choice, RB, Dallas Cowboys
The Dallas Cowboys knocked off the Indianapolis Colts 38-35 in overtime Sunday afternoon behind a season-high 46 rushing attempts. With Marion Barber on the sidelines nursing a calf injury, third-stringer Tashard Choice stepped in and picked up 100 yards and a touchdown on 19 carries (5.3 YPC).
Owners are advised to make a move for Choice this week in order to solidify their rosters heading into the playoffs.
On a side note, maybe the Cowboys have finally figured out what it takes to win games in the NFL:
In 8 games with Wade Phillips as head coach: (1-7) 21.1 rushing attempts per game
In 4 games with Jason Garrett as head coach: (3-1) 34.0 rushing attempts per game
It's not rocket science.
From the 13: It's Playoff Time!
The National Football Post Fantasy Squad is headed back to the playoffs and will attempt to defend last season's world championship in the NFP Fantasy Expert's League.
The divisional round playoff matchups will be set at the conclusion of Monday night's New York Jets-New England Patriots game, but we've already got a real good feel for which teams will be going toe-to-toe next week.
CLICK HERE to check out all of the action from Week 13!
From the 12: Lowlight of the week
Hard to believe Cincinnati is 2-10, isn't it?
(Fast forward to 2:14 to see what I'm talking about)
From the 11: Week 13 Workhorse Running Back Report
Lets take a look at the 15 running backs that are recording the most carries per game this season:
1. Maurice Jones-Drew, RB, Jacksonville Jaguars: 21.8
2. Steven Jackson, RB, St. Louis Rams: 21.7
3. Rashard Mendenhall, RB, Pittsburgh Steelers: 21.4
4. Michael Turner, RB, Atlanta Falcons: 20.6
5. Arian Foster, RB, Houston Texans: 20.5
6. Cedric Benson, RB, Cincinnati Bengals: 19.8
7. Chris Johnson, RB, Tennessee Titans: 19.7
8. Adrian Peterson, RB, Minnesota Vikings: 19.4
9. Frank Gore, RB, San Francisco 49ers: 18.5
10. Ahmad Bradshaw, RB, New York Giants: 18.2
11. Peyton Hillis, RB, Cleveland Browns: 18.1
12. Ray Rice, RB, Baltimore Ravens: 17.8
13. Darren McFadden, RB, Oakland Raiders: 17.6
14. Knowshon Moreno, RB, Denver Broncos: 16.2
15. Thomas Jones, RB, Kansas City Chiefs: 15.6
Of those 15 aforementioned ball carriers, 12 currently rank in the top-15 in scoring among fantasy running backs (Foster, Peterson, Hillis, Jones-Drew, C. Johnson, Turner, Mendenhall, Bradshaw, McFadden, Gore, S. Jackson, Rice).
From the 10: Looking ahead to next year: running backs
Speaking of running backs, here are two guys that you should be targeting in the first round of your 2011 fantasy drafts. If you play in a keeper league, don't even bother letting these guys back into the pool.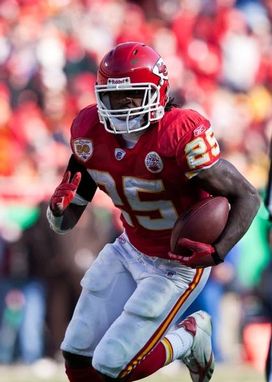 ICONCharles is racking up so many yards that it hardly matters if he finds the end zone.
Jamaal Charles, RB, Kansas City Chiefs: Despite splitting carries with Thomas Jones and scoring only four total touchdowns on the year, Charles still ranks sixth in scoring among fantasy running backs. Maybe it has something to do with the fact that he's topped 100 total yards in ten of 12 games this season. Charles currently ranks first in scrimmage yards per touch (7.0) among all NFL running backs.
Knowshon Moreno, RB, Denver Broncos: A preseason hamstring injury led to a slow start and three missed games, but Moreno has quietly been piling up the fantasy points now that he's 100%. Over his last four games, the former Georgia Bulldog has amassed 569 total yards and three touchdowns. Moreno currently ranks ninth among running backs in scrimmage yards per touch (5.4) this season.
From the 9: Week 13 Target Report
Lets take a look at the 15 pass-catchers that have recorded the most targets through 12 games:
1. Reggie Wayne, WR, Indianapolis Colts: 144
2. Roddy White, WR, Atlanta Falcons: 139
3. Terrell Owens, WR, Cincinnati Bengals: 133
4. Larry Fitzgerald, WR, Arizona Cardinals: 132
5. Brandon Lloyd, WR, Denver Broncos: 119
6. Chad Ochocinco, WR, Cincinnati Bengals: 113
7. Andre Johnson, WR, Houston Texans: 112
8. Calvin Johnson, WR, Detroit Lions: 110
9. Stevie Johnson, WR, Buffalo Bills: 103
10. Marques Colston, WR, New Orleans Saints: 102
11. Dwayne Bowe, WR, Kansas City Chiefs: 101
12. Santana Moss, WR, Washington Redskins: 101
13. Hakeem Nicks, WR, New York Giants: 101
14. Brandon Marshall, WR, Miami Dolphins: 99
15. Mike Williams, WR, Tampa Bay Buccaneers: 99
Of those 15 aforementioned wideouts, eight currently rank in the top-ten in scoring among fantasy wide receivers (Bowe, Lloyd, C. Johnson, White, Owens, Wayne, S. Johnson, Nicks).
From the 8: Looking ahead to next year: wide receivers
For those of you in keeper leagues, here are two wide receivers you should sign to long-term deals:
Dwayne Bowe, WR, Kansas City Chiefs: Amazing. Despite laying an egg in Week 13 vs. Denver (0-0-0 on three targets), Bowe still leads all NFL wideouts in fantasy scoring. The best part about the former LSU Tiger is that he was a mid-round draft pick last August and will likely be a first or second round selection next summer, meaning fantasy owners who hold on to Bowe will turn a very impressive profit.
Stevie Johnson, WR, Buffalo Bills: From unknown to must-start, Johnson has been one of 2010's fantasy surprises. Not only does he currently rank ninth in scoring among fantasy wide receivers, but keep in mind that Johnson has been very consistent this season, as evidenced by an eight-game stretch that featured nine touchdown receptions.
From the 7: IDP Update
Tackles
1. Jerod Mayo, LB, New England Patriots: 131
2. Stephen Tulloch, LB, Tennessee Titans: 127
3. Chad Greenway, LB, Minnesota Vikings: 113
4. Paul Posluszny, LB, Buffalo Bills: 111
5. Donte Whitner, S, Buffalo Bills: 109
6. Ray Lewis, LB, Baltimore Ravens: 108
7. James Anderson, LB, Carolina Panthers: 102
8. London Fletcher, LB, Washington Redskins: 102
9. Patrick Willis, LB, San Francisco 49ers: 101
10. Dhani Jones, LB, Cincinnati Bengals: 100*
*One other tied at 100 (Lawrence Timmons, LB, Pittsburgh Steelers)
Sacks
1. Cameron Wake, LB, Miami Dolphins: 12
2. Clay Matthews, LB, Green Bay Packers: 11.5
3. Tamba Hali, LB, Kansas City Chiefs: 10
4. James Harrison, LB, Pittsburgh Steelers: 10
5. Shaun Phillips, LB, San Diego Chargers: 10
6. DeMarcus Ware, LB, Dallas Cowboys: 9.5
7. John Abraham, DE, Atlanta Falcons: 9.0
8. Jason Babin, DE, Tennessee Titans: 9.0
9. Trent Cole, DE, Philadelphia Eagles: 9.0
10. Terrell Suggs, DE, Baltimore Ravens: 9.0*
*One other tied at 9.0 (Osi Umenyiora, DE, New York Giants)
From the 6: Stock Watch
On the rise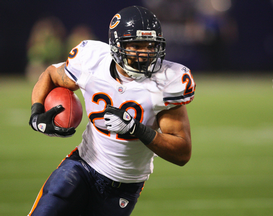 Forte continues to warrant a starting roster spot.
Matt Forte, RB, Chicago Bears: Forte posted another double-digit fantasy performance on Sunday at Detroit when he picked up 100 total yards and a touchdown on just 15 touches. The third-year running back has now found the end zone five times over his last eight games and has posted 343 total yards and two scores in his last three outings. Forte currently ranks 12th in scoring among fantasy running backs.
Falling down
Chris Johnson, RB, Tennessee Titans: Johnson managed just 53 rushing yards and was held out of the end zone Sunday against a suspect Jacksonville defense. Last season's Offensive Player of the Year has scored only two touchdowns over his last five outings and has topped 100 rushing yards in a game just twice over that same time span. Despite the recent shortcomings, Johnson still ranks seventh in fantasy scoring among running backs.
From the 5: NFP COLLEGE BOWL GAME CHALLENGE
If we were to put together a 2010 Bowl Game Challenge, would you be interested?
Let me know in either the comments section or via email at Joe.Fortenbaugh@NationalFootballPost.com.
If we get some good feedback, I'll put something together.
From the 4: STAT OF THE WEEK: Ball Control: 5 minute drives allowed
Top-Five teams in NFL
New York Giants (8-4): 9
Tampa Bay Buccaneers (7-5): 10
New York Jets (9-2): 11
St. Louis Rams (6-6): 11
Kansas City Chiefs (8-4): 12
Combined Record: 38-21
Winning Percentage: .644
Bottom-Five teams in NFL
Buffalo Bills (2-10): 24
Tennessee Titans (5-7): 21
Cleveland Browns (5-7): 21
Atlanta Falcons (10-2): 20
Miami Dolphins (6-6): 19
Combined Record: 28-32
Winning Percentage: .466
Get off the field!!
From the 3: Another step back for Chad Henne
Week 12 at Oakland: 17/30, 307 yards, 2 TDs, 1 INT, 22 fantasy points
Week 13 vs. Cleveland: 16/32, 174 yards, 1 TD, 3 INTs, 10 fantasy points
The Miami Dolphins currently rank fifth in the NFL in total defense, have a solid 1-2 running back punch and traded for one of the game's most lethal wide receivers last offseason.
Yet, they are 6-6 and won't be headed to the playoffs this season.
That falls on the quarterback.
From the 2: Bowl Game LOCK
Gator Bowl
January 1, 2011
Jacksonville, Florida
Mississippi State Bulldogs (8-4) vs. Michigan Wolverines (7-5)
I couldn't care less what the spread is in this game. Mississippi State's Dan Mullen has done wonders with a program that has played in just one bowl game (2007, win over Central Florida) in the last ten years.
Mississippi State ranks 16th in the country in rushing and should have no problem carving up a Michigan defense that is surrendering an average of 212.7 yards per game on the ground.
I'll take Mississippi State.
From the 1: Who ya got tonight?
Leave a comment below with your pick for who will win tonight's game as well as the total amount of points that you think will be scored (this serves as the tiebreaker). I'll email the winner on Tuesday and will send out some stuff courtesy of the good folks at Procter & Gamble.
You are picking against the spread and your comment should look as follows:
PATRIOTS, 41
The Enter the red zone Monday night picks are currently 7-6.
Tonight, the 9-2 Jets travel to New England for a big-time divisional showdown with Tom Brady and the 9-2 Patriots.
Opening Line: Patriots -3.5/47
Current Line: Patriots -4/45
New England has won 25 straight games at Foxborough with Tom Brady as the starting quarterback. However, the Jets have won three of the last four meetings between these two teams. In addition, Rex Ryan's squad is 4-1 against the spread on the road this season, while Bill Belichick's bunch is 2-2 ATS at home.
I picked the Jets to win the Super Bowl at the beginning of the season and I see no reason to bail on that pick now. I'll take New York and the points.
Who ya got?
Hit me up on Twitter: @JoeFortenbaugh
Win cash today playing fantasy football with the NFP and FanDuel.