December 13, 2010 -
Joe Fortenbaugh
Enter the red zone: playoff edition
Before we get to business, here is your motivational moment of the day…
Movie Videos & Movie Scenes at MOVIECLIPS.com
You are now entering the red zone…
From the 20: Sunday Bloody Fantasy Sunday
Stop me if you've heard this before:
A fantasy owner spends countless hours during the month of August in preparation for his draft(s). Said owner reads everything he can get his hands on and puts his newfound knowledge to the test by participating in several mock drafts prior to the big day.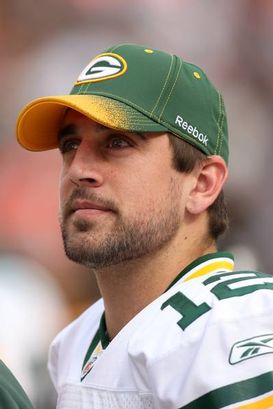 ICONHow many Aaron Rodgers owners were able to survive Sunday's nightmare?
Upon completion of the draft(s), said owner spends 13 weeks tweaking his or her roster for a chance at postseason glory, only to crap out in the first round because his or her star players failed to show up when it mattered most.
Sound familiar? I sure hope not.
Between the Metrodome fiasco and Aaron Rodgers' concussion, Week 14 proved to be one of the strangest weeks of the 2010 NFL season. Sadly, several big-name fantasy stars fell victim to a late-season hiccup that I'm positive sent more than a few quality teams packing.
The National Football Post's Week 14 Most Wanted List
Kyle Orton, QB, Denver Broncos: If pillows and marshmallows are soft, how would you describe the Denver Broncos? Against the league's 29th ranked total defense (Arizona) on Sunday, Orton completed just 19 of 41 passes (46.3%) for 166 yards with no touchdowns and three interceptions for a whopping four fantasy points. EVERYBODY beats up on Arizona. Did new head coach Eric Studesville not get the message?
Dwayne Bowe, WR, Kansas City Chiefs: It's tough to bash Bowe after all the good he's done for fantasy owners this season, but Sunday's meltdown in Southern California (one reception, three yards, no touchdowns) gives Bowe a grand total of zero fantasy points over the last two weeks. December is not the time to go on vacation.
Aaron Rodgers, QB, Green Bay Packers: SLIDE! Rodgers completed only seven of 11 pass attempts for 46 yards with one interception before getting knocked out of Sunday's game in Detroit with a second quarter concussion. At least he was kind enough to pick up 25 yards on the ground (two fantasy points!) before having his day—and the Packers' season—brought to a disappointing conclusion.
Jamaal Charles, RB, Kansas City Chiefs: Credit an aggressive San Diego defense and an ineffective Brodie Croyle for Kansas City's collapse on Sunday. The newly minted Charles touched the ball 12 times for only 49 yards and went scoreless, meaning his four fantasy points probably put you in a deep hole.
Mike Williams, WR, Tampa Bay Buccaneers: We can't hate on the rookie from Syracuse too much after the way he's stepped up this season, but against a Washington pass defense that ranks dead last in the NFL, Williams caught just one pass for 15 yards on Sunday. That's not going to get us to Week 15.
From the 19: The Jaguars are must-see TV
Jacksonville moved to 8-5 on the season after a thrilling 38-31 come-from-behind win against the upstart Oakland Raiders on Sunday.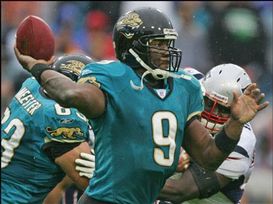 Garrard and the Jaguars have turned into one of the NFL's most entertaining acts.
Quarterback David Garrard (11/22, 159 yards, 3 TDs, 1 INT) once again demonstrated his ability to function as a very serviceable fantasy starter while running back Maurice Jones-Drew (26 touches, 120 total yards, 1 TD) and tight end Marcedes Lewis (4 receptions, 57 yards, 1 TD) delivered the goods when fantasy owners needed it the most.
And how about second-year running back Rashad Jennings, who found the end zone for the third consecutive week? The seventh-round pick out of Liberty has now amassed 216 total yards and three scores over his last three games.
For the Jaguars, Week 14 marked the fourth time in the last five weeks that the outcome of their game was decided by one score. Between the Hail Mary against the Texans, the nail-bitter against the Browns and Sunday's comeback against the Raiders, is there any team in the league that has been more fun to watch this season than the Jaguars?
From the 18: The Machine
He may have been on the wrong end of Sunday's final score in Jacksonville, but Oakland Raiders running back Darren McFadden put on a fantasy performance for the ages in Week 14 that single-handedly advanced many owners to the next round.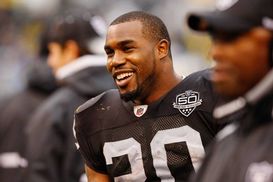 ICONRun DMC gave his owners a big reason to smile on Sunday.
Run DMC rolled up 38 fantasy points (123 rushing yards, 86 receiving yards, 3 touchdowns) as the former top-ten draft pick averaged a ridiculous 7.7 yards per carry and 28.7 yards per reception Sunday at Jacksonville.
McFadden has only appeared in 11 games this season, but he's topped 120 total yards seven times and has already posted ten touchdowns in a breakout season the Raiders have long been awaiting.
The good news for fantasy owners is that McFadden's final three games (vs. Denver, vs. Indianapolis, at Kansas City) feature matchups against two squads that rank 29th or worse in run defense (Denver, Indy) as well as a divisional showdown with a Chiefs team that ranks 15th in the league against the run.
McFadden could be the guy that carries you to a fantasy championship this season.
From the 17: Those pesky Bills won't go quietly
Enter the red zone LOCK OF THE YEAR: Buffalo Bills UNDER 5.5 wins
Week 14 featured the first opportunity in which the LOCK OF THE YEAR could have been put to bed, but apparently the Buffalo Bills had something else in mind.
In a sloppy game that featured four turnovers (three of which were committed by Cleveland), the Bills pulled out their third win of the year and put the LOCK on ice until Week 15.
Buffalo is now 3-10 on the season and needs to run the table if they want to destroy the LOCK OF THE YEAR.
Buffalo Bills upcoming schedule
Week 15: at Miami Dolphins
Week 16: vs. New England Patriots
Week 17: at New York Jets
From the 16: Too little, too late for the Chargers?
One week they look like dog crap, the next week they're blowing out division leaders.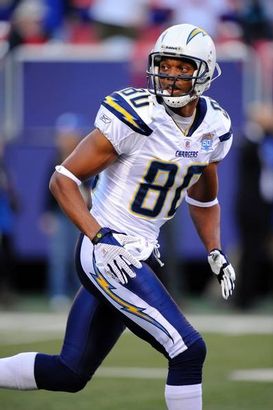 ICONFloyd was clutch in San Diego's blowout win over Kansas City.
In a must-win game Sunday at Qualcomm Stadium in San Diego, Norv Turner's Chargers shutdown the Kansas City Chiefs 31-0 behind 226 passing yards and two touchdowns from MVP candidate Philip Rivers.
However, while the defense should be grabbing the headlines for pitching a shutout in a crucial do-or-die game, the fantasy world views things a bit differently.
Perhaps as a "F U" to fantasy owners who have been cursing his name all season, rookie running back Ryan Mathews proved fantasy-relevant for the first time this year as the former Fresno State Bulldog rushed for 65 yards and a touchdown on 16 carries.
In addition, former must-start wide receiver Malcom Floyd came through in a big way with 51 yards and two touchdowns on four receptions.
The Chargers need help to make the playoffs, but the good news here is that with their backs against the wall and a favorable upcoming schedule (vs. San Francisco, at Cincinnati, at Denver) this team should continue to produce big-time fantasy numbers for owners down the stretch.
From the 15: Highlight of the week
I've already watched this five times and still have trouble believing that what I'm viewing is real.
It almost looks like something out of the movie "Inception."
That is, if someone's dream featured a crappy, inflatable dome falling apart hours before kickoff of a crucial NFC showdown.
From the 14: The most underrated front-four in football
7-3 final scores are rarely entertaining for the average viewer, but if you had the pleasure of tuning in to the Green Bay-Detroit game on Sunday, you had an opportunity to watch one of the nastiest defense lines in football absolutely manhandle the Packers.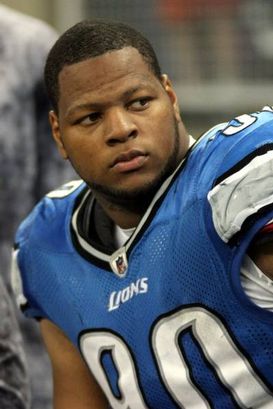 ICONBig Suh has been a big problem for opposing offensive lines this season.
Behind Defensive Rookie of the Year candidate Ndamukong Suh, the Detroit defense recorded four sacks and eight quarterback hits, forced three turnovers, knocked Pro Bowl quarterback Aaron Rodgers out of the game and held the high-flying Packers to just three lousy points in an impressive 7-3 win in Motown on Sunday.
I can pretty much guarantee that no owner on Planet Earth started the Detroit D/ST on Sunday, but if some crazy nut actually had this unit in the starting lineup, that bastard was rewarded with 20 fantasy points (standard scoring).
The Lions have been the butt of a thousand jokes over the past few years, but credit head coach Jim Schwartz for having this squad ready to compete every single week, while teams like the Broncos and Bengals quit on their fans a long time ago.
Between Suh and second-year safety Louis Delmas, Schwartz had already drafted more talent in 20 months than former general manager Matt Millen acquired in seven years.
From the 13: Speaking of the train wreck known as the Broncos…
How the hell do you give up 29 fantasy points to a kicker?
Seriously?
Arizona's Jay Feely converted five of six field goal attempts on Sunday in Arizona's 43-13 blowout win over the lifeless Broncos. If you're doing the math in your head, you've probably noticed that six field goals don't add up to 29 points.
Good catch. The Broncos are so bad that they gave up a five-yard touchdown run to Feely in the second quarter, who then promptly converted the PAT for a quick-strike seven-point fantasy explosion.
Feely single-handedly posted more fantasy points than Kyle Orton, Brandon Lloyd, Jabar Gaffney, Eddie Royal and the Denver D/ST…COMBINED.
Have some pride, Denver.
From the 12: The semi-finals are almost set
Behind 33 fantasy points from the Pittsburgh Steelers D/ST, it looks like the National Football Post is going to take down Sports Illustrated and advance to the final four of the 2010 NFP Fantasy Expert's League.
In the other wildcard round matchup, it appears RotoWorld is going to ride Darren McFadden and Michael Vick to the semi-finals as well.
Yahoo! and CBSSports were on the bye this week and are eagerly awaiting the NFP and RotoWorld for the next round of battle.
CLICK HERE to check out all of the action as ten industry experts butt heads for bragging rights and a plasma television!
From the 11: Week 14 Workhorse Running Back Report
Lets take a look at the 15 running backs that are recording the most carries per game this season:
1. Maurice Jones-Drew, RB, Jacksonville Jaguars: 21.8
2. Steven Jackson, RB, St. Louis Rams: 21.2
3. Rashard Mendenhall, RB, Pittsburgh Steelers: 21.2
4. Michael Turner, RB, Atlanta Falcons: 21.2
5. Arian Foster, RB, Houston Texans: 20.5
6. Chris Johnson, RB, Tennessee Titans: 19.8
7. Adrian Peterson, RB, Minnesota Vikings: 19.4
8. Cedric Benson, RB, Cincinnati Bengals: 18.8
9. Peyton Hillis, RB, Cleveland Browns: 18.3
10. Ahmad Bradshaw, RB, New York Giants: 18.2
11. Ray Rice, RB, Baltimore Ravens: 17.7
12. Darren McFadden, RB, Oakland Raiders: 17.5
13. Knowshon Moreno, RB, Denver Broncos: 16.5
14. Ryan Torain, RB, Washington Redskins: 16.4
15. LaDainian Tomlinson, RB, New York Jets: 15.0
Note: Frank Gore and Joseph Addai were left off the list due to injuries.
Note 2: Foster, Rice, Bradshaw and Peterson play Monday night.
Of those 15 aforementioned ball carriers, eight currently rank in the top-ten in scoring among fantasy running backs (Foster, Hillis, Peterson, McFadden, Turner, Jones-Drew, C. Johnson, Mendenhall).
From the 10: Finally, some love for the Falcons
Every week the Falcons handle their business, and every week I fail to mention them in this column.
Why? I have no idea. But the bottom line is that this team is flat-out getting the job done.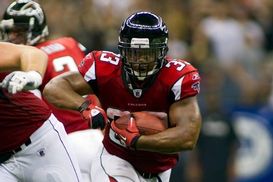 ICONThe Silent Assassin struck again on Sunday.
Pro Bowl running back Michael Turner racked up three scores while quarterback Matt Ryan threw for 227 yards and a touchdown in Atlanta's 31-10 beat down of the lowly Carolina Panthers.
As of the current moment, Ryan, Turner and wide receiver Roddy White (8-79-0) all rank in the top-ten in scoring at their respective positions.
While most of the country has already jumped on a Dirty Bird train loaded with Super Bowl expectations, I'm not going to buy the Falcons as the NFC's best team until I see them knock of the defending champs in Atlanta on Monday, December 27.
You can criticize me all you want, but the Falcons currently rank 17th in the NFL in total defense (340.5 yds/gm).
Combine that with the fact that I watched Kevin Kolb and the Eagles blow this team to shreds in Philadelphia back in Week 6 and you can see why I have yet to purchase a first class ticket on the Falcons' bandwagon.
From the 9: Week 14 Target Report
Lets take a look at the 15 pass-catchers that have recorded the most targets through 13 games:
1. Roddy White, WR, Atlanta Falcons: 153
2. Reggie Wayne, WR, Indianapolis Colts: 151
3. Larry Fitzgerald, WR, Arizona Cardinals: 143
4. Terrell Owens, WR, Cincinnati Bengals: 139
5. Brandon Lloyd, WR, Denver Broncos: 125
6. Chad Ochocinco, WR, Cincinnati Bengals: 122
7. Calvin Johnson, WR, Detroit Lions: 118
8. Marques Colston, WR, New Orleans Saints: 115
9. Andre Johnson, WR, Houston Texans: 112
10. Stevie Johnson, WR, Buffalo Bills: 111
11. Santana Moss, WR, Washington Redskins: 111
12. Wes Welker, WR, New England Patriots: 111
13. Dwayne Bowe, WR, Kansas City Chiefs: 108
14. Mike Williams, WR, Tampa Bay Buccaneers: 105
15. Brandon Marshall, WR, Miami Dolphins: 104
Of those 15 aforementioned wideouts, seven currently rank in the top-ten in scoring among fantasy wide receivers (Bowe, Lloyd, C. Johnson, White, Owens, Wayne, S. Johnson).
Note: Andre Johnson plays Monday night (vs. Baltimore).
From the 8: Did you know…
…that since 2008, wide receiver Terrell Owens has gone 17-28 (.377) as a starting wideout in the NFL?
The guy may consider himself one of the best receivers in the game, but his stats certainly don't appear to translate into wins.
From the 7: The red-hot Marques Colston
Four weeks ago I wrote a column entitled, "20 players set to go streaking." Some of those predictions proved to be correct, while some were way off the mark.
Saints wideout Marques Colston was one of the players mentioned in that column. In the four games he's played since, Colston has caught 22 passes for 329 yards and five touchdowns on 37 targets.
Sunday was no exception to the streak, as Colston once again rewarded fantasy owners for the patience by hauling in five passes for 46 yards and two scores in a 31-13 win over St. Louis.
The defending champs have now won six-straight games and after a Week 15 showdown with the Ravens in Baltimore, Colston could be set to finish on a high note with games against the Falcons and Buccaneers.
From the 6: Highlight of the week #2
Big-time players make big-time grabs.
*My apologies for the quality of this video, but this play had to make it into Enter the red zone.
From the 5: Lowlight of the week
Seriously?
From the 4: Is Alex Smith that good, or is Seattle's defense that bad?
Alex Smith stepped back under center for the 49ers in Week 14 and promptly tore apart the Seattle defense as the former No. 1 overall pick completed 17 of 27 passes for 255 yards and three touchdowns (QB rating: 130.9) in San Francisco's 40-21 blowout win.
Believe it or not, Smith currently ranks third in Week 14 fantasy scoring among quarterbacks (25.0 fantasy points).
So here's the question: Is Smith that good, or is Seattle that bad?
Answer: Seattle is that bad.
The Seahawks are 2-5 on the road this season and have surrendered 28.0 points per game in those seven contests. In Seattle's seven road games this season, opposing quarterbacks have combined for an average passer rating of 97.0.
**Hat tip to former Philadelphia Eagle Brian Westbrook, who picked up 110 total yards and a touchdown on 15 touches.
From the 3: The NFC West
I've said it before and I'll say it again: Whoever wins the NFC West will open the first-round of the playoffs as a double-digit home underdog and will fail to cover.
Current Embarrassing Standings
St. Louis Rams: 6-7 (lost 31-13 at New Orleans)
Seattle Seahawks: 6-7 (lost 40-21 at San Francisco)
San Francisco 49ers: 5-8 (won 40-21 vs. Seattle)
Arizona Cardinals: 4-9 (won 43-13 vs. Denver)
Congratulations to the Arizona Cardinals, who have won just four times in 14 weeks, yet are currently only two games out of first place.
Hey Packers fans, how pissed off are you that one of these teams will make the playoffs and you're currently on the outside looking in?
From the 2: We couldn't possibly fail to mention…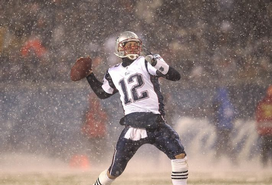 Even a blizzard couldn't slow down the most glorious hair in football.
Patriots quarterback Tom Brady completing 27 of 40 passes (67.5%) for 369 yards with two touchdowns and no interceptions in a hellacious blizzard against a stingy Bears defense on Sunday.
Tom Terrific and his flowing hair embarrassed a good Chicago football team 36-7 on their home turf in what was supposed to be one of the marquee matchups of the week.
Even Mother Nature couldn't keep Brady from tying Eagles quarterback Michael Vick for the highest Week 14 fantasy point total at the quarterback position.
Speaking of Vick and the Eagles…
After going 0-3 against the Cowboys in 2009, the Birds got their revenge against Big D on Sunday night with an impressive 30-27 win that will go a long way towards helping Philly earn a potential first-round bye.
**Hat tip to wide receiver DeSean Jackson, who needed just four receptions to rack up 210 yards and a touchdown against a Dallas pass defense that needs some serious work.
From the 1: Who ya got tonight?
Another Procter & Gamble gift bag is on the line Monday night, but the rules have changed.
Since we have two games due to the Metrodome mess, you have to pick the winner of BOTH GAMES against the spread to qualify. For those of you who can achieve this lofty goal, the total amount of points scored in the Houston/Baltimore game will serve as the tiebreaker.
Here's an example of how your guess (which should be entered into the comments section) should look:
GIANTS
TEXANS, 50
The Enter the red zone Monday night picks are currently 7-7.
Game 1: Giants at Vikings at Detroit
Opening Line: Giants -3/43
Current Line: Giants -4.5/44
Game 2: Ravens at Texans
Opening Line: Ravens -3/45.5
Current Line: Ravens -3/46
Enter the red zone likes the VIKINGS and the RAVENS.
Who ya got?
Hit me up on Twitter: @JoeFortenbaugh
Win cash today playing fantasy football with the NFP and FanDuel.