July 28, 2011 -
Barry Dorey
Falcons stay busy, lock up Julio Jones
It's kind of refreshing to see all of these rookie contracts reach completion in such a short period of time. Don't get me wrong, I love a dramatic, Michael Crabtree-like holdout as much as the next guy. But it's also nice to see financial business get taken care of quickly so that football business can get underway.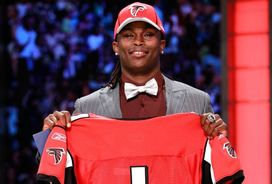 The Falcons expect big things from their first round draft pick.
The Atlanta Falcons apparently feel the same way, because they already have all six of their draft picks under contract now that first-round selection Julio Jones and the team have reached an agreement.
According to Zach Klein of WSB-TV in Atlanta (by way of Michael David Smith at ProFootballTalk.com), Jones inked up a four-year, $16.2 million contract on Thursday.
The 22-year-old caught 78 passes for 1,133 yards and seven touchdowns in 13 games for the Crimson Tide last season. But perhaps more famously, Jones ripped off a 4.39 40-yard dash at this past February's Combine with a broken foot.
No wonder Atlanta traded away so much to move up and get him.
Hit me up on Twitter: @JoeFortenbaugh