March 22, 2011 -
Joe Fortenbaugh
Family ties
There's a good chance you've never heard of Stefen Wisniewski. Lets face it, offensive linemen rarely grab the headlines.
But we're willing to bet that many of you had never heard of a linebacker named Clay Matthews until the Green Bay Packers drafted him back in 2009. If you remember correctly, Matthews was considered by many to be the third best linebacker coming out of USC that year, behind Brian Cushing and Rey Maualuga.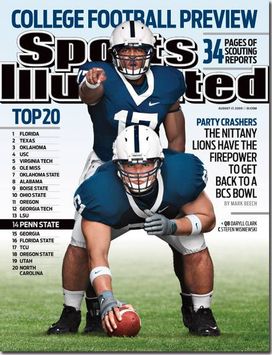 Stefen, with former PSU quarterback Daryl Clark, on the cover of Sports Illustrated back in 2009.
And we all know how that story is turning out.
But comparing Wisniewski to Matthews is like comparing an armored tank to an F-16. Our military employs both of them, but they're designed to perform in very different ways.
On the football field, Matthews is an outside linebacker who specializes in getting after the quarterback, while Wisniewski is a versatile interior lineman charged with the tasks of protecting his quarterback and opening up holes for his running backs.
But one characteristic where both players find themselves on common ground is a family tree rich in football tradition.
The Matthews family football tree is well documented, but how many of you remember Stefen's uncle, Steve, a 13-year NFL veteran who was named to eight Pro Bowls as a member of the Oakland and Los Angeles Raiders? Or what about Stefen's father, Leo, who played four seasons with the Baltimore Colts beginning in 1982 after earning three letters at Penn State and serving as a team captain in 1981?
That type of bloodline is a big reason why Wisniewski is considered to be one of the best interior linemen in this year's draft. It's also one of several reasons why the 22-year-old could very well hear his name called during the first round in late April.
"My family background is a big reason why I'm able to have the technique that I do," Wisniewski told the NFP's Joe Fortenbaugh and Wes Bunting during a recent podcast. "I think with my dad playing in the pros and my uncle playing in the pros, I've had that great coaching for a long time, even when I was real young."
We could get into more detail, but why don't you listen for yourselves? Click on the play button at the top of this article to check out Stefen's recent appearance on the National Football Post's "Road to the NFL" podcast.
CLICK HERE to check out Wes Bunting's scouting report of Stefen.
Follow us on Twitter: @WesBunting @JoeFortenbaugh