August 13, 2013 -
Joe Fortenbaugh
Fantasy impact: The Jamaal Charles injury
Since NFL training camps around the country opened it late July, it feels as if every 48 hours has brought another cringe-inducing moment that has forced fantasy owners to reevaluate both their rankings and approach to upcoming drafts. Notable, productive players of years past have been dropping like flies, simultaneously devaluing the draft stock of those around them while opening doors for lesser-known talent to emerge for their day in the sun. Jeremy Maclin and Danario Alexander are just two such injuries we have encountered over the last few weeks, but there have been many, many others.
Monday brought the news that storm clouds were gathering on the running back horizon as two-time Pro Bowler and, from where we're sitting, top-five fantasy back Jamaal Charles was carted off the practice field with a foot injury. Panic ensued. After all, the last thing anybody wants to hear less than a month before the start of the regular season is a dreaded reference to a vehicle that exists solely for the purpose of transporting injured players from the gridiron to the training table.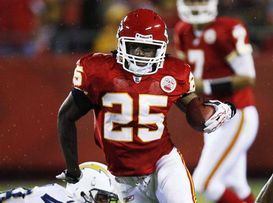 Charles has amassed over 1,700 total yards in two of his last three campaigns.
After the initial hysteria died down and those in the know were given time to flush out the details, the official word on Charles was that the running back had suffered a foot strain and that his X-ray had come back negative. However, Mike Florio of Pro Football Talk reported that, according to a source, the Chiefs were privately calling the injury a foot sprain rather than a foot strain.
For clarification on the matter we turned to David Chao, an orthopedic surgeon and sports medicine expert based in San Diego with over 17 years of NFL head team physician experience under his belt.
"It's likely that Charles' injury will not have a big effect on this season," Chao told the National Football Post on Tuesday. "The X-rays were negative for fractures or any widening, as in a Lisfranc injury, and he is already bearing full weight without a boot or crutches. Besides, Jamaal has proven to be a quick healer. Just like Adrian Peterson, Charles came off ACL surgery last year and still gained over 1,500 rushing yards for a losing Chiefs team."
Despite the scare, we still have Charles rated No. 4 at the running back position, behind Adrian Peterson, Arian Foster and Marshawn Lynch, and just above Buffalo's C.J. Spiller. For PPR owners, we're currently ranking Charles No. 3 behind Peterson and Foster.
Hit me up on Twitter: @JoeFortenbaugh