August 26, 2010 -
Joe Fortenbaugh
Fantasy live chat today at 2:30pm eastern!
Boys and girls, it's time to go to work.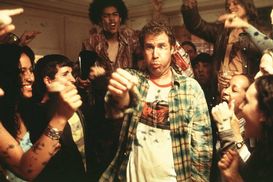 Frank the Tank wants to stop by the live chat, but only if he gets to Bed, Bath and Beyond first (nice little Saturday).
Join me today at 2:30pm eastern for a one-hour fantasy live chat here at the National Football Post. I'll be taking all of your questions, so study up before we go live.
To access the chat, just come back to the main page here at the NFP around 2:25pm eastern. You'll see a story in the "Hot news and rumors" section entitled "Enter the Live Chat here."
Pretty easy stuff.
Because that's how we roll.
Hit me up on Twitter: @JoeFortenbaugh