August 30, 2010 -
Joe Fortenbaugh
Fantasy quick hits
Before we get to Monday's analysis, I wanted to share a story with you all about a little fantasy-related predicament I found myself in this past weekend.
Saturday was the fantasy draft for the Spicy Chicken Combo league that is now entering its eighth year of existence. It's a ten-man league I've been a part of with high school friends since 2003. These are some of the very brightest minds I had the pleasure of spending detention with on frequent occasions back in the late 90s.
Anyway, I got to the draft early for two reasons. One, I hate being late for anything and two, I wanted first dibs on the keg (maybe I should have listed that one first). As we do each year prior to the draft, a number of scoring, roster and administrative changes were put to a vote in order to make the league satisfactory to everyone's demands.
Here's where it gets interesting. Two of the wives that were in attendance (yes, girlfriends and wives are present every year at the draft for reasons I still have yet to comprehend) threw a proposal out on the table at the last minute for expansion to a 12-team league that would include them in the 2011 draft.
Obviously, the husbands had to vote yes in order to avoid punishment. However, what am I supposed to do? If I vote yes, I risk turning the Spicy Chicken Combo into a collusion-laced couple's date with myself playing the part of the awkward and unwanted fifth-wheel. If I vote no, I'm forever a sexist a$$h0#@.
So I'd like to take this opportunity to welcome Kim and Felicia to the Spicy Chicken Combo.
And if you want to check out a picture of our bootleg draft board, click HERE.
Now, back to real-world issues…
We've got big things in store for fantasy owners. Stay tuned to the NFP, as you will have a chance to win autographed NFL jerseys by purchasing the 2010 Draft Guide and Total Access Pass this week!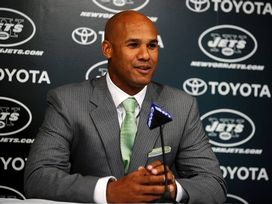 ICONThe Jets may need Jason Taylor to step up big early in the year.
Jets linebacker Calvin Pace is expected to be out of commission for the next six weeks after breaking his right foot in Friday's 16-11 loss to the Washington Redskins. This is a big blow for the No. 1 ranked fantasy defense as Pace led all New York defenders in sacks last season (8.0) despite serving a four-game suspension for a violation of the league's performance-enhancing substance policy.
With Pace on the shelf, look for veteran Jason Taylor to step into the starting lineup (there are also some rumblings that the Gang Green could be looking to sign free agent Adalius Thomas). Even with Pace out and Pro Bowl cornerback Darrelle Revis absent, we've still got the Jets ranked as the top D/ST unit in the fantasy world. However, owners should be targeting New York in the 9th or 10th round instead of the 6th, 7th or 8th.
Is it time to press the panic button in Chicago? The Bears offensive line had another rough outing in Saturday night's 14-9 loss to the Arizona Cardinals. Quarterback Jay Cutler (10-20, 129 yards, 2 interceptions) was sacked four times and hit six times en route to his lowest QB Rating of the preseason (31.0).
For those of you scoring at home, J-Cut has now been sacked nine times in the past two preseason games. It's time to start thinking about drafting Matt Ryan or Joe Flacco before the Chicago signal-caller.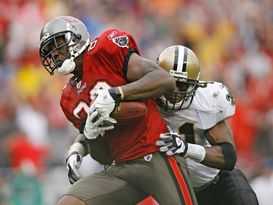 ICONWe'd love to show you a picture of Bryant in a Bengals uniform. The problem is, we're not sure any exist.
The Cincinnati police department should be keeping a close eye on wide receiver Antonio Bryant, because the 29-year old just robbed the Bengals of $7.85 million.
The team obviously deserves a good portion of the blame on this one, but its gotta feel nice to get paid close to $8 million for doing absolutely nothing.
Believe it or not, there once was a time when Bryant was somewhat nasty...
Redskins quarterback Donovan McNabb has missed at least one start in five of the last six seasons, and it looks like the former Pro Bowler could be in jeopardy of keeping that streak intact. McNabb sprained his ankle in Washington's second preseason game of the summer (vs. Baltimore) and has been held out of action ever since. Head coach Mike Shanahan said recently that he's not sure whether or not Donny Mac will be ready to go for Week 1.
And so it begins in Washington. We've always respected what McNabb does on the football field, but the guy has serious problems staying healthy. Consider him a QB2 at best.
Speaking of injuries, St. Louis Rams wide receiver Donnie Avery is out for the year after tearing his ACL in Thursday's 36-35 preseason win at New England. It's time to move wideout Laurent Robinson up the board. However, with so much uncertainty in St. Louis entering this season, consider Robinson a WR4/WR5 at best.
It's also time to put a very deep sleeper tag on rookie pass-catcher Mardy Gilyard, who caught three passes for 23 yards last Thursday. Gilyard will likely go undrafted in most fantasy leagues, which is why you need to keep a close eye on the former All-American.
Oakland Raiders running back Michael Bush is currently one of the best value picks on the board (ADP: 78.9). The two-year veteran has started all three preseason games and has racked up 125 total yards and one touchdown on 26 touches.
However, Bush fractured his thumb in Saturday's preseason loss to the 49ers and his status for Week 1 is currently in doubt. Raiders head coach Tom Cable hasn't ruled him out for the season opener, but Bush needs to undergo a procedure (which I'm guessing means surgery) to fix the damage. Meanwhile, former top-ten draft p ick Darren McFadden picked up just 25 yards on nine touches in his first preseason action on Saturday.
Owners are advised to continue targeting Bush in the middle rounds. The injury is a slight concern, but the value is still well worth it.
Speaking of the bad news Raiders, quarterback Jason Campbell suffered a stinger and wrist injury on Saturday and is also a question mark in regards to the Week 1 starting lineup. Campbell is only an option as a QB2 for owners in very deep (12-14 teams) fantasy leagues.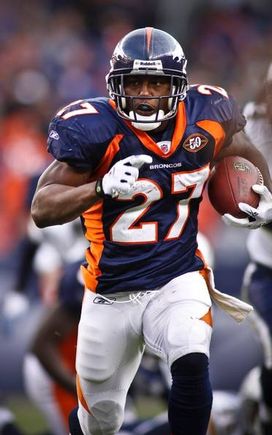 ICONMoreno could be in for a bust of a season.
It's time to start thinking about avoiding Denver Broncos running back Knowshon Moreno altogether. The second-year player suffered a hamstring injury at the beginning of August and has been MIA in all three of Denver's preseason games as he continues to rehab.
Mike Klis of the Denver Post wrote on Sunday that the former Georgia standout was "running and cutting very gingerly" three hours prior to kickoff against the Steelers and that "he doesn't look anywhere near close to returning."
Hamstring injuries are bad news for running backs and wide receivers. Even when Moreno is ready to return to the lineup, he won't be 100%. This is going to nag him all season.
Just like MLB managers put their pitchers on a pitch count, Texans head coach Gary Kubiak has tight end Owen Daniels on a snap count. The four-year veteran tore his ACL last season and is expected to only be on the field for 15-20 snaps (best case scenario) in Week 1, per Nick Scurfield of the team's official website.
Fantasy owners need to consider Daniels as a TE2 to open the season. Limited action and limited opportunities mean limited fantasy points. Look for a guy like Zach Miller (Oakland) or Rob Gronkowski (New England) to insert into the starting lineup while Daniels works his way back to 100%.
Between Justin Forsett (6-20-0), Leon Washington (6-16-0) and Julius Jones (2-6-0), nobody stepped up on Saturday night to make a case for the starting job in Seattle this season. This situation is currently a mess and with a lackluster preseason almost in the books, we could have a running-back-by-committee situation on our hands to open the year. We're giving the edge to Washington at the current moment with Jones bringing up the rear as the No. 3 RB. All three guys are later round draft picks.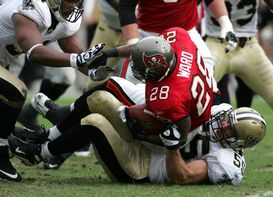 ICONAt the moment, Derrick Ward still has a job.
Four carries for 19 yards with no touchdowns may not seem all that impressive to most of us, but that's one of the best stat lines Tampa Bay Buccaneers running back Derrick Ward has put up in a long time. With his job on the line, Ward found a way to average 4.8 yards per carry on Saturday night.
Granted, it came against the Jacksonville Jaguars, but Ward may not be through in Tampa just yet. In any event, we still advise you to pass him up on draft day. There is very little upside here.
Good news (finally) for Vikings fans as wide receiver Percy Harvin may be getting closer to finding a solution for his migraine problems. The second-year wideout told Tom Pelissero of ESPN 1500.com that doctors recently ran some tests and believe they may have found the cause of Harvin's migraine issues.
With the scare that has been running through the fantasy football world after Harvin's recent collapse on the practice field, this guy is currently coming at a steal on draft day. Yes, there are some red flags due to the migraine situation, but Harvin played through the pain in 2009 and has been living with this problem for several years. Don't be afraid to pull the trigger in the middle rounds (ADP: 61.0). There's some big-time upside here.
Preseason week 3 studs on the rise…
Aaron Rodgers, QB, Green Bay Packers (21/29, 195 yards, 3 touchdowns): Was there ever any doubt as to why Rodgers has been our No. 1 quarterback since the beginning of summer?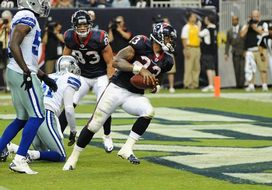 ICONFoster ripped up the Cowboys defense on Saturday night.
Arian Foster, RB, Houston Texans (22 touches, 126 yards, 1 touchdown): If the starting job wasn't already locked up, it should be after what Foster did to the Cowboys this past weekend.
C.J. Spiller, RB, Buffalo Bills (14 touches, 85 yards, 2 touchdowns): The lone bright spot in Buffalo is well on his way to winning the starting job before the season even starts. You snooze (Fred Jackson, Marshawn Lynch), you lose.
Malcom Floyd, WR, San Diego Chargers (8 targets, 4 receptions, 51 yards, 1 touchdown): Vincent Jackson who?
Rob Gronkowski, TE, New England Patriots (3 targets, 3 receptions, 66 yards, 2 touchdowns): SLEEPER ALERT!!!
Hit me up on Twitter: @JoeFortenbaugh