September 06, 2010 -
Joe Fortenbaugh
Fantasy quick hits
Since many of you will be on the golf course, poolside or manning the grill in an effort to bulk up on protein on this fine holiday Monday, we're going to keep this short and sweet. Here's a quick-hit roundup of all the fantasy news worth noting from this past weekend:
The start of the 2010 regular season is fast approaching. Click HERE to purchase the National Football Post Total Access Pass to stay on step ahead of the competition over the next 17 weeks and give yourself a chance to win one of several autographed NFL jerseys!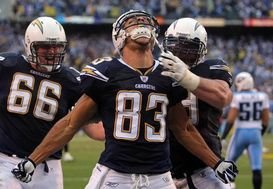 Looks like V-Jax may play in San Diego this season after all.
1. San Diego Chargers wide receiver Vincent Jackson wasn't traded over the weekend, meaning the 27-year old will now officially miss the first six weeks of the season. This is excellent news for those of you that pulled the trigger in the middle rounds on wideout Malcom Floyd. Floyd is now quarterback Philip Rivers' No. 1 target and will have six games to make V-Jax an afterthought in Southern California. Let's take a look at the schedule:
Week 1: @Kansas City
Week 2: vs. Jacksonville
Week 3: @Seattle
Week 4: vs. Arizona
Week 5: @Oakland
Week 6: @St. Louis
Talk about a favorable schedule. If Floyd is able to step up and deliver against a soft defensive schedule to open the year, he could become excellent trade bait in fantasy leagues one or two weeks before Jackson returns. Remember, nobody ever got rich in the stock market buying high and selling low.
2. That five-year, $40 million contract with $15 million guaranteed the Seattle Seahawks gave wide receiver T.J. Houshmandzadeh in 2009 looks like one awful deal now that the 32-year old finds himself on the street without a job one year later. The Seahawks cut Housh over the weekend, giving any team interested in coughing up the bucks a chance to land an aging possession receiver who is coming off his worst statistical campaign since 2003. For those of you who already drafted Housh this summer, hang on to him until he signs with his next team. For those of you who passed up on Housh, pat yourself on the back and go about your business. He's got limited upside entering the 2010 season. Per a report from the Seattle Times, the veteran wide receiver has narrowed down his choices to the Oakland Raiders and Washington Redskins.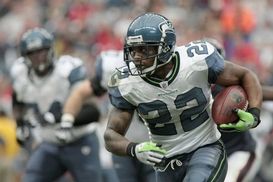 ICONAfter two mediocre seasons in Seattle, Julius Jones is no longer a Seahawk.
3. In other, less significant news out of the Pacific Northwest, the Seahawks also dumped veteran bust running back Julius Jones over the weekend. There's likely to be at least one team thin at the running back position that will give Jones a shot. Our advice to those of you with itchy waiver wire trigger fingers is to pass on Jones no matter where he lands. The guy hasn't topped 700 rushing yards or scored more than two touchdowns via the ground in any of the past three years. There is virtually no upside here.
4. Pro Bowl cornerback Darrelle Revis ended his holdout Sunday night and reached an agreement with the New York Jets on a four-year, $46 million contract with $32 million guaranteed. We never dropped the Jets D/ST from the No. 1 spot in the rankings during the negotiations, but there are several other fantasy outlets that did in fear of Revis' holdout continuing into the regular season. I'd imagine our competitors will be moving the Jets right back to the top now that the league's best cornerback is back with the team. For those of you that drafted wide receiver Anquan Boldin this summer, you may want to reconsider his value entering Week 1. Boldin and the Ravens are traveling to New York to take on Revis and the Jets next Monday night.
5. According to a report from ESPN radio, Vikings second-year wide receiver Percy Harvin will be returning kickoffs once again this season. This is good news on two fronts. First, it raises Harvin's draft stock in leagues that award points for return yards. Second, it means the migraine issues that the 22-year old has been battling aren't currently bad enough to force the Vikings into limiting Harvin's role entering the 2010 season. Draft away.
6. Third-year wide receiver Devin Thomas survived cut down day and made the Washington Redskins 53-man roster. Thomas has only caught 40 passes in two NFL seasons and we believe his upside is very limited this year. If you're going to take a chance on the former Michigan State playmaker, don't do so before the final three rounds.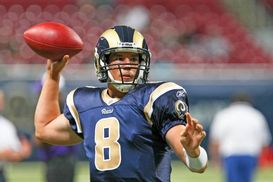 ICONRookie QB Sam Bradford has gotten the nod to start Week 1 for the Rams.
7. Rookie quarterback Sam Bradford has been named the Week 1 starter for the St. Louis Rams. The former Heisman winner was very impressive during the preseason, completing 27 of 42 passes for 281 yards with three touchdowns, zero interceptions and just one sack. Bradford has a strong arm and was known for his amazing accuracy during his days at Oklahoma. However, he's got a tough road ahead playing on a bad St. Louis football team with a limited arsenal at his disposal. Owners are advised to let Bradford fall to waivers.
8. In Houston, former Arizona Cardinal Neil Rackers beat out Kris Brown for the starting job at kicker. In Baltimore, Billy Cundiff won the gig over former Bengal Shayne Graham. Rackers is a good value pick you can land late in the draft. Remember, he's playing on an offense that ranked 10th in scoring last season (24.2 pts/gm).
9. Willie Parker is out in Washington. The veteran running back was cut over the weekend and is now a free agent. In addition, former Denver Bronco Ryan Torain was signed to the Redskins' practice squad. The depth chart in D.C. now has Clinton Portis handling the majority of the workload, with former Chief Larry Johnson backing him up.
10. When your Labor Day feast is finished, be sure to tune into ESPN tonight at 8:00pm eastern to watch the Boise State Broncos begin their march towards a BCS Championship when they travel to FedEx field to take on the Virginia Tech Hokies. The line for this top-ten showdown opened at Boise State -2.5, but has dropped as low as a pick on some sites I've been checking. One thing I've learned in my years of watching college football is that you never bet against the boys from the Smurf Turf. I'm taking Boise. Who ya got?
Hit me up on Twitter: @JoeFortenbaugh