May 13, 2014 -
Joe Fortenbaugh
Fantasy rookie report
The conclusion of the NFL draft has an interesting habit of generating hype for the pretenders while eliciting little, if any, buzz for the top-of-the-pecking-order franchises that find a way into the postseason each and every year. The St. Louis Rams have garnered rave reviews for their haul of rookie talent, but the team still plays in the ultra-lethal NFC West with an inconsistent quarterback who has yet to take the next step in his development. On the flip side, little has been made of the selections turned in by perennial contenders like the New England Patriots, who will no doubt be taking the field come mid-January.
As it relates to fantasy football, we don't have to spend an inordinate amount of time trying to separate the contenders from the pretenders. Instead, all we're looking to accomplish is the identification of which players will produce the biggest numbers at the best value.
With that in mind, here are 26 rookies you should familiarize yourself with for the upcoming fantasy football season.
RUNNING BACKS
1. Bishop Sankey, Tennessee Titans (5-9, 209): A dual threat speedster out of the University of Washington who caught 61 passes for 553 yards over his last 26 games with the Huskies, Sankey's got the highest ceiling of this year's rookie running back crop due to the fact that he's only battling with Shonn Greene, Leon Washington and Jackie Battle for the starting gig in Tennessee. The Titans have assembled quite an impressive display of beef up front over the past two years and addressing the running back position was a top priority in this year's draft, as Sankey was the first ball-carrier off the board at pick No. 54.
2. Devonta Freeman, Atlanta Falcons (5-8, 206): The Falcons ranked dead last in the NFL in rushing last season (77.9 yds/gm) and projected starter Steven Jackson turns 31-years-old in July, so it wasn't a surprise to watch Atlanta pull the trigger on some new blood early in the third round. A three-year contributor at Florida State, Freeman carried the rock only 404 times in 39 career games, so he enters the professional ranks having taken less of a physical pounding than most of the other names on this list. Found the end zone 14 times on just 173 rushing attempts in 2013.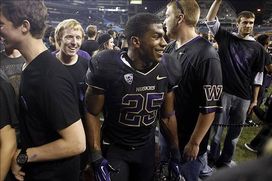 US PRESSWIRESankey found a great situation in Tennessee where he should see plenty of touches.
3. Charles Sims, Tampa Bay Buccaneers (6-0, 214): Doug Martin took the fantasy world by storm in 2012, but the Boise State product is coming off a disappointing sophomore campaign that was cut short to just six games due to injury. Also note that new Tampa general manager Jason Licht and head coach Lovie Smith weren't the individuals responsible for drafting Martin, meaning he'll have to prove himself all over again if he wants to hold off Sims for the starting job. The West Virginia product has excellent hands coming out of the backfield (203 receptions for 2,108 yards and 11 touchdowns in 48 collegiate appearances) to go along with the quick burst necessary to beat defenders to the edge.
4. Carlos Hyde, San Francisco 49ers (6-0, 230 pounds): Considered by many to be the top running back in this year's draft class, owners should view Hyde more as a long-term investment (keeper leagues) than a selection who will produce immediate results. Frank Gore and Kendall Hunter are still on the roster, as is 2013 stash selection Marcus Lattimore. But Gore turns 31 this month and has entered the twilight of his career, so the Niners are in the process of grooming his eventual replacement. Hyde has an excellent chance to become that option, but it's more likely to happen in 2015 than it is this year.
5. Tre Mason, St. Louis Rams (5-8, 207): Mason was an absolute beast for the Auburn Tigers during last season's run to the National Championship game, rushing for 1,816 yards and 23 touchdowns in 14 contests. But the problem here is that he'll have to compete for snaps with Zac Stacy, who ripped off a combined 1,114 total yards with eight touchdowns in 14 games as a rookie last season. The St. Louis backfield has all the makings of a timeshare situation unless one of these guys steps up early in the season and forces head coach Jeff Fisher to ride with the hot hand.
6. Jeremy Hill, Cincinnati Bengals (6-1, 233): An exciting mix of power and explosion with the ability to pick up big-time yards after contact, Hill brings an element to the Cincinnati backfield that was supposed to be supplied by 2012 free agent acquisition BenJarvus Green-Ellis. The problem here is that it's not just Green-Ellis who is still on the Bengals roster, but 2013 rookie sensation Giovani Bernard (1,209 total yards, 8 touchdowns) as well. We envision Hill and Bernard emerging as one of the more productive 1-2 running back tandems in the league, but that's more likely to happen in 2015.
7. Ka'Deem Carey, Chicago Bears (5-9, 207): Chicago is still Matt Forte's football team, but with Michael Bush no longer in the mix, Carey becomes a mandatory late-round handcuff selection for all Forte owners.
8. Terrance West, Cleveland Browns (5-9, 225): A human tree trunk with good vision and above average footwork, the third-round pick out of Towson will begin his tenure in Cleveland backing up free agent pickup Ben Tate and Philadelphia castoff Dion Lewis, but has the potential to work his way up the chart under new head coach Mike Pettine.
9. Andre Williams, New York Giants (5-11, 230): An old-school power back who won't contribute in the passing game and enters the NFL with plenty of wear on his tires, Williams finds himself on a deep depth chart that includes free agent signee Rashad Jennings, former first round pick David Wilson and Da'Rel Scott. Will most likely go undrafted come August.
QUARTERBACKS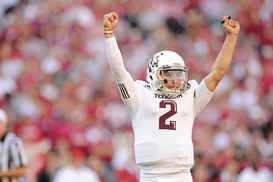 The loss of wide receiver Josh Gordon delivers a blow to Manziel's overall stock value.
1. Johnny Manziel, Cleveland Browns (6-0, 207): The potential loss of Pro Bowl wide receiver Josh Gordon for the entire 2014 campaign due to a failed drug test dealt a big blow to Manziel's upside for the coming season. But the Heisman Trophy winner's ability to extend plays and pick up yards with his feet is reason enough to rank him at the top of the rookie quarterback list. Remember what current Cleveland offensive coordinator Kyle Shanahan did with Robert Griffin III back in 2012? The same thing could happen here, but it's going to take some time. Durability is a concern, as is the lack of an explosive supporting cast due to the impending Gordon suspension. A late-round QB2 selection with QB1 potential who will be drafted earlier than he should thanks to the "Johnny Football" mystique.
2. Blake Bortles, Jacksonville Jaguars (6-5, 232): Should start on Day 1 thanks to being the third overall selection as well as the fact that current Jaguars quarterback Chad Henne is nothing more than a backup signal-caller at this point in his career. Accuracy is a concern, as is the loss of wide receiver Justin Blackmon. But Jacksonville snapped up wideouts Marqise Lee (USC) and Allen Robinson (Penn State) in the second round to give Bortles a young cache of pass-catchers he could very well be working with for the next five years. A late-round QB2 pick for 2014.
3. Teddy Bridgewater, Minnesota Vikings (6-2, 214): Could open the season behind veteran Matt Cassel and will likely struggle playing outdoors in Minnesota until the new indoor venue opens in 2016. Fell to pick No. 32 for a reason, but has the intelligence and work ethic to succeed in the National Football League. With such a deep and talented selection of quarterbacks on the board for the 2014 season, we view Bridgewater as a late-round QB2 selection at best for owners who play in keeper leagues with 12 or more teams.
4. Derek Carr, Oakland Raiders (6-2, 214): With veteran Matt Schaub on the roster, there's no rush to throw Carr to the wolves. He'll slide to waivers on draft day.
WIDE RECEIVERS
1. Mike Evans, Tampa Bay Buccaneers (6-5, 231): A coverage nightmare due to his freakish size, power and ability to go up and win the jump-ball battle. Won't be the No. 1 like Sammy Watkins, but will benefit from the presence of veteran Vincent Jackson. Evans is a nasty and physically imposing receiving threat who should fly off the board in the middle rounds.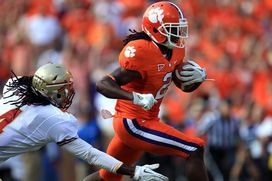 Watkins should see an abundance of targets during his first season with the Bills.
2. Sammy Watkins, Buffalo Bills (6-1, 211): The most NFL-ready receiver in this year's draft class, Watkins is a polished route runner with elite speed and the ability to turn a minimal gain into a game-changing touchdown. The problem is that the Clemson product is playing outdoors in Buffalo with a shaky quarterback in E.J. Manuel running the offense. The targets will definitely be there, but consistency could be an issue if Manuel fails to elevate his game in year two. Could be over-drafted in August, but makes for a nice keeper option.
3. Brandin Cooks, New Orleans Saints (5-10, 189): The upside here is that Cooks is playing on an offense with future Hall of Famer Drew Brees and the high-flying New Orleans Saints. The downside is that between Jimmy Graham, Marques Colston and Kenny Stills, there are only so many passes to go around. Precise route runner, excellent speed and the ability to turn a short gain into a big play.
4. Odell Beckham, New York Giants (5-11, 198): Will line up opposite Victor Cruz as the replacement for Hakeem Nicks, so Beckham should see plenty of targets as a rookie. Good burst, the ability to create separation down the field and the athleticism to win the jump-ball battle. Beckham isn't a big receiving target, but he'll have an excellent opportunity to shine in New York's offense.
5. Marqise Lee, Jacksonville Jaguars (6-0, 192): Could function as rookie quarterback Blake Bortles' top receiving option due to the fact that Justin Blackmon is out of the picture for the immediate future. Experienced, explosive and knows how to create extra yardage after the catch. Will be hit or miss at times in 2014 since he's playing with a rookie quarterback on a young offense.
6. Jordan Matthews, Philadelphia Eagles (6-3, 212): The big target Philadelphia was hell-bent on adding during the offseason. A solid route runner with excellent hands and jump-ball abilities, Matthews could emerge as Philly's top red zone target once he gets comfortable with Chip Kelly's offense. Caught 112 passes for 1,477 yards and seven touchdowns in 13 games at Vanderbilt last season.
7. Kelvin Benjamin, Carolina Panthers (6-5, 240): The Florida State product fits the mold of the new-era NFL receiver: Big, physical and extremely difficult to defend inside the red zone. The only problem is that Benjamin is a raw prospect who needs plenty of work before he's ready to dominate at the next level. There will certainly be some growing pains here, but long term, Benjamin could develop into a lethal big-play receiver.
8. Allen Robinson, Jacksonville Jaguars (6-2, 220): Will have the same issues as Marqise Lee playing on a young offense with a rookie quarterback. But Robinson has excellent size and should see plenty of snaps in 2014. Garbage time numbers could be a plus here if the Jaguars are playing from behind like we've grown accustomed to watching over the last few years.
9. Martavis Bryant, Pittsburgh Steelers (6-4, 211): Can separate down the field and makes for an excellent red zone target due to his size and jump-ball ability. The Clemson product will need to work his way up the depth chart past 2013 third-round selection Markus Wheaton, so there could be plenty of fantasy teams come August that pass on this guy.
10. Paul Richardson, Seattle Seahawks (6-0, 175): Richardson's size is certainly a concern, but the free agency departure of Golden Tate opened up a starting spot on the Seattle offense. Explosive speed with the ability to blow the top off of opposing defenses. Unfortunately, fantasy owners shouldn't expect consistent results, as Seattle isn't the most pass-happy franchise in the NFL.
TIGHT ENDS
1. Eric Ebron, Detroit Lions (6-4, 250): With his freakish skill set on a pass-first offense that already features wide receivers Calvin Johnson and Golden Tate, Ebron could emerge as a top-5 fantasy tight end early in the season. A fluid athlete with great hands who should find space to work with inside the red zone, Ebron should fly off draft boards in the middle rounds come August. There's a world of upside here.
2. Austin Seferian-Jenkins, Tampa Bay Buccaneers (6-5, 262): High-upside pick for the Buccaneers with tremendous size and the ability run every route on the passing tree. ASJ should start from Day 1 in Tampa and will encounter plenty of favorable coverage matchups with wideouts Vincent Jackson and Mike Evans lining up on the outside. Expect plenty of passes to be thrown this guy's way when the Bucs find their way into the red zone.
3. Jace Amaro, New York Jets (6-5, 265): Coming off a monstrous season at Texas Tech that included a staggering 106 receptions for 1,352 yards and seven scores. Amaro provides some much-needed firepower to a Jets offense that ranked 29th in the league in scoring last season (18.1 pts/gm). Will be undervalued on draft day due to the quarterback situation in New York, but there is a high ceiling here.
Hit me up on Twitter: @JoeFortenbaugh