September 01, 2010 -
Joe Fortenbaugh
Fantasy roster management
The battle may be over, but the war has just begun.
With eight days to go until the start of the 2010 NFL regular season, many of you have already completed your fantasy drafts. Time to sit back and enjoy the show, right?
Wrong.
Dead wrong.
If you're planning on making a run at a championship this season, you've got to stay on your toes. One look at your fantasy roster may have you smiling from ear to ear, but complacency and apathy are two character flaws that can drop your team five spots in the power rankings.
Stay on top by staying active…and by reading the five post-draft rules below.
The NFP is here for you for 17 weeks of fantasy football madness. Click HERE to purchase the 2010 Total Access Pass and you'll be automatically entered to win an autographed NFL jersey.
Rule 1: Assess your squad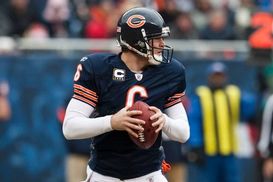 ICONWith the pounding Jay Cutler has been taking this preseason, landing a serviceable backup quarterback has become essential.
Don't be arrogant enough to think you've already won a title. It's the first day of September and the regular season hasn't even started yet. Injuries are going to happen and players are going to underperform. That's life in the fantasy world.
What you should be doing is going over your roster with a fine-tooth comb and evaluating your strengths and weaknesses. If you're in a PPR league, are your running backs players who catch a lot of passes? If you drafted Jay Cutler, did you land a viable backup? If your league starts three wide receivers, how many of your guys will finish in the top-30 in targets this season?
These are all questions you should be asking. You can't make quality adjustments without having a realistic and informed view of where your strengths and weaknesses lie.
Rule 2: ALWAYS look to upgrade your roster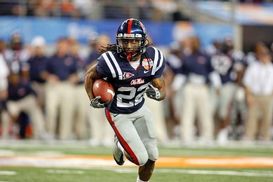 ICONCould Dexter McCluster be sitting on waivers in your league?
Every team is going to have a few studs like Ray Rice, Andre Johnson, Greg Jennings or Drew Brees that will form the foundation for a solid roster. But the key is to control your fantasy squad just like an NFL general manager would run his franchise: by constantly looking to improve the bottom half of the roster.
Some late-round picks (Jabar Gaffney, Dexter McCluster, Kareem Huggins) have a lot of upside, but what about the players you selected that never have a chance of cracking your starting lineup (i.e. Fred Taylor)? Don't be afraid to send these guys packing if you can find a better talent sitting on the waiver wire. Backup running backs that play behind injury-prone starters are a good place to start if you're weak at the RB position.
For those of you that aren't sure about whether or not a specific move would be considered an upgrade, just log in to the NFP Draft Guide and hit up the "Ask Joe" feature. I'm here to help and we can work on making sound roster moves together (isn't that sweet?).
Remember, upside is what you should be looking for. 32-year old running backs that have never topped 900 rushing yards in a season can only give you so much. But a guy like Huggins could find himself in the starting rotation if Cadillac Williams gets hurt again.
Which brings us to…
Rule 3: Check out the waiver wire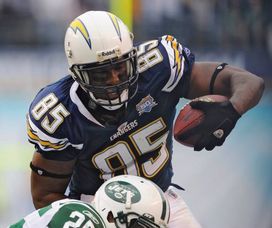 ICONIf 32 NFL general managers passed up on Gates, chances are there's a hidden gem available in your league, too.
This one is obvious, but it's still worth mentioning because you never know which players fell through the cracks on draft day. Remember, 32 NFL teams passed on Antonio Gates in 2003. I think we're all in agreement that the Chargers came up big when they signed the Pro Bowl tight end to a free agent contract after the draft.
One name that's floating around out there is wide receiver Legedu Naanee of the San Diego Chargers. The 26-year old from Boise State (Current ADP: 152.1) has caught five passes for 64 yards and one touchdown so far this preseason. What's even more enticing is that with Vincent Jackson serving a three-game suspension to open the year (and possibly on the trading block as well), Naanee will be the No. 2 wideout for pass-happy Philip Rivers. The upside here is definitely worth a roster spot.
Rule 4: The art of negotiating a trade (if you're looking to swing a deal)
By nature, most fantasy owners come out of their respective drafts feeling like they did a great job. While this is generally an unrealistic assessment of their team's overall value, the problem here is that it becomes very difficult to swing any sort of preseason trade because everyone feels that each of their players is going to be awesome.
But for those of you looking to get a piece of someone else's draft day pie, here's what you do.
Keep in mind that these rules apply for regular season trades as well.
1. NEVER let your trade partner know your end game: This is the single biggest mistake made by owners looking to make a deal. "What do you want for Randy Moss?" What kind of question is that? The first thing it does is instill confidence in the other guy because he knows he hit on his draft pick if somebody else is now in the market. You CAN'T mention the name of the player you truly want.
2. Instead, get the other owner thinking about one guy, while you secretly target someone else. Here's an example:
I helped a buddy in running back trouble swing a Week 3 deal for Rashard Mendenhall last season. We knew he needed to upgrade the position and we also knew that Mendenhall was on the verge of breaking out. Thus, we established our target.
Luckily for us, the Mendenhall owner was stocked at running back. We approached him honestly and said we were in need of RB help and that we were interested in discussing a deal for Maurice Jones-Drew (this part was a lie). We offered an RB-WR combo that was enough to show we weren't wasting his time, but not enough to get him to agree. This is essential as it will keep the other owner interested and at the table, but won't ruin your plan by being too good a deal to pass up.
We kept up this act for two days trying to land MJD and emphasizing how bad we needed a running back until the other owner finally woke up and said, "I'm not trading Jones-Drew, but I'd be willing to deal Mendenhall. He's been a bust."
At that point in the year, Mendenhall had only amassed 45 rushing yards on seven carries in two games.
Now that Mendenhall was on the table, all we had to do was close the deal. Since my buddy was stocked at wide receiver, Terrell Owens was shipped out of town and Mendenhall found himself on a new team and in the starting rotation.
He rushed for 165 yards and two scores the following week.
Not all trades will work out this well, but just remember that the key is to get the OTHER guy to suggest the player you want. Making him feel like he is calling the shots is very important.
One player those of you in RB trouble should be targeting is Ahmad Bradshaw of the New York Giants. He was likely selected in the middle rounds meaning his owner probably has at least one big-name RB ahead of him on the depth chart. Target that player and work him over day and night until you get him to offer up Bradshaw.
Patience is a virtue when implementing this trade philosophy. Don't be too pushy and don't go too hard, too fast. You might scare the guy off.
However, sometimes you need to implement the hard sell.