September 29, 2010 -
Joe Fortenbaugh
Fantasy stock report
I could spend this short intro section giving you guys advice on how to play the fantasy stock market as you prepare for Week 4. It would be easy. I'd give the big "sell high, buy low" speech and talk about patience when discussing potential trades.
Some of you may enjoy it while others of you would probably just skip down a few paragraphs to check out the stocks we are profiling today.
Instead, why don't I let everyone's favorite big-boned fourth grader tell you the keys to success when playing the market.
I think we all agree that option B is way to go.
Take it away, fat boy…
Blowing up (like Tony Siragusa on Thanksgiving)
Michael Vick, QB, Philadelphia Eagles: Through three weeks, no player in the NFL is hotter than Michael Vick. In fact, Vick's so hot right now that had he been in the male modeling business back in 2001, he could have easily beaten out Hansel and Derek Zoolander for Mugatu's Derelict campaign. In just a little over ten quarters of action, the Philly signal-caller has amassed enough fantasy points (82) to trail only Indianapolis' Peyton Manning (85) for the scoring lead amongst QBs. Expect the trend to continue for the next few weeks, but realize that you'll never be able to unload a waiver wire pickup for a better price.
Upcoming Schedule: Washington, at San Francisco, Atlanta, at Tennessee, BYE, Indianapolis, at Washington, New York (Giants), at Chicago
Recommendation: SELL if you have another solid QB option.
Marshawn Lynch, RB, Buffalo Bills: We talked about Lynch on Monday in regards to the conspiracy theories floating around suggesting that the Bills are giving him more playing time in an effort to increase his trade value. Yesterday, a report surfaced from Jason Wilde of ESPN Milwaukee stating that the Bills are now willing to listen to trade offers for the veteran running back. Keep in mind that Lynch currently has more carries on the year (33) than Fred Jackson and C.J. Spiller combined (29). Should he get traded in the coming weeks, look for his role to increase, as the team acquiring him will likely move Lynch right into the lineup.
Upcoming Schedule: New York (Jets), Jacksonville, BYE, at Baltimore, at Kansas City, Chicago (in Toronto)
Recommendation: Hit the waiver wire and pick him up.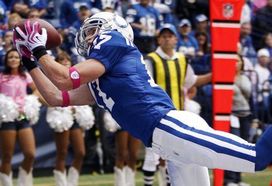 Collie is currently the highest-scoring wide receiver in fantasy football.
Austin Collie, WR, Indianapolis Colts: Question: Which NFL wide receiver has currently racked up the most fantasy points? Answer: Believe it or not, it's Austin Collie. The second-year wideout put on a one-man fireworks display in Denver on Sunday as Collie hauled in 12 passes for 171 yards and two touchdowns. However, keep in mind that the increase in targets was due to two key factors: 1) Pierre Garcon did not play and 2) Cornerback Champ Bailey locked-down Pro Bowl wide receiver Reggie Wayne. Collie will continue to produce, but expect a decrease in targets when Garcon comes back.
Upcoming Schedule: at Jacksonville, Kansas City, at Washington, BYE, Houston, at Philadelphia
Recommendation: SELL for a big price based on current numbers or HOLD if only offered mediocre talent in return.
Dustin Keller, TE, New York Jets: Braylon Edwards has the flash, Santonio Holmes has the ring (and the suspension) but Keller has his quarterback's eye. And in the world of fantasy football, that's all that matters. The third year tight end currently leads the Jets in targets (24), receptions (15), receiving yards (226) and touchdowns (3), all of which have led to a second-place ranking among fantasy TEs (Keller trails only Antonio Gates in scoring). Coming off a sensational Sunday night performance against the Dolphins (6-98-2), it's hard to imagine there will ever be a time when Keller's stock is higher.
Upcoming Schedule: at Buffalo, Minnesota, at Denver, BYE, Green Bay, at Detroit
Recommendation: HOLD because this stock will continue to reward its owners. However, always be willing to listen to any and all trade offers.
Other ballers on the rise…
Brandon Lloyd, WR, Denver Broncos: Lloyd's current stat line (14-339-1) is good enough to rank him fifth in scoring among fantasy wideouts. However, our recommendation is to HOLD this stock for the time being. Lloyd doesn't have enough name-recognition to warrant a fair deal from the average fantasy owner.
LaDainian Tomlinson, RB, New York Jets: He's the lead-dog in New York and has amassed enough fantasy points to crack the top-20 in scoring after three weeks. If you can land yourself a WR1 or RB1/2 that gets more carries per game, consider it. Otherwise, HOLD this stock and play him as a RB2/flex.
Coming down (like fans at Phish concert two hours after the encore)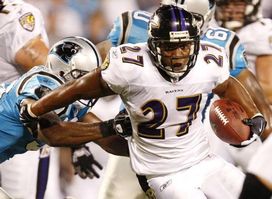 It's been a rough start to the year for Ray Rice and his owners.
Ray Rice, RB, Baltimore Ravens: Three weeks into the season Rice is ranked 25th in scoring among fantasy running backs, has a bum knee and is staring down the barrel of a date with the Pittsburgh Steelers on Sunday. The pessimist says that all of this is bad news and looks to dump Rice at the first sign of a decent offer. The optimist does what it takes to swing a trade for the dual-threat running back before he bounces back to his 2009 form. Rice has been a disappointment to date, but his upcoming schedule will provide plenty of opportunities to rack up some serious scoring.
Upcoming Schedule: at Pittsburgh, Denver, at New England, Buffalo, BYE, Miami, at Atlanta, at Carolina, Tampa Bay
Recommendation: HOLD if you currently own him, BUY if you don't.
Brett Favre, QB, Minnesota Vikings: The problem here is that everyone expected a 40-year old Wranglers spokesman to step under center in Week 1 at New Orleans and put up quality numbers despite not attending training camp. That type of thing doesn't happen. Favre started hot in 2009 because he opened up with the Browns and Lions. Even I could have put up respectable fantasy numbers against those teams last season. The upside here is that Favre completed 67.6% of his passes in Week 3 (season high) and has a bye in Week 4, giving him more time to f ind his rhythm. Remember, after the bye week this Sunday, wideout Sidney Rice is only a few games from away returning.
Upcoming Schedule: BYE, at New York (Jets), Dallas, at Green Bay, at New England, Arizona
Recommendation: HOLD because you won't get a good deal selling low. BUY if you're in quarterback trouble. Favre won't be ultra-consistent, but he will get better as the year goes on.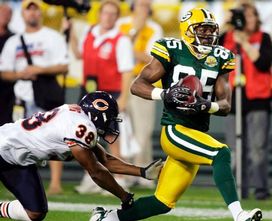 ICONGreg Jennings is the new Marques Colston (but Marques Colston is still Marques Colston).
Greg Jennings, WR, Green Bay Packers: In my opinion, Green Bay is turning into New Orleans north. Think about it: High-powered offense, tons of weapons and a quarterback that loves to spread the ball around—which makes Greg Jennings the equivalent of Marques Colston. Jennings owners are probably working themselves into a panic after his two-catch performance on Monday night against the Bears, but keep in mind that this guy is still averaging 8.0 fantasy points per week for the season (standard scoring). He'll have his down weeks, but Jennings will also have his breakout weeks that make you remember why you drafted him in the first place.
Upcoming schedule: Detroit, at Washington, Miami, Minnesota, at New York (Jets), Dallas, BYE
Recommendation: HOLD if you currently own this stock, BUY if you need some help at the wideout position.
Vernon Davis, TE, San Francisco 49ers: San Fran's 0-3 start has been a fantasy killer. Alex Smith is inconsistent, Michael Crabtree is nonexistent and Vernon Davis has yet to find the end zone. The good news here is that the Pro Bowl tight end is still averaging five receptions per game (fourth among tight ends) and has a very enticing schedule down the stretch. The 49ers may fail to turn it around this season, but rest assured that they will get Davis the rock any way possible.
Upcoming Schedule: at Atlanta, Philadelphia, Oakland, at Carolina, Denver, BYE, St. Louis, Tampa Bay
Recommendation: BUY if you need help at the tight end position. Davis' stock won't get much lower. Remember, his current owner paid a hefty price to draft this guy. There's no chance he's happy with Davis' production right now.
Other guys in mid-plummet…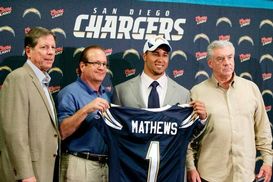 ICONThe Chargers love Mathews. Don't worry, he's going to get carries when he gets healthy.
Ryan Mathews, RB, San Diego Chargers: Half of the civilized world is ready to jump ship on this guy. Why? Because his current owners used a first or second round pick to draft him and Mathews has been mediocre and/or injured through the first three games of his career. Since he has no NFL track record prior to the start of the 2010 season, some owners are already throwing in the towel, which makes him a bargain-bin steal you can land at a great price. Remember, the Chargers traded up 16 spots in the first round to draft this guy. They have big plans for him.
Larry Fitzgerald, WR, Arizona Cardinals: Bottom line: Derek Anderson has turned Larry Fitzgerald into a WR2. I know Fitz owners hate to hear that, but it's the unpleasant truth. Short of figuring out a way to get Kurt Warner to un-retire, owners need to either A) accept Fitz's new fantasy role or B) realize he's scored eight or more fantasy points in each of his first three games and make a deal to bring him to town. Keep in mind that he currently ranks third in the NFL in targets, with 34. You will never get a guy with this much talent for a better price. Just don't expect him to deliver big-time numbers on a weekly basis.
Hit me up on Twitter: @JoeFortenbaugh
Click HERE to win cash playing fantasy football with the NFP and FanDuel.