February 22, 2013 -
Joe Fortenbaugh
Feeling the heat
The NFL is a fickle business. One minute you're standing near the mountaintop shaking hands and accepting praise. The next, you're plummeting off the side looking for something (or someone) to break your fall. That's what happens when you have a league-wide salary cap in place to help ensure a competitive balance.
Rex Ryan knows this all too well. Two years ago, the Jets head coach was a rising star in the league. He had a hot young rookie quarterback in Mark Sanchez, one of the league's best defenses and the confidence and swagger to make you believe that his team was going places.
But all of that has changed. Following back-to-back appearances in the postseason in which Ryan rode Mark Sanchez (phrasing, boom.) all the way to the AFC Championship game, the Jets proceeded to lose 18 games over the next two years. Ryan survived the chopping block this past offseason, but things are different. Sanchez is no longer receiving the same vocal support from his head coach, who is too busy trying to find a way to survive.
This is the time of year when the 32 franchises around the league are tasked with making difficult decisions. Who to cut, who to sign, who to draft. Some of the moves are predictable while others come as a surprise, like when the Packers drafted Aaron Rodgers in 2005 or when the Eagles selected Kevin Kolb in 2007.
With plenty of quarterbacks around the league aging, failing to produce or nearing the end of their lucrative contracts, we could be in line for a few more surprises this offseason. Here's a look at nine teams currently facing or soon to be facing some difficult decisions at the quarterback position.
Note: The quarterback situations in Arizona, Kansas City, Oakland and Philadelphia have been omitted because, quite frankly, there's no quarterback to put on the hot seat. All four of these teams are currently looking for their quarterback of the future.
Red alert
Ryan Fitzpatrick, Buffalo Bills: Think the Bills are regretting that six-year, $59 million contract extension (with $24 million guaranteed) they handed Fitzpatrick back in 2011? Since that time, Buffalo's starting quarterback has gone 8-18 while completing just 60.2% of his passes with 36 touchdowns and 33 interceptions. Russ Brandon was named the team's President back on January 1 and began his tenure by replacing head coach Chan Gailey with former Syracuse boss Doug Marrone. Brandon's next move may be to identify the team's quarterback of the future.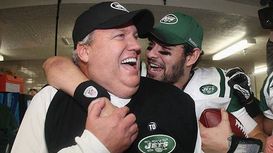 How much longer will Ryan stick with Mark Sanchez?
Mark Sanchez, New York Jets: The three-year contract extension with $20.5 million in guarantees and $40.5 million in "new" money that Sanchez signed last March is the primary reason why the USC product will be back in green and white in 2013. That irresponsible spending also served as the catalyst for the dismissal of general manager Mike Tannenbaum. Between the hiring of a new GM (John Idzik) and the team's recent salary cap purge, it's clear to the naked eye that the Jets are in rebuilding mode. Since joining the league in 2009, Sanchez has accumulated a pathetic 71.7 career passer rating and has thrown more interceptions (69) than any other quarterback in the business, save for Eli Manning (70). "Red alert" doesn't do it justice, as there's a good chance Sanchez will find himself holding a clipboard come Week 1.
Brandon Weeden, Cleveland Browns: He showed some promise towards the end of his rookie campaign by guiding the Browns to three wins over their final five games, but Weeden finds himself in a precarious position this offseason. The front office and coaching staff who drafted him are history, replaced by a Vice President of Player Personnel (our old friend Mike Lombardi) who was very vocal in his criticisms of the Oklahoma State standout last year. Lombardi made it no secret during his years as an analyst that teams need to commence the building process by addressing the quarterback position. That may mean yet another change at the NFL's marquee roster spot for an organization that hasn't won more than five games in five seasons.
Blaine Gabbert, Jacksonville Jaguars: The lack of talent surrounding Gabbert is partially to blame, but the bottom line is that after two professional campaigns in the NFL, the former Missouri quarterback has been downright dreadful. 24 career starts have produced a completion percentage of just 53.8% with 21 touchdowns and 17 interceptions. You can bet new head coach Gus Bradley is carefully examining all of his options, including the one that sends Gabbert to the sidelines.
Temperatures rising
Jay Cutler, Chicago Bears: While Cutler would benefit tremendously from an offensive line that was actually capable of blocking for him, the bottom line is that the 29-year-old hasn't exactly met expectations since arriving in Chicago back in 2009. The seven-year veteran has thrown 63 interceptions in 56 starts for the Bears and enters 2013 in the final year of a five-year contract that was renegotiated in October of 2009. Between a new coaching staff and a second-year general manager, the Bears have to, at the very least, be thinking about life after Cutler.
Sam Bradford, St. Louis Rams: Another quarterback who has been hamstrung due to a lack of supporting firepower, Bradford has won just 15 games in three professional seasons and boasts a career completion percentage of 58.3% with 34 interceptions. The problems in St. Louis are many, so we should expect the Rams to stick with Bradford for the immediate future. But if the Heisman Trophy winner fails to make any progress in 2013, expect the chatter regarding his future in St. Louis to pick up.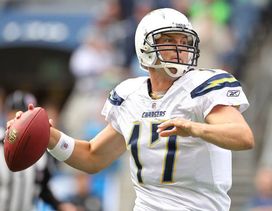 Rivers has put up some big-time numbers in San Diego, but has some equally big cap numbers over the next few years.
Philip Rivers, San Diego Chargers: There was a time when Rivers looked poised to break into the NFL's elite class of quarterbacks. But that time has come and gone and now the 31-year-old gets set to enter his tenth professional campaign under the watchful eyes of a new head coach and general manager. Between his remarkable run from 2008-2010 and the more pressing issues facing the franchise at the moment, Rivers is safe. But he isn't getting any younger. And don't forget about the $15+ million cap numbers Rivers is carrying in each of the next three seasons.
Josh Freeman, Tampa Bay Buccaneers: "Josh Freeman is our quarterback. And I believe that Josh Freeman—with Josh Freeman—we'll be able to accomplish our goals." That's what Buccaneers head coach Greg Schiano told the media in attendance at the NFL Combine on Thursday, which should lead us to believe that the four-year veteran has at least one more season to prove he's the future of the Tampa Bay franchise. But the fact that Schiano had to address the situation is enough to raise some eyebrows. Freeman is coming off a career year in terms of passing yards (4,065), but his completion percentage dropped off significantly (54.8%) and he was at the controls of yet another late season skid that saw the Bucs drop five of their final six games. Entering the final season of his five-year rookie contract, now's the tim e to take the next step.
Jake Locker, Tennessee Titans: Locker has made only 11 career starts, but a poor showing in 2013 could pave the way for a coaching change in Tennessee, as Mike Munchak was lucky to survive the chopping block this last go round. That means a new regime that could be interested in bringing in their own guy to run the show for the Titans, which is similar to the situation Brandon Weeden is currently facing in Cleveland.
Should be feeling the heat, but isn't
Tony Romo, Dallas Cowboys: His resume includes a career 1-3 mark in the postseason that hasn't been tested since January of 2010, but that apparently makes no difference in Big D, as the Cowboys have opened up negotiations with Romo's agent on a contract extension. That means he's safe. It also means the Giants, Eagles and Redskins can breathe a sigh of relief, as Dallas clearly has no intentions of moving on from Romo.
Hit me up on Twitter: @JoeFortenbaugh