June 28, 2013 -
Joe Fortenbaugh
Finders keepers
I love keeper leagues if for no other reason than the fact that they pay dividends to the savvy fantasy owner year after year. And while there are several different formats for which a keeper league may be employed, the basic premise is simple: Keep one (or two) players from the previous season's roster in exchange for the draft pick in which said player was selected.
Which means those of you who drafted Adrian Peterson in the third round last summer are sitting on a gold mine come the 2013 season.
Today we're going to take a look at 15 players the National Football Post has targeted as the best keeper options of the summer. And yes, despite the fact that obvious keeper pick Calvin Johnson is not on the list, the Detroit Lions wideout is still a must-keep selection. We just wanted to avoid some of the more obvious choices.
Have a great weekend.
ADP: Average Draft Position (ADP numbers courtesy of FantasyFootballCalculator.com)
15. Danny Amendola, WR, New England Patriots
2012 ADP: 144.8 (15th round)
Analysis: Amendola owners need to ask themselves the following question: Do I put more weight on the wide receiver's injury history (12 appearances over last two seasons) or the fact that the four-year veteran could become the next Wes Welker while playing with Tom Brady in New England? If it's the former, apply the franchise tag somewhere else. If it's the latter, sacrifice the 15th round pick without blinking an eye because you now have a receiver with 90+ reception potential on your roster for a rock bottom price.
14. Peyton Manning, QB, Denver Broncos
2012 ADP: 52.8 (sixth round)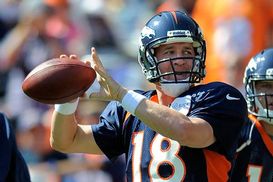 Those who rolled the dice on Manning in 2012 can capitalize on their investment this summer.
Analysis: On average, eight quarterbacks were drafted ahead of Manning last summer, yet only three (Brees, Brady, Rodgers) finished the year with more fantasy points than the Denver signal-caller. The 37-year-old tossed at least three touchdowns and amassed 300 or more passing yards in nine of 16 starts en route to a QB rating of 105.8 (second in NFL) and enters his 15th professional campaign with an upgraded arsenal that now includes first-down specialist Wes Welker. The 2013 fantasy quarterback class is exceptionally deep compared to recent seasons, so passing on Manning wouldn't be viewed as a disastrous error. But surrendering a sixth-round selection to lock up one of the league's most consistent passers will give owners the freedom to stockpile at the running back position early in the draft.
13. Dwayne Bowe, WR, Kansas City Chiefs
2012 ADP: 63.7 (seventh round)
Analysis: It's a calculated gamble because despite Bowe's anemic production in 2012 (59-801-3) we all remember the 153 receptions for 2,321 yards and 20 touchdowns the LSU product rolled up from 2010-2011. The Chiefs spent the offseason making upgrades at two crucial organizational positions by trading for veteran quarterback Alex Smith and hiring former Eagles head coach Andy Reid. The Kansas City offense will be much improved in 2013 and as a result, Bowe should experience a significant uptick in production over last season's modest results.
12. David Wilson, RB, New York Giants
2012 ADP: 73.9 (eighth round)
Analysis: As it pertains to Wilson, the later your fantasy draft, the better because the 2012 first-round selection out of Virginia Tech has to hold off Andre Brown for the starting job to make this one count. Wilson was a total bust through the first 12 games of the 2012 campaign, carrying the ball only 28 times for 111 yards thanks to a nasty case of fumblitis. But the rookie rebounded to record 247 rushing yards and three scores on 43 carries over the final four games of the season. With Ahmad Bradshaw no longer on the roster, surrendering an eighth round selection for a starting running back on a quality football team is the type of move that adds some serious depth to a contending roster.
11. Reggie Bush, RB, Detroit Lions
2012 ADP: 50.3 (sixth round)
Analysis: Ranked 14th in fantasy scoring at the running back position last season (standard scoring format) despite catching only 35 passes, the second-lowest total of Bush's seven-year career. And while the USC product has produced some inconsistent results during his time in the National Football League, there's a reason why the Lions put the full-court press on the former Miami Dolphin during free agency (4 years, $16 million). Head coach Jim Schwartz sees Bush as the high volume pass-catching back that former first round pick Jahvid Best was supposed to be. 70+ receptions is not a stretch.
10. Andrew Luck, QB, Indianapolis Colts
2012 ADP: 108.0 (11th round)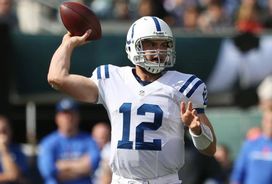 Luck will only get better during his second season in the NFL.
Analysis: Luck averaged 273.37 passing yards per game as a rookie on a team that was supposed to produce exactly squat. Instead, the Colts went on to win 11 games with the Stanford product finishing the season ranked 10th in fantasy scoring at the quarterback position. As mentioned above in the Manning analysis, this is an exceptionally deep year at the quarterback position, so owners with only one franchise tag may be better served keeping a productive running back instead. Just remember that Luck is going to improve in every statistical category during his sophomore campaign.
9. Reggie Wayne, WR, Indianapolis Colts
2012 ADP: 72.9 (eighth round)
Analysis: Reggie Wayne was 33-years-old when future Hall of Fame quarterback Peyton Manning left town to sign with the Denver Broncos. The Colts were rebuilding and it looked as if the highly productive wide receiver would spend his final few NFL seasons producing mediocre stat lines until the Indy brass decided it was time to part ways. But Wayne had other ideas and, paired with rookie quarterback Andrew Luck, the 12-year veteran went out and caught 106 passes (second most in career) for 1,355 yards and five scores. Those who rolled the dice on the eighth-round pick in 2012 should bring Wayne back for one more spin, as another top-20 fantasy performance is likely.
8. Demaryius Thomas, WR, Denver Broncos
2012 ADP: 58.0 (sixth round)
Analysis: How Thomas fell all the way to the sixth round is shocking, considering the entire world knew the Georgia Tech product was poised for a big year with Peyton Manning under center. And a big year Thomas did produce, as the three-year veteran set career marks in receptions (94), receiving yards (1,434) and touchdowns (10) en route to a top-5 fantasy finish. Wes Welker is going to steal plenty of targets, but sacrificing a sixth rounder to keep Thomas on the roster is still one hell of a bargain.
7. Vincent Jackson, WR, Tampa Bay Buccaneers
2012 ADP: 67.8 (seventh round)
Analysis: It's about time I founded the Vincent Jackson fan club because it seems that every summer I'm hyping this guy more than anybod y else on the internet. V-Jax is a 6-5, 230-pound ball buster to defend who put the doubters out to pasture last season when the eight-year veteran followed up a lucrative free agent contract signing with the best statistical campaign of his career (72-1,384-8), which resulted in a top-6 fantasy finish. PPR owners should drop Jackson's stock a tad, but the rest of you should be chomping at the bit to surrender a seventh-round selection for one of the game's best big-play receivers.
6. Stevan Ridley, RB, New England Patriots
2012 ADP: 56.0 (sixth round)
Analysis: Ranked seventh in rushing yards (1,263), sixth in carries (290) and third in touchdowns (12) while solidifying his place as New England's first true workhorse running back since the Corey Dillon days of 2004-2006. Ridley's highly productive top-9 fantasy season from 2012 is going to make the LSU product a hot commodity come August. Taking a shot on this guy during the sixth round last summer gives you a serious leg up on the competition at the running back position before this year's draft even gets underway.
5. Dez Bryant, WR, Dallas Cowboys
2012 ADP: 39.5 (fourth round)
Analysis: Bryant's 2012 seven-game stretch that featured 46 receptions for 808 yards and 10 touchdowns (64 targets) was no fluke. It was the coming out party for a third-year wideout who will be considered one of the league's elite wide receivers by the end of the 2013 campaign.
4. Adrian Peterson, RB, Minnesota Vikings
2012 ADP: 18.4 (second round)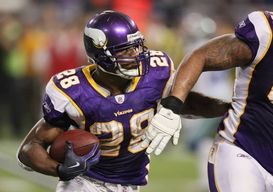 ICONImagine the possibilities that come from pairing A.P. with another elite running back?
Analysis: One year ago at this time we were all questioning whether or not Adrian Peterson would be able to recover from a gruesome December knee injury in time to start the 2012 season. As a result, Peterson fell as far as the fourth round in some leagues as owners found themselves unwilling to risk a high draft pick on the Minnesota ball carrier's bum wheel. A few months later and All Day is receiving league MVP honors after falling just nine yards short of Eric Dickerson's single-season rushing record. Think about the possibilities of retaining this year's top pick in exchange for a second or third round selection and pairing him with another elite running back. You'd only need a half decent draft the rest of the way out to qualify for the postseason.
3. Robert Griffin III, QB, Washington Redskins
ADP: 94.9 (10th round)
Analysis: Yes, the knee is a concern, but all reports out of Washington indicate that RG3 will be ready to go in time for the Redskins' season opener against the Philadelphia Eagles. And while the 815 rushing yards Griffin amassed during his 2012 rookie campaign may appear to be a bit of a stretch for 2012, how many owners are willing to turn down the opportunity to keep the league's seventh highest scoring fantasy quarterback from a year ago in exchange for a tenth-round pick? Not many.
2. Russell Wilson, QB, Seattle Seahawks
ADP: 119.5 (12th round)
Analysis: This is strictly a value play. Most fantasy owners are halfway drunk by the time they reach the 12th round, so why not hang on to Wilson—who ranked 11th in fantasy scoring at the quarterback position last season—lock up the QB roster spot and spend your sober hours acquiring running backs and wide receivers? With Percy Harvin now in the mix and a full offseason spent in the film room preparing for his sophomore campaign, it's highly unlikely that Wilson takes a step back this year.
1. Alfred Morris, RB, Washington Redskins
ADP: 144.8 (15th round)
Analysis: Morris is the no-brainer choice for the NFP's top keeper selection of the 2013 season. An unknown sixth-round pick out of Florida Atlantic in 2012, Morris ranked second in the NFL in rushing yards (1,613), touchdowns (13) and carries of 10+ yards (55) in 2012 en route to a second-team All-Pro selection and a place in Washington Redskins history as the organization's all-time single season rushing leader. When the rest of the league will be scrambling to draft the best available kicker, Morris owners will be kicking back smiling about the fact that they just gave up a semi-worthless 15th rounder in exchange for one of the top players at the fantasy world's most in-demand position.
Hit me up on Twitter: @JoeFortenbaugh