July 26, 2010 -
Joe Fortenbaugh
Five comeback players to watch in 2010
Just like on Wall Street, you don't turn a profit in fantasy football by buying high and selling low. As we preach here at the National Football Post time and time again, it's all about value. Finding the right players at the right price will go a long way in helping owners build a quality team from top to bottom.
One place to find some serious value is in the "comeback players" department. When good players turn in a mediocre or lousy year, it sours several owners on their potential the following season, thus, decreasing their value in the eyes of the public. It's important to be able to identify players with upside who are coming off a disappointing year for one reason or another.
Let's take a look at five players the National Football Post expects to bounce back in 2010. For the complete list of 2010 Comeback Players, click HERE to purchase the NFP Fantasy Draft Guide.</p>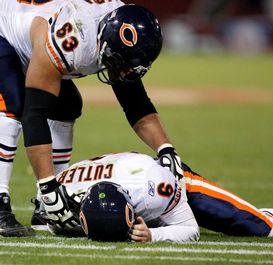 ICONCutler's first season in Chicago wasn't all roses, but with Mike Martz now in the fold, expect J-Cut to bounce back in 2010.
1. Jay Cutler, QB, Chicago Bears (2008 Rank: 3rd, 2009 Rank: 11th): What did you expect? Cutler went from Brandon Marshall to Devin Hester, so you had to figure the downgrade in supporting talent was going to take it's toll. However, that's no excuse for throwing a league-leading 26 interceptions. The Bears brought in offensive mastermind Mike Martz to run the offense in 2010, so expect Cutler to take a step forward as a quarterback under the guy who developed future Hall of Famer Kurt Warner. In addition, young receivers Johnny Knox and Devin Aromashodu now have some legitimate NFL experience under their belts, so look for J-Cut's supporting cast to deliver more in 2010.
2. John Carlson, TE, Seattle Seahawks (2008 Rank: 7th, 2009 Rank: 11th): Carlson was poised to break through as one of the game's top young tight end targets in 2009, but a slight reduction in receptions and receiving yards—not to mention a ridiculously strong showing from a loaded TE class—prevented the 26-year old from cracking the top-ten for a second straight season. The good news here is that Johnny C actually produced more fantasy points in 2009 than he did in 2008 due to his increase in touchdowns (he went from 5 to 7). Quarterback Matt Hasselbeck now has an improved offensive line (the Seahawks drafted Oklahoma State OT Russell Okung in the first round) and another weapon at wideout in Golden Tate, which should help take some of the coverage away from Carlson this season. He's not a candidate to crack the top-five in scoring among tight ends, but he comes at an excellent, late-round value and knows how to find the end zone.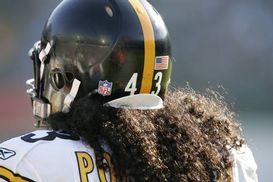 ICONThis head of hair means more to the Steelers than most people realize.
3. Pittsburgh Steelers, D/ST (2008 Rank: 1st, 2009 Rank: 15th): We know many of you are concerned about the Steelers this season due to the 4-6 game suspension quarterback Ben Roethlisberger is facing to open the year, but defensive coordinator Dick LeBeau is back and Pro Bowl safety Troy Polamalu is healthy, which makes all the difference in the world. In the five games that Polamalu played last season, the Steelers went 4-1 and allowed an average of just 13.8 points per game. In the 11 games the stud safety missed due to injury, Pittsburgh went 5-6 while giving up a whopping 23.1 points per game. If Polamalu is in the lineup, this unit is going to produce. The beauty is that due to last year's underwhelming stat line and the Big Ben suspension, many owners are worried about drafting the Steelers as their defensive anchor. Don't be.
4. Lee Evans, WR, Buffalo Bills (2008 Rank: 26th, 2009 Rank: 35th): Let's face facts here: With either Trent Edwards, Brian Brohm or Ryan Fitzpatrick running the offense, Evans is never going to have an opportunity to become an elite NFL wide receiver. However, now that Terrell Owens is gone, who else is left on the Bills roster that can make plays? James Hardy and rookie Marcus Easley have little experience, as does Chad Jackson and Stevie Johnson. Buffalo is going to struggle in the AFC East this year, which means they are going to have to throw the football for four quarters if they want a chance to win. Yes, that means garbage time stats with Evans as the No. 1 target. His touchdown total will likely be limited, but he should see enough targets to warrant a starting roster spot at a good value.
ICONHang on to the football, Steve!
5. Steve Slaton, RB, Houston Texans (2008 Rank: 6th, 2009 Rank: 35th): There's no other way to say. Slaton was an absolute bust in 2009 as the former West Virginia Mountaineer averaged a pathetic 3.3 yards per carry and scored just three rushing touchdowns in 11 games for the Texans. Let's also not forget that he fumbled the ball seven times, losing five of them. Owners who wasted a top-ten pick on Double S last season feel jaded, which is why the Houston running back is going to plummet on draft day. In addition, the Texans used a second-round pick on between-the-tackles bruiser Ben Tate (Auburn), so Slaton won't even be the primary ball carrier this season. However, he's still a dynamic pass-catcher coming out of the backfield (44 receptions for 417 yards and four TDs last year), so expect Houston to take advantage of his skill set. You can snag this guy in the middle to later rounds. He'll make a solid flex option and if something were to happen to Tate, you've now got yourself a starting RB on a high-octane offense for a very low price.
Hit me up on Twitter: @JoeFortenbaugh