July 29, 2011 -
Barry Dorey
Flocking to Atlanta
After going 13-3 and finishing as the No. 1 seed in the NFC last season, a 48-21 home ass-kicking to the Green Bay Packers in the divisional round of the playoffs wasn't exactly how the Atlanta Falcons envisioned their season ending.
So during their offseason evaluations, it's safe to say that the Atlanta front office took into account A) their defense ranked 20th in the NFL in sacks last season and B) their best pass-rusher (John Abraham) was getting ready to turn 33-years-old.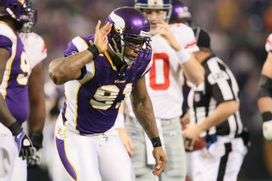 Edwards has recorded eight or more sacks in each of the past two seasons.
Enter free agent defensive end Ray Edwards.
In a division that features some of the top quarterback talent in the league, the Falcons made a move on Friday to try and neutralize their key opponents' biggest strengths. Jay Glazer of FOX Sports is reporting that free agent Ray Edwards has reached an agreement with the Falcons on a five-year deal.
With the exception of Panthers defensive end Charles Johnson, Edwards was considered by many to be one of the top pass rushers on the market this offseason. The 26-year-old recorded 16.5 sacks over the past two years playing opposite Pro Bowler Jared Allen in Minnesota.
With the big draft day trade that led to the selection of wide receiver Julio Jones and now the acquisition of Edwards, it's clear the Falcons are hell-bent on making their way to Indianapolis for next year's Super Bowl.
Should Edwards perform like the front office is expecting, that could be the push head coach Mike Smith's team needs to get there.
UPDATE: ESPN says the five-year contract is worth $30 million.
Hit me up on Twitter: @JoeFortenbaugh