February 04, 2014 -
Joe Fortenbaugh
Fool's gold?
At 4:00pm eastern on March 11, exactly 35 days from today, Denver Broncos wide receiver Eric Decker will enter the free agent market looking to cash in on the most prolific season of his four-year career. A third-round selection (No. 87 overall) out of Minnesota in the 2010 draft, Decker has performed well above a rookie contract that carried an average of just $842,489 per year with a 2013 base salary of only $1.323 million. Needless to say, Decker and agent Todd France will be looking to make a big splash once the free agent floodgates open in March.
The trick for Decker and France, however, will be to locate a buyer who holds the soon-to-be free agent wide receiver in the same regard. The statistics and production are there, but so are the doubts. In essence, the big question that NFL teams in need of a wide receiver will be asking themselves over the next few weeks is whether or not Decker's production is a byproduct of playing with future Hall of Fame quarterback Peyton Manning and the deepest pass-catching unit in the league, or if the 27-year-old can sustain this level of performance regardless of his surrounding cast.
DECKER'S CASE
France will build an argument rooted in precedent that will compare Decker's recent production to that of the wide receivers who signed lucrative contracts over the last two years. Those deals will include:
Percy Harvin, Seattle Seahawks (2013): $67 million over six years, with $25.5 million guaranteed and a $12 million signing bonus.
Mike Wallace, Miami Dolphins (2013): $60 million over five years, with $30 million guaranteed and an $11 million signing bonus.
Dwayne Bowe, Kansas City Chiefs (2013): $56 million over five years, with $26 million guaranteed and a $15 million signing bonus.
Greg Jennings, Minnesota Vikings (2013): $45 million over five years, with $17.8 million guaranteed and a $10 million signing bonus.
Vincent Jackson, Tampa Bay Buccaneers (2012): $55.55 million over five years, with $26 million guaranteed and a $2 million first year reporting bonus.
Pierre Garcon, Washington Redskins (2012): $42.5 million over five years, with $20.5 million guaranteed and an $11 million signing bonus.
In order to justify that type of financial commitment from a team, France will have to prove that Decker is just as good—if not better—than those six aforementioned receivers. Here's a look at how Decker's production over the last two seasons stacks up against those players.
Age: At time of contract signing
YPR: Yards per reception

Decker's production over the last two years goes toe-to-toe with each of his six counterparts who struck it rich during that time span. Of particular note is the fact that the 27-year-old was healthy and active for all 32 regular season games played since 2012, a concern many scouts and personnel men shared regarding Decker when he jumped to the professional ranks. In addition to health, Decker's age shouldn't cause much of a concern during the negotiation process, as Bowe, Jennings and Jackson each hit it big despite more wear on their respective tires.
But just because the production either matches or exceeds that of the other wide receivers who landed mega deals over the last two years doesn't necessarily mean that Decker will experience the same financial windfall.
THE COUNTERPOINT
Of the 32 teams in the National Football League, how many will be in the market for a wide receiver come March? Of those teams looking to sign a wideout, how many possess the available cap space needed for Decker to put pen to paper? And of those teams still in the running, how many will opt to make a run at Decker rather than fellow impending free agent wide receivers Hakeem Nicks, Anquan Boldin, James Jones, Jeremy Maclin, Golden Tate, Julian Edelman, Emmanuel Sanders, Riley Cooper and Kenny Britt?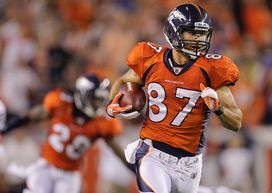 Despite a terrific regular season, Decker caught just one pass for six yards in Sunday's Super Bowl.
While the marketplace's demand—or lack thereof—could pose a problem for Decker and France, the bigger issue facing the two will be how potential suitors define Decker's position. France will no doubt be arguing for No. 1 wide receiver money, but any team willing to submit a bid will make the case that Decker is actually a No. 2, as evidenced by the fact that Broncos wideout Demaryius Thomas—who is scheduled to hit the free agent market next winter—caught more passes for more yards and more touchdowns than Decker in 2013. Thomas also set an NFL record on Sunday for most receptions (13) made during a Super Bowl. And when you compare Thomas' 2013 postseason production (28 receptions for 306 yards and three touchdowns) to Decker's (8 receptions for 111 yards and zero touchdowns), there's little doubt as to who the top dog in Denver truly is.
The argument over Decker's designation will likely serve as the most contentious talking point during negotiations. And if France is unable to find a buyer willing to pay No. 1 money, Decker will swing from a contract averaging approximately $10 million or more per year (like the ones signed by Harvin, Bowe and Jackson) to somewhere in the neighborhood of $7.9 million per year, which is what Tampa Bay No. 2 wide receiver Mike Williams agreed to last July when inking a six-year, $40.25 million deal with $9.4 million guaranteed.
Not a bad deal by any stretch, but still a significant chunk of change less than what other free agent receivers with inferior statistics signed for over the last two years.
Of course, all it takes is one team to fall in love with Decker's skill set for the 27-year-old to hit the lottery. But that's unlikely given that no team in the NFL can offer a situation similar to the one Decker found in Denver, with a Hall of Fame quarterback under center along with three other talented receiving options on offense.
Hit me up on Twitter: @JoeFortenbaugh