March 13, 2013 -
Joe Fortenbaugh
Former No. 1 pick Jake Long lands in St. Louis (Updated)
The wheeling and dealing in the great state of Missouri continued Wednesday afternoon, as the St. Louis Rams reached an agreement with free agent left tackle Jake Long, per Omar Kelly of the South Florida Sun-Sentinel.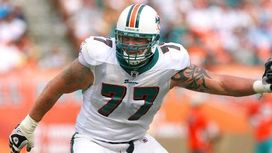 After five years in Miami, Jake Long is headed to St. Louis.
Long—the first overall selection in the 2008 draft—earned a trip to Hawaii for the Pro Bowl in each of his first four seasons in the league. But the 27-year-old's production has declined in each of the past two years, raising questions as to how much he would be worth on the open market. After all, it's quite telling that Long's former team had a boatload of salary cap space and still opted not to bring back their starting left tackle.
Terms of the deal have not yet been released, but either way, this is a calculated gamble that could return a big investment for St. Louis if Long can figure out a way to regain his previous form.
In addition to Long, the Rams made a big splash on Tuesday when the team reached an agreement with free agent tight end Jared Cook on a five-year deal worth $35 million.
Update: The initial reports of Long landing in St. Louis were incorrect. The Rams have yet to make Long an offer.
Hit me up on Twitter: @JoeFortenbaugh