July 16, 2012 -
Joe Fortenbaugh
Forte finally gets his deal
Matt Forte's big day has finally arrived.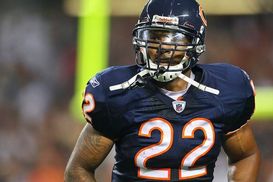 ICONForte and the Bears reached an agreement on a four-year deal on Monday.
Sean Jensen of the Chicago Sun-Times is reporting that the Bears and their Pro Bowl running back have reached an agreement on a long-term contract. Adam Schefter of ESPN says it's a four-year deal that will average $8 million per season.
After four consecutive seasons in which the 26-year-old from Tulane amassed at least 1,350 total yards, Forte made it clear that he wanted a long-term contract. Many agreed, as we all know the shelf life for NFL running backs is one of the shortest in the league.
And while it may have taken a bit longer than some would have estimated, Forte now has his contract, the Bears have a happy starting running back and the team can look ahead to training camp and the 2012 NFL season.
Hit me up on Twitter: @JoeFortenbaugh